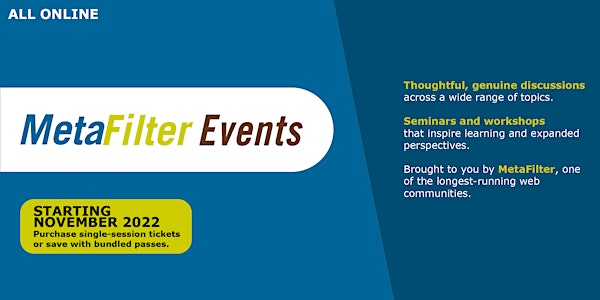 MetaFilter Online Events
Thoughtful, genuine discussions across a wide range of topics. Brought to you by MetaFilter, one of the longest-running web communities.
Refund Policy
Contact the organizer to request a refund.
Eventbrite's fee is nonrefundable.
About this event
98 days 4 hours

Mobile eTicket
About MetaFilter Events
Much like how MetaFilter welcomes dialogue and content across a wide variety of topics and themes, MetaFilter Events features seminars, workshops and discussions spanning a fascinating range of subjects, skills and perspectives.
We invite and encourage speakers from all backgrounds with knowledge, skills or experience to share - that also believe in fostering genuine, thoughtful, considerate discussion. People that have deep expertise in their professional fields, a honed skill to share, or particular knowledge of a certain niche. People with perspectives not often heard, from underrepresented backgrounds or identities.
Coming into the space of presentations and workshops, we're looking to build a live, online event version of what MetaFilter offers as a hub of insightful, kind and thought-provoking discussion.
We've assembled a fun lineup of incredible speakers and learning experiences for you. Join us! We're all in this together.
Can't make it for the event you want? We've got you covered!
We know life gets busy or unpredictable, and it's hard to find time to attend and watch everything you'd like, when it all looks so interesting. Plus, when you're in a different timezone, it becomes even more challenging. But don't worry - we're here to help you get the most out of everything these amazing speakers and sessions have to offer.
Most of our events will be recorded, so if you have to miss your session for any reason, you can catch up on it at your convenience and won't miss a single minute!
Not able to join live? Sign up anyway and we'll send you access to the recording after the event.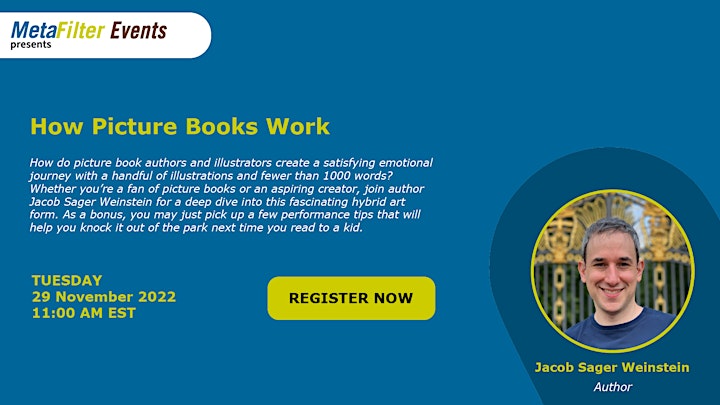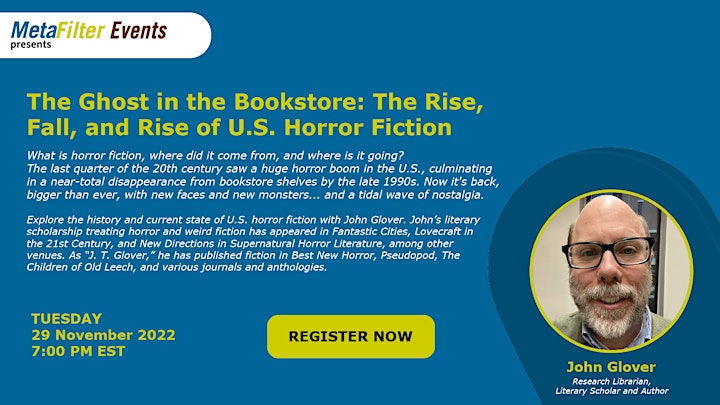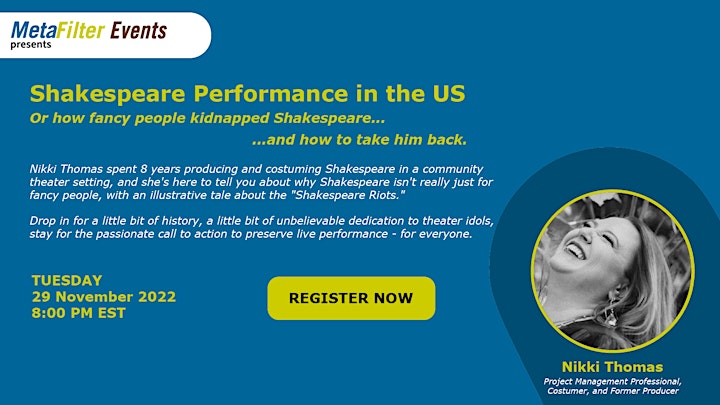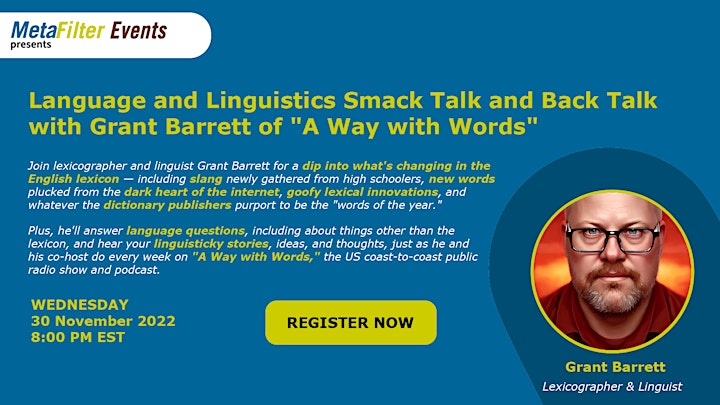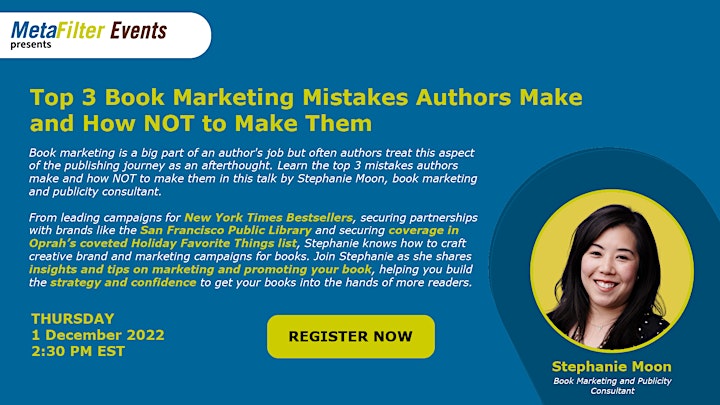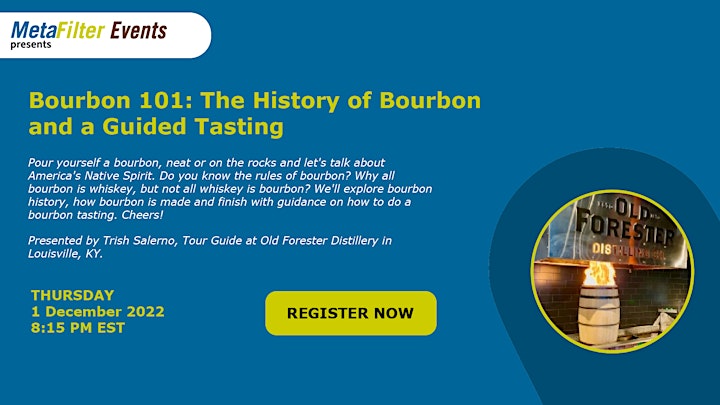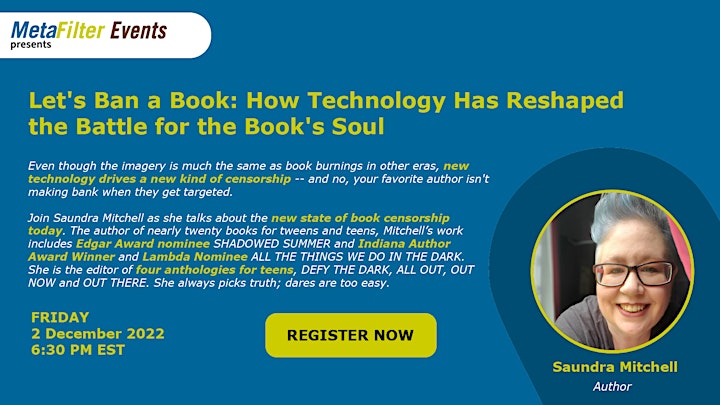 What's Happening - This Upcoming Week
Week 2 (Nov 28 - Dec 4)
It's books and fiction week! Learn how picture books work, explore horror fiction, and understand the history of Shakespeare performance in the U.S (and why it isn't just for fancy people!).
Mid-week, dip into linguistic trends and all things English lexicon-related, then learn how book marketing works (and how to make it work for you).
Towards the end of the week, kick back and relax as you soak in the history of bourbon with a guided tasting. You'll also discover more about writing books that resonate with your audience, learn about the way technology is shaping book censorship today, and close the week with an author that successfully secured a traditional book deal based on her NaNoWriMo writing sprint.
Session recordings for Week 2's events will be available to all ticketholders - so don't worry if you're unavailable for these session times or located in another timezone.
How Picture Books Work
29 November 2022 | 11:00 AM - 11:45 AM EST
Presented by Jacob Sager Weinstein
How do picture book authors and illustrators create a satisfying emotional journey with a handful of illustrations and fewer than 1000 words? Whether you're a fan of picture books or an aspiring creator, join author Jacob Sager Weinstein for a deep dive into this fascinating hybrid art form. As a bonus, you may just pick up a few performance tips that will help you knock it out of the park next time you read to a kid.
Recording will be available to all ticketholders.
About the Speaker
Jacob Sager Weinstein is the author of two traditionally published picture books, with two more in the pipeline. His other published works include humor books for grownups and novels for older kids. In addition, he's written for HBO, the BBC, and the New Yorker.
The Ghost in the Bookstore: The Rise, Fall, and Rise of U.S. Horror Fiction
29 November 2022 | 7:00 PM - 7:30 PM EST
Presented by John Glover
What is horror fiction, where did it come from, and where is it going? The last quarter of the 20th century saw a huge horror boom in the U.S., culminating in a near-total disappearance from bookstore shelves by the late 1990s. Now it's back, bigger than ever, with new faces and new monsters... and a tidal wave of nostalgia.
Recording will be available to all ticketholders.
About the Speaker
John Glover is a research librarian specializing in the humanities at an urban, public research university. His literary scholarship treating horror and weird fiction has appeared in Fantastic Cities, Lovecraft in the 21st Century, and New Directions in Supernatural Horror Literature, among other venues. As "J. T. Glover," he has published fiction in Best New Horror, Pseudopod, The Children of Old Leech, and various journals and anthologies.
Shakespeare Performance in the US
29 November 2022 | 8:00 PM - 8:30 PM EST
Presented by Nikki Thomas
Nikki Thomas spent 8 years producing and costuming Shakespeare in a community theater setting, and she's here to tell you about why Shakespeare isn't really just for fancy people, with an illustrative tale about the "Shakespeare Riots." Drop in for a little bit of history, a little bit of unbelievable dedication to theater idols, stay for the passionate call to action to preserve live performance - for everyone.
Recording will be available to all ticketholders.
About the Speaker
Nikki Thomas ran a community theater specializing in Shakespeare performance for 9 years. She was the producing director and co-costume mistress.
Language and Linguistics Smack Talk and Back Talk with Grant Barrett of "A Way with Words"
30 November 2022 | 8:00 PM - 9:00 PM EST
Presented by Grant Barrett of "A Way with Words"
Join lexicographer and linguist Grant Barrett for a dip into what's changing in the English lexicon — including slang newly gathered from high schoolers, new words plucked from the dark heart of the internet, goofy lexical innovations, and whatever the dictionary publishers purport to be the "words of the year." Plus, he'll answer language questions, including about things other than the lexicon, and hear your linguisticky stories, ideas, and thoughts, just as he and his co-host do every week on "A Way with Words," the US coast-to-coast public radio show and podcast.
Recording will be available to all ticketholders.
About the Speaker
Grant Barrett is a lexicographer, a linguist, co-host of the nationwide public radio show A Way with Words, author of "Perfect English Grammar," compiler of the "Official Dictionary of Unofficial English" and the "Oxford Dictionary of American Political Slang," contributor to dozens of monolingual and bilingual dictionaries for Cambridge University Press and Oxford University Press, an officer of the American Dialect Society, and a public speaker and host at public and private events.
Top 3 Book Marketing Mistakes Authors Make and How NOT to Make Them
1 December 2022 | 2:30 PM - 3:30 PM EST
Presented by Stephanie Moon
Book marketing is a big part of an author's job but often authors treat this aspect of the publishing journey as an afterthought. Learn the top 3 mistakes authors make and how NOT to make them in this talk by Stephanie Moon, book marketing and publicity consultant.
Recording will be available to all ticketholders.
About the Speaker
Stephanie Moon was one of those kids who read under the covers with a flashlight. Fast forward into her first job and every job since, Stephanie has worked with in and around books. From leading campaigns for New York Times Bestsellers, securing partnerships with brands like the San Francisco Public Library and securing coverage in Oprah's coveted Holiday Favorite Things list, Stephanie's had the experience and ingenuity to craft creative brand and marketing campaigns.
Over the years, Stephanie noticed a trend. Authors who had spent years researching and writing their book, did little to nothing to market their book. They left all the marketing and promotion to their publisher and wondered why their book wasn't being shared with their favorite influencer and why sales were slower than they thought. Stephanie knew she had to change this and teach authors how to market and promote their book. This was the catalyst for creating the Master Your Book Marketing Program.
On the weekends you can find Stephanie gardening in the backyard, getting covered in sand at the beach or curled up on the sofa reading.
Author Reading: "The Haunted Object"
1 December 2022 | 7:00 PM - 7:40 PM EST
Presented by J. T. Glover
Did you ever hear the one about the haunted doll? Or car? Or whistle? The truth behind them is darker and colder than you may think... "The Haunted Object" is a horror story in the tradition of M.R. James, with A24 vibes and a paper-thin fourth wall.
Recording will be available to all ticketholders.
About the Speaker
J. T. Glover has short fiction in Best New Horror, Pseudopod, and Nightscript, among other venues. He's published nonfiction in Postscripts to Darkness, The Silent Garden, and Thinking Horror. A librarian by day, he lives in Central Virginia, is working on a novel, and you can find him online at www.jtglover.com.
Bourbon 101: The History of Bourbon and a Guided Tasting
1 December 2022 | 8:15 PM - 9:15 PM EST
Presented by Trish Salerno
Pour yourself a bourbon, neat or on the rocks and let's talk about America's Native Spirit. Do you know the rules of bourbon? Why all bourbon is whiskey, but not all whiskey is bourbon? We'll explore bourbon history, how bourbon is made and finish with guidance on how to do a bourbon tasting. Cheers!
Presented by Trish Salerno, Tour Guide at Old Forester Distillery in Louisville, KY.
Recording will be available to all ticketholders.
About the Speaker
Trish Salerno has over 10 years experience in the tourism industry working as a Park Ranger, Adventure Guide and Tour Director. She currently works for Old Forester Distillery in Louisville, KY.
Let's Ban a Book: How Technology Has Reshaped the Battle for the Book's Soul
2 December 2022 | 6:30 PM - 7:30 PM EST
Presented by Saundra Mitchell
Even though the imagery is much the same as book burnings in other eras, new technology drives a new kind of censorship-- and no, your favorite author isn't making bank when they get targeted.
Recording will be available to all ticketholders.
About the Speaker
Saundra Mitchell has been a phone psychic, a car salesperson, a denture-deliverer and a layout waxer. She's dodged trains, endured basic training, and hitchhiked from Montana to California. The author of nearly twenty books for tweens and teens, Mitchell's work includes Edgar Award nominee SHADOWED SUMMER and Indiana Author Award Winner and Lambda Nominee ALL THE THINGS WE DO IN THE DARK. She is the editor of four anthologies for teens, DEFY THE DARK, ALL OUT, OUT NOW and OUT THERE. She always picks truth; dares are too easy.
More Upcoming Events
We've got a lineup of amazing speakers, with over 30 intriguing seminars, workshops and discussions for the coming weeks. Here's a sneak preview:
Week 3 (Dec 5 - Dec 11)
De-stress yourself before the holidays with creative workshops, learning about the science of wellbeing, a session on the gamification of everyday life with Metafilter's own Adrian Hon, and a host of fascinating events around social justice, policy and research.
Week 4 (Dec 12 - Dec 18)
It's MetaFilter week! Meet the Steering Committee and the Global BIPOC Advisory Board, get to know jessamyn and the admin, discover the secret sauce in MetaFilter's approach to moderation, tune in to the Metafilter Variety Show and finish up with Metafilter Trivia Night!
More details on speakers and presentation titles will be released soon. We also have many more events in the pipeline for January and February 2023 - watch this space for updates!
Want to stay updated on ticket deals and MetaFilter Events that interest you?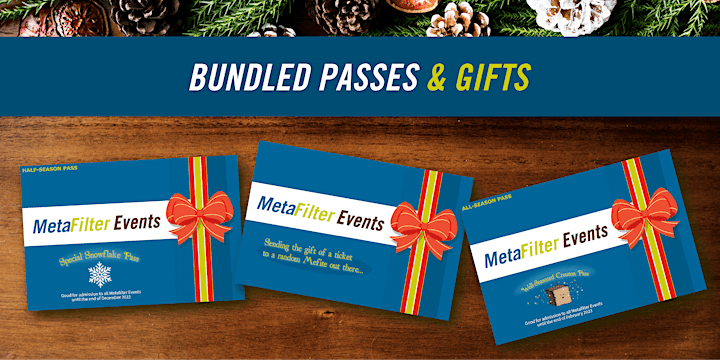 Give the gift of a MetaFilter Events pass or single-event ticket!
Besides single-session tickets, we're also offering the option of getting bundled passes. Join all the sessions and workshops you want with our Half-Season Pass (aka the Special Snowflake Pass) or All-Season Pass (aka the Well-Seasoned Crouton Pass). All available session recordings included.
AND! If you're a MeFite, you can sponsor tickets for other MeFites to the paid events. This is a great way to support events, speakers and themes you like while spreading some kindness and good vibes within our community.
To purchase gift cards and gift passes, head on here to our gift card store. That's also where you can sponsor tickets for other MeFites - we'll explain how it works there.
Bundled passes are also directly available from this Eventbrite page (without the fancy virtual gift-card wrapping and send-to-a-friend delivery). Just click on the red button that says "Get tickets".
FAQ
How do the events work?
After you register or purchase a ticket on Eventbrite, you will receive an email with a unique link and instructions to join the online event.
Will I be able to ask questions?
Yes! There will be time for Q&A for each session. Some sessions also feature even more interactivity, breakout rooms and focused attention from the speaker, depending on the format.
What ticket options do you have?
We're offering a mix of paid and free events, with options to buy bundled passes and gift cards. There is also an opportunity to sponsor tickets for other MeFites to the paid events.
Single-session tickets and bundled passes may be registered or purchased here on this Eventbrite page. (Simply click the red button that says "Get tickets"!)
Our gift store offers gift cards good for bundled pass redemption. You'll also be able to sponsor tickets for other MeFites through our gift store - check it out!
How can I access the recordings?
Most of our events will have recordings available a week after the event, exclusively for ticketholders. Ticketholders will automatically have access to recordings through their personal Eventbrite area, and will also be sent email notifications when the recordings are made available.
I'm not a MetaFilter member. Can I still attend these events?
YES! Our events are open to everyone. You don't have to be a MetaFilter member to participate! (Although, if you're not a MetaFilter member - what are you waiting for? Join us.)
What is MetaFilter?
MetaFilter is one of the longest-running online communities. More than a community weblog where anyone can contribute, it is also a place where you'll find some of the most interesting stuff on the internet. At MetaFilter, you can expect thoughtful and varied discussions.
Since 1999, we've been focused on fulfilling the web's potential to bring people together and create genuine, vibrant, good-hearted community spaces. With over 325,000 registered members from different countries, cultures, ages, incomes, backgrounds and identities, we're all here together learning from each other, trying to foster positive conversations, build community, and share all the good things the internet makes possible.
MetaFilter cares about encouraging safe, kind and civil discussion spaces no matter our size or scale, and our community's efforts are reinforced by MetaFilter's small team of paid professionals providing round-the-clock moderation and support.
If you're new to MetaFilter, check out our community and site at metafilter.com. You can read more about MetaFilter here, and join us here.