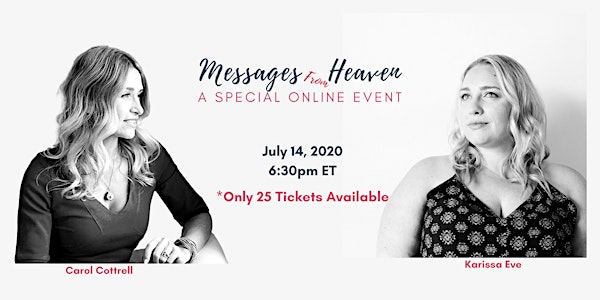 Messages From Heaven. An Online Event. July 2020
Grab a cozy spot at home for an evening of connection with passed loved ones. Only 25 tickets available!
About this event
Join International Psychic Mediums Carol Cottrell and Karissa Eve for an evening that will lift your spirits. And the best part...it will take place in the comfort of your own home through the magic of the Internet. Even when it's not easy to get together in groups, we can gather for an online celebration filled with love, laughter, joy and healing, as passed loved ones share evidence and messages reminding us love never dies.
To create a more intimate evening, the event will be limited to 25 participants. Karissa and Carol will provide as many connections and messages as time and energy permit, and while not all attendees are guaranteed a personal reading during this event, the intention is all will leave with the understanding and comfort of knowing their loved ones are present.
Tickets are available online for $45 each and will be available until 30 minutes prior to the start of the event or until sold out, whichever occurs first. Please keep in mind, these events typically sell out quickly, so consider purchasing your tickets early.
TESTIMONIALS
Best reading I've ever had. (Karissa) captured the essence of my brother like no other. Our session was full of laughs and tears. Exactly what I'd hope for and much more!!!!-Jillian H
"When I lost my father to suicide in 1999, it was the most devastating event of my life. There were so many unanswered questions and so many unresolved issues. Worse, this person that I was so close with was gone forever and I would never be able to talk to him again. A friend took me to Messages from Heaven in Charleston in the spring of 2016. I did not really believe my Dad would come through but, hope is such a powerful thing. I sat in the church with his dog tags in my hand and within two minutes of Carol taking the stage she made contact with "a very loud man who stepped forward and saluted". I knew without a doubt that was MY Dad. She went on to provide the names of my husband and my daughter and gave messages and details that could have only come from him. I don't think I have ever cried so hard. My tears were not from grief-but from immeasurable joy. ...I have felt so much happier knowing that I have a way to connect with my Dad. I feel an amazing sense of closure and peace that I have not had since the day he left us..." Murphy Funkhouser Capps.
DISCLAIMER*: All tickets are for the July 14, 2020 online event and are for one attendee only. Tickets are non-refundable and non-transferrable to other events or for other services. Event hosts are not responsible for participants' computer capabilities, Internet access or interruptions, so please ensure you are using a stable Internet provider and your computer sound and microphone are working properly. Readings should at no time be regarded as legal, medical, financial, emotional, psychological or business fact and are subject to your own interpretation and judgement. We reserve the right to refuse services to anyone and to remove anyone from the event who uses language or behavior deemed inappropriate.
Please note: you will be added to email lists for both mediums when you purchase your tickets. If you would like to be removed from those lists, please email carol@ccottrell.com to request removal.