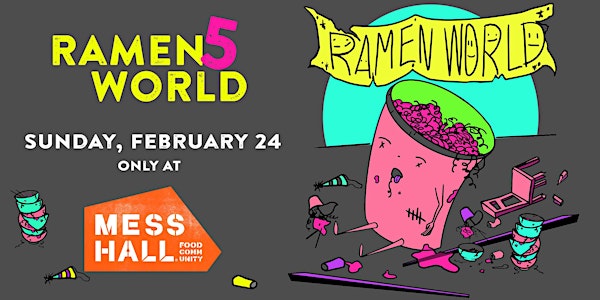 Mess Hall Presents - Ramen World 5
When and where
Location
Mess Hall 703 Edgewood Street Northeast Washington, DC 20017
Description
PLEASE SELECT 3PM SESSION WHEN CHECKING OUT.
NOON-SESSION TICKETS ARE NOW SOLD OUT - ONLY A HAND-FULL OF 3PM SESSION TICKETS REMAIN. LAST CALL FOR TICKETS. LOW TICKET ALERT. BE SURE TO SELECT 3PM TO GET YOURS AND DON'T MISS OUT! SEE YOU SUNDAY!
It's BACK!
-- Mess Hall Presents "Ramen World 5" --
You've been to Mess Hall's event space, but once a year, we open our back kitchens to the public and host some of our FAVORITE Asian concepts for you to meet + eat. We assemble the BIGGEST NAMES alongside a couple of NEWBIES who are ready to be discovered by YOU. (Remember your first taste of Thip Khao at Ramen World 1?)
Mess Hall events have EXTREMELY LIMITED TICKETS and HIGH DEMAND.
Scroll for this year's lineup...
#RamenAllStars :
Bad Saint - Chef Tom Cunanan makes his Ramen World debut with a bowl inspired by the "richly compelling" Filipino flavors that landed him the #2 spot on Bon Appetit's Best New Restaurants list.

Himitsu - Chef Kevin Tien (James Beard nominee) infuses his ramen with notes from the top rated restaurant co-owned with Carlie Steiner -expect anything but traditional bowl.


Daikaya - Chef Katsuya Fukushima and his Team (also known for Bantam King, Haikan and the soon-to-open Hatoba) use their noodles to create another innovative, never-before-seen #RamenWorld original.

Paper Horse - Ramen Powerhouse Erik Bruner Yang (famed founder of Maketto, Brothers & Sisters, and Toki Underground) shows off his innovative ramen concept, available at both the H Street & Foggy Bottom Whole Foods locations.

Fat Nomads - DC's favorite wandering Asian foodies bring their passion & creativity to Ramen World for the first time.

Uzu - Chef Hiroaki Mitsui will feature the shoyu & miso varieties that have made his Union Market stall a cult favorite.

PhoWheels - Chef Huy Nguyen's food truck will be outside serving up their infamous steaming bowls to keep us toasty.
#FRIENDSOFRAMEN* :

Momo Yakitori - A Mess Hall neighborhood favorite! Chef Andrew Chiou will be serving up dessert cooked over Japanese charcoals.
NOMAD DUMPLiNGS - Mess Hall Member Karen Hoefener returns with her colorful & creatively filled dumplings and boozy dipping sauces.

Matsukawaya - DC's favorite Japanese confectionary will be back with their delectable sweets.

Kombini - Mess Hall's newest members will offer their modern twist on traditional onigiri snacks.
There are lots of new food concepts to try on the 24th, but don't worry, we're keeping all of your favorite aspects from past years: EVERYTHING (food AND drink) is still unlimited during your 2-hour time slot! Expect a line to enter. VIP ticket holders jump the lines, but we'll get everyone in as quickly as possible and no one will go hungry or thirsty. Adult beverages provided by Kirin Ichiban PLUS CRAFT COCKTAILS BARS featuring Suntory spirits & Pratt Standard Syrups (made here at Mess Hall). AND - sample locally made Shochu from the American Shochu Company, located in Frederick, MD.

Fundraising activities during the event will go to Ramen World's charitable benefactor Capital Area Food Bank as will a portion of our proceeds.
IMPORTANT NOTES ABOUT ATTENDING:
Please pay close attention to the Round you are purchasing!! Before making your purchase, you may choose:

Noon Session: Noon-2:00 PM

OR

3PM Session: 3:00 PM - 5:00 PM.

Your participation will be limited to the start and end times of your chosen Round. Please note: we will be UNABLE to change your preferred time.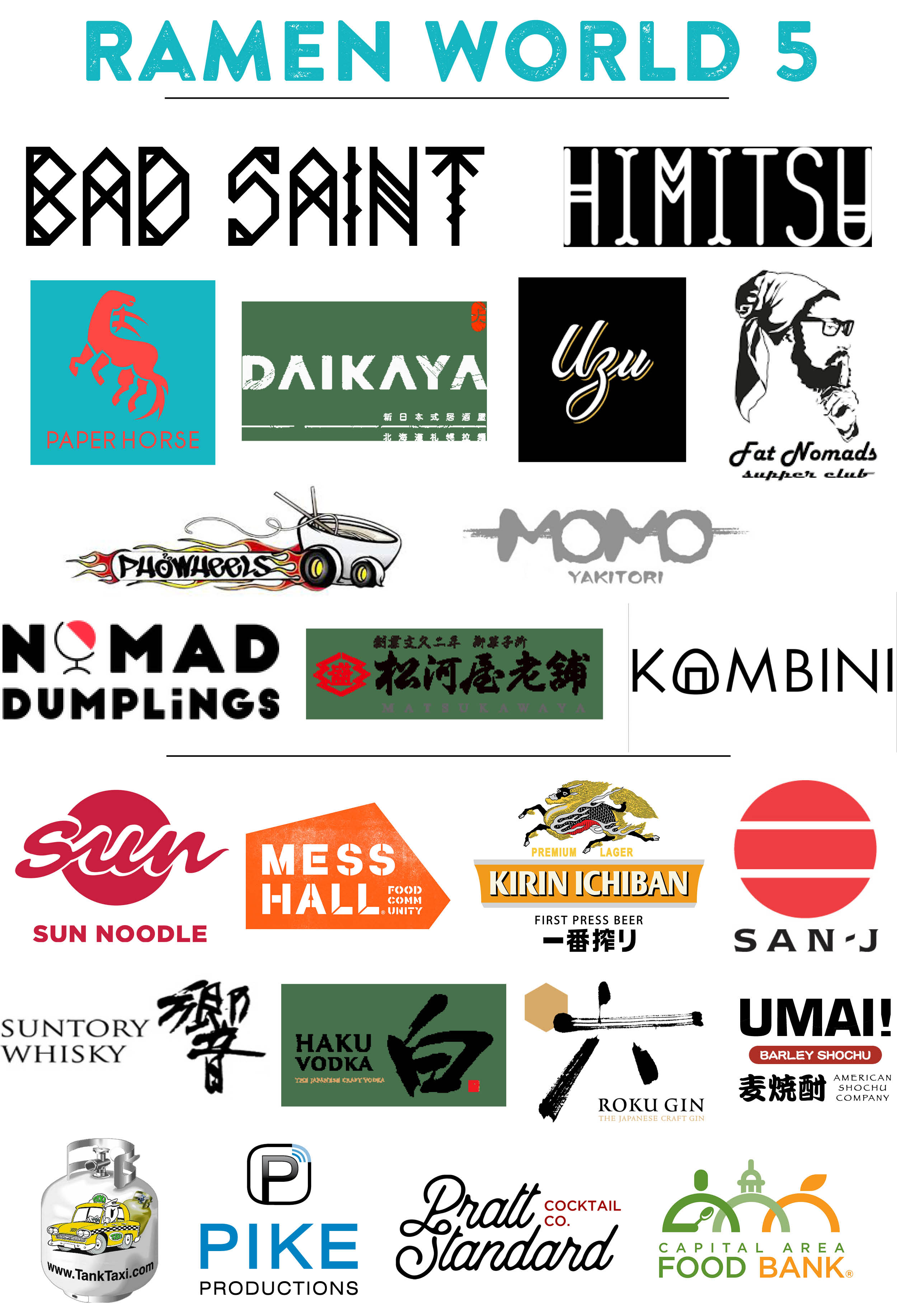 DON'T DRINK AND DRIVE.
****Disclaimers: Ages 21 and up ONLY. IDs will be checked at the door.******
*********SORRY, NO REFUNDS AND NO SWITCHING TIME SLOTS***********
Occasionally a popular item or two will run out prematurely. If that happens, visit another station. No one goes home hungry or thirsty. Some substitutions may be made based on ingredient limitations.

*Additional participants may be announced at a later date, and substitutions may occur that are beyond our control. Please note, a previous version of this page depicted Hatoba as a participant, however, the same culinary team will be representing its sister Ramen restaurant, "Daikaya," instead.
Please enjoy Ramen World responsibly and peacefully. The organizers reserve the right to deny service to participants for any reason.