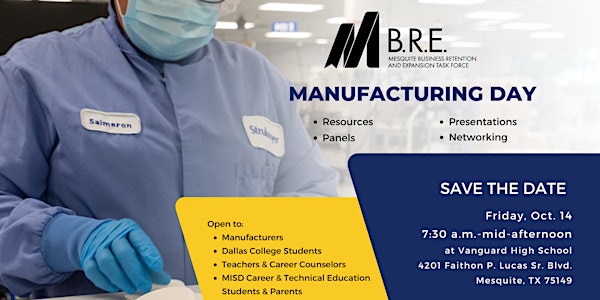 Mesquite Manufacturing Day
Third Annual Manufacturing Day
When and where
Location
Vanguard High School 4201 Faithon P Lucas Sr Boulevard Mesquite, TX 75181
About this event
9/14/22 Update - We are looking for one more manufacturer who would like to participate in the Manufacturers Panel. Also, if you're interested in setting up a table, please email lwoodward@cityofmesquite.com.
The Mesquite Business Retention and Expansion (BRE) Partnership will host a Manufacturing Day for the manufacturing and career and technical education student communities on Friday, Oct. 14 from 7:30 a.m. to 2:00 p.m.
Manufacturing Day, a national program of the National Manufacturing Association, showcases the reality of modern manufacturing careers and addresses the skills gap that is leaving too many jobs unfilled. The industry has averaged around 800,000 open jobs per month. By 2030, more than 2.1 million American manufacturing jobs could go unfilled.
Mesquite's Manufacturing Day aims to connect Mesquite ISD juniors and seniors, as well as Dallas College students, with local manufactures and manufacturing opportunities. The event will provide information on local resources and programs available to manufacturers, panels, and tours of Vanguard High School, Dallas College's Mobile Training Truck, and multiple manufacturing plants.
Registration is complimentary but required for planning purposes.
Manufacturing Day is presented by the Mesquite BRE Partnership, which consists of the City of Mesquite, Mesquite Independent School District, Dallas College, Workforce Solutions Greater Dallas, and the Mesquite Chamber of Commerce. For more information on this and previous Manufacturing Day events, visit https://bit.ly/3yIgVNP.