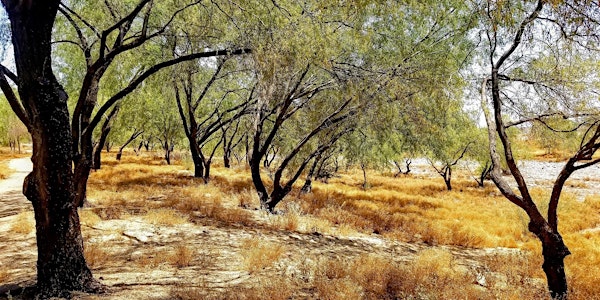 Mesquite Bean Harvest
Description
We'll meet in Tempe and harvest from over 100 mesquite trees. You'll also learn about the other edible plants we'll see there such as saltbush, sow thistle, ironwood trees, Mexican paloverde trees, unripe screwbean mesquite trees, cattails, prickly pear, brittlebush, and more. We're keeping the group very small because of COVID. We will keep the 6' apart guidelines. I'll have hand sanitizer and gloves available.
Mesquite beans make a sweet flour that has been likened to Cheerios dust. You can blend them in your blender and then sift them through a sieve to separate the flour from the larger chunks of chaff or "mash." You can substitute mesquite flour for 1/4 to 1/3 of the flour called for in any recipe such as pancakes, waffles, muffins, cakes, and breads. It takes eating local to a new level.
Mesquite has been used for 300 generations (!) of people in Arizona and Texas. Seeds have been found in the ancient dung of mastodon, camels, bison, and giant sloth that once roamed our state.
The exact address will be emailed to you within a few hours of getting your ticket at Eventbrite.
Bring your hat, sunscreen, lots of icy water, sunglasses, a tarp or king size bed sheet, sturdy hiking shoes, and a folding camping chair. Long sleeves and long pants are the best to protect from scratches and the sun.
After we harvest for a couple of hours we'll sit in the shade and share some wild desert snacks and cold drinks.
The ironwood trees are not ripe for another week or two. We'll have an ironwood harvesting event soon, and perhaps another saguaro fruit harvesting event east of Fountain Hills.
The goal is to learn hands-on how to forage in the Sonoran Desert. Our attitude is one of deep appreciation for the Sonoran Desert and the local O'odham people who shared their knowledge of desert foods.
Connecting people to their environment is our cause!