Multiple Dates
MESMERICA 360 COSTA MESA: A VISUAL MUSIC JOURNEY [POSTPONED]
This family-friendly, mind-expanding projection experience is designed to relieve stress, and is suitable for all ages 6 years and above.
About this Event
***TICKET VOUCHERS NOW AVAILABLE!***
Save money & help the fight against Covid-19!
We are pre-selling ticket vouchers for when we reopen. Pre-purchasing ticket vouchers now gives you multiple benefits:
• 1/3 off the regular ticket price
• First choice of shows when we re-open - pre-purchasers will be informed of the new dates 24h before the public.
• 1/3 of the ticket price will go to the World Health Organisation's Covid-19 Response fund
In additional you will receive free Instant downloads of:
'Mesmerica' double album in two different formats.
'Sonic Incense' - an hour-long gentle Hang performance by James Hood designed to fill your home with relaxing 'aural perfume' (mp3 format)
James Hood and Vortex Immersion Media Present:
MESMERICA 360: A Visual Music Journey
360 FULLDOME PROJECTIONS WITH 5.1 SOUNDTRACK
This family-friendly, mind-expanding projection experience is designed to relieve stress, and is suitable for all ages 6 years and above. Come and leave your troubles at the door as we take you on a fantastic journey into awe-inspiring imaginary landscapes.
"I want 'Mesmerica' to inspire you into taking a journey with me inside the mind, to engage your senses and feelings with a miraculous alchemy of sound and light!" - James Hood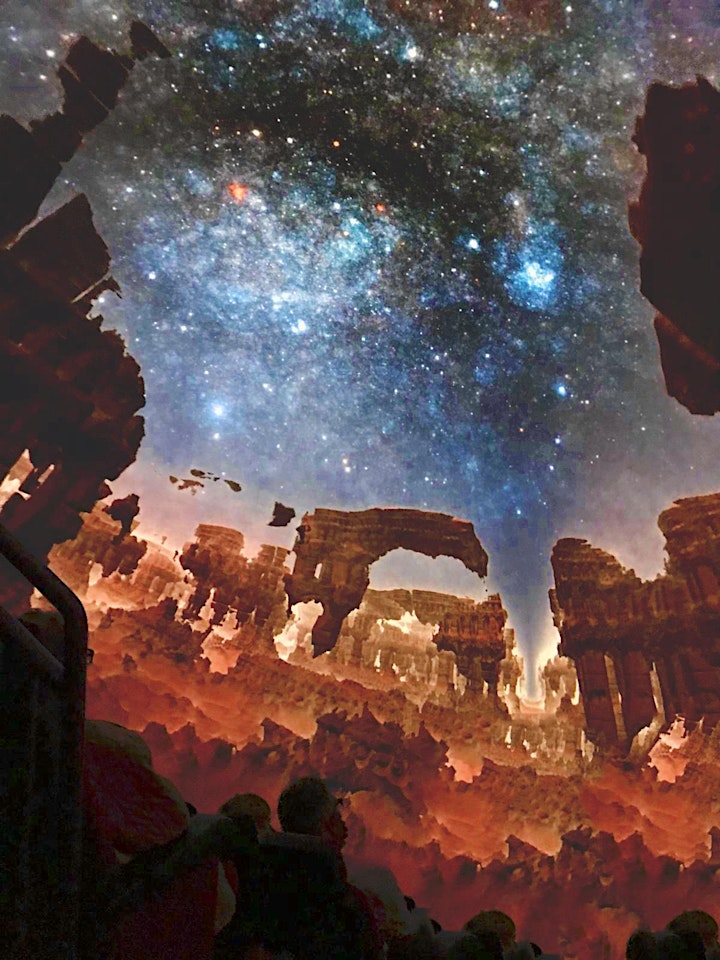 PLEASE DIRECT ALL CUSTOMER SERVICE ENQUIRIES TO OUR MESMERICA BOX OFFICE TEAM WHO ARE STANDING BY. WE AIM TO RESPOND WITHIN 5 HOURS 10AM-10PM PST.
Mesmerica is a visual music journey that brings the mesmerizing music of Grammy-nominated composer and percussionist James Hood together with visually-hypnotic, 3D animated art curated from artists around the world, creating an immersive experience designed to transcend time, relax, soothe, and stimulate your mind and senses...
** A limited number of seats are available each performance, so to avoid disappointment please book your Mesmerica tickets early, especially if booking groups.**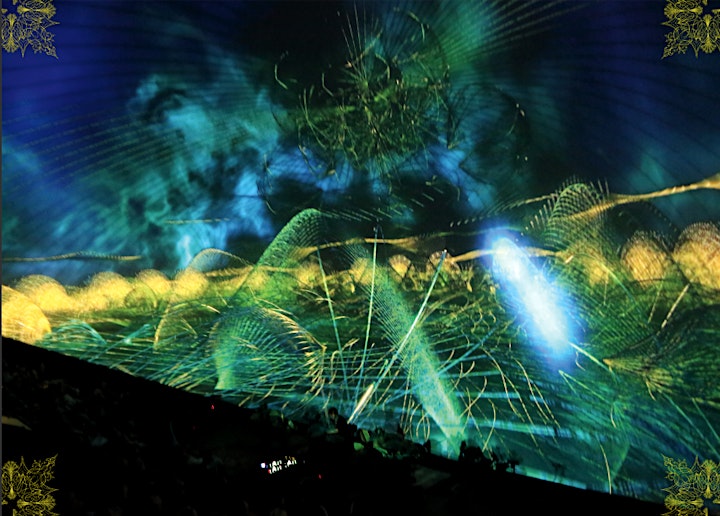 Previous visitors to Mesmerica 360:
"An amazing experience that I will never forget"
"Left me speechless...I've seen Mesmerica twice now [it] makes me feel full of love and life, optimism and relief. "
"Brought me to blissful tears..."
"The first time was life-changing! Seeing it again will be absolutely amazing!"

About James Hood
James Hood is renowned as a vital and versatile musical pioneer - especially with his work on the PanART hang, a uniquely mesmeric melodic instrument, and for his collaborations with international animation artists.
His lengthy and varied musical resumé includes playing drums in The Pretenders, an ongoing two-decades-plus run as mastermind of the visionary ambient/electronica act Moodswings, and an expansive array of production and soundtrack projects.
DISCOUNT CODES:
**ADULTS BOOKING TICKETS WITH CHILDREN (AGED 6 AND ABOVE) CAN GET A 10% DISCOUNT ON MESMERICA TICKETS WITH CODE MESMERICAFAMILY AT CHECKOUT
**GROUPS OF 6 OR MORE: GET A 10% DISCOUNT WITH CODE MESMERICAGROUP AT CHECKOUT
**IF YOU HAVE SEEN MESMERICA BEFORE, GET 10% OFF YOUR ENTIRE BASKET WITH CODE MESMERICASOUL AT CHECKOUT
Please enter your discount code when selecting tickets using the 'Enter promo code" link.
SHOW TIMES CHECK IN & SEATING SCHEDULE:
45 minutes Before Showtimes - Doors Open for Check In
30 minutes Before Showtime - VIP Guests Early Access to venue
15 minutes Before Showtime - General Admission Seating in the Dome
* * *
The Mesmerica Show is 1 hour long
**PLEASE NOTE**
PLEASE PLAN TO ARRIVE ON TIME AS, DUE TO DARKNESS IN THE PLANETARIUM THEATER AND SAFETY CONCERNS, THERE WILL BE NO LATE SEATING AFTER THE SHOW STARTS.
PARKING AND DIRECTIONS CAN BE FOUND BELOW.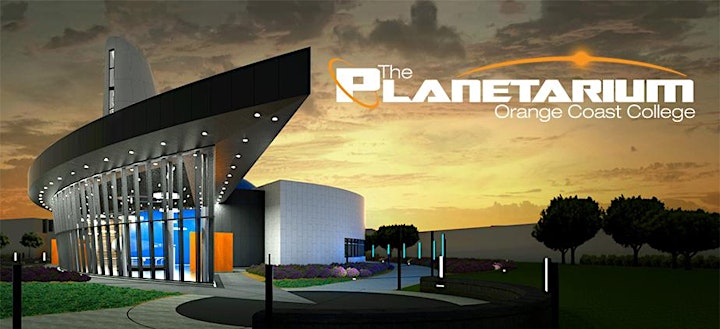 Make more of your visit to The OCC Planetarium!
The Orange Coast College Planetarium was designed to create a state-of-the-art facility that offers the very best in informal science education in a truly iconic structure at the heart of the OCC campus
The planetarium is committed to providing an innovative, immersive, and illuminating experience for Orange County and beyond. The lobby and exhibit hall of the planetarium contain several permanent and rotating exhibits that are free to visit during normal hours.
In addition, the planetarium can be a starting point for a campus-wide experience that can include the visits to the Dennis Kelly Public Aquarium, Horticulture Gardens, The Doyle Art Pavillion, and other exciting places.
For tickets and more information on what's currently showing please click here
---
Regular Hours
Monday to Thursday: 9 A.M. to 4 P.M.
Friday: 9 A.M. to 4 P.M., 6 P.M to 8 P.M.
Saturday, Sunday: 10 A.M. to 3 P.M.
---
Access to the planetarium theater is limited to scheduled shows, but the lobby and exhibit hall are open to the public during normal hours free of charge.
Parking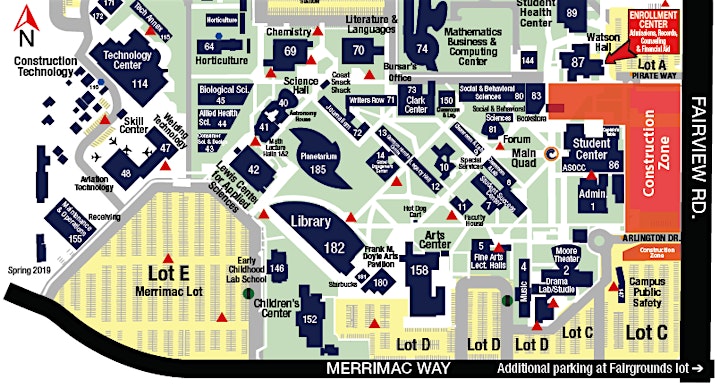 The Planetarium (#185) is located towards the southwest corner of campus. Parking and dropoff for the planetarium are located in Parking Lot E, off of Merrimac Way. Head for the walkway directly between the Lewis Center for Applied Science (#42) and the Library (#182). The Planetarium will be directly ahead.