Multiple Dates
Mermaid Makeover Photoshoot- Layla Marie Princess Playtime
Description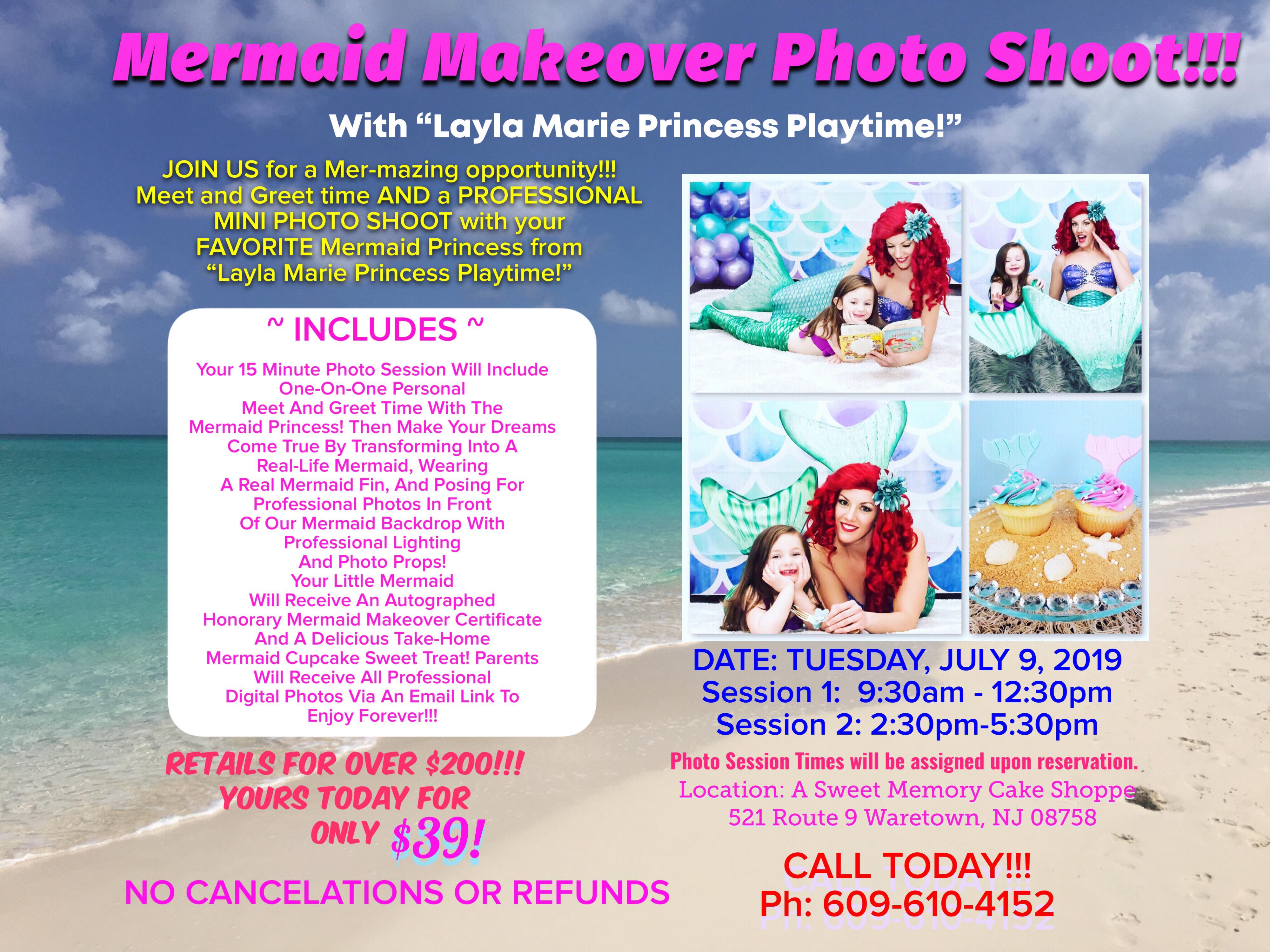 MERMAID Makeover PHOTO SHOOT!!! With "Layla Marie Princess Playtime" and "Kenny i Entertainment, LLC."
JOIN US for a Mer-mazing opportunity!!! Meet and Greet Time AND a PROFESIONNAL "15 Minute MINI PHOTO SHOOT" with your FAVORITE Mermaid Princess from "Layla Marie Princess Playtime!"
DATE: TUESDAY, July 9, 2019
TWO SESSION TIMES AVAILABLE:
Session 1: 9:30am-12:30pm
Session 2: 2:30pm-5:30pm
LOCATION: "A Sweet Memory Cake Shoppe"- 521 Rt. 9, Waretown, NJ 08758.
TICKETS:
RETAILS FOR OVER $200!!!
YOURS TODAY FOR ONLY $39!!! (Plus processing fee.) (LIMITED TIME OFFER!!!)
After purchasing your ticket(s) for Session 1 OR Session 2, please contact us to schedule YOUR 15 MINUTE PHOTO SESSION TIMES during your session of choice (Session 1 or Session 2.) Spaces will fill quickly, please call as soon as possible! Contact: Marie McMenamy- Ph: 609-610-4152. If you plan to bring a sibling or friend and you'd like your sessions back-to-back with theirs, please let us know when calling to schedule your session times. Session times will be scheduled upon a first come-first serve basis. Available times may vary.
INCLUDES:
Your 15 Minute Session Will Include One-On-One Personal Meet And Greet Time With The Mermaid Princess! Then Make Your Dreams Come True By Transforming Into A Real-Life Mermaid, Wearing A Real Mermaid Fin, And Posing For Professional Photos In Front Of Our Mermaid Backdrop With Professional Lighting And Photo Props! Your Little Mermaid Will Receive An Autographed Honorary Mermaid Makeover Certificate And A Delicious Take-Home Mermaid Cupcake Sweet Treat! Parents Will Receive All Professional Digital Photos Via An Email Link To Enjoy Forever!!!
QUESTIONS? Please contact Marie McMenamy via phone or email:
Ph: 609-610-4152. Email: LaylaMarie2008@yahoo.com
(NO CANCELLATIONS OR REFUNDS.)
***Mermaid Makeover Photo Shoot Q&A***
Mermaid Makeover Photo Shoot Confirmation Details:
Event: TUESDAY, July 9, 2019
TWO SESSIONS:
SESSION 1: 9:30AM-12:30PM
SESSION 2: 2:30PM-5:30PM
(Your photo session is a 15 minute session. Please be sure to confirm your 15 minute session time with Marie McMenamy upon reservation, Ph: 609-610-4152. Thank you.)

Hello and Welcome!!!

Hello parents and guardians and welcome to our "Mermaid Makeover Photo Shoot" Event, hosted by "Layla Marie Princess Playtime" and "Kenny i Entertainment" at "Sweet Memory Cake Shoppe!!!" We're so excited to have a WONDERFUL TIME with your little mermaids and to make memories they will cherish forever!!!

Here are some quick notes and reminders about our up-coming event! If you have any questions feel free to call/ text me (Marie McMenamy, Owner) anytime: 609-610-4152. And let's have some fun!

NOTES TO PARENTS AND GUARDIANS:
ARRIVE ON TIME:
PLEASE be sure to ARRIVE ON TIME! If your photo shoot time is 9:30am, please arrive ready to go by 9:15am. Each photo session will start PROMPTLY at their start times (based on your reservation times.)

DIRECTIONS AND PARKING:
Sweet Memory Cake Shoppe: 521 Rt. 9, Waretown, NJ 08758. Ph: 609-242-0153. Street parking is available.

WHAT TO BRING:
BATHING SUIT TOPS: Each Mermaid Makeover child MUST BRING their OWN bathing suit top to wear during the photoshoot. Four Mermaid Fin colors will be available: pink, purple, blue and green. Please be sure to color coordinate with the fin color you've chosen for your photo shoot.
PROFESSIONAL PHOTOS: Our Professional Photographer will be taking photos of your little mermaid with the Mermaid Princess from "Layla Marie Princess Playtime." All photos will be emailed to you (via digital link) within 7 days of the event.
HELPFUL TIPS FOR PHOTOSHOOT:
HAIR BRUSHED/ FACE CLEANED/TEETH BRUSHED: Parents/Guardians, please make sure your little mermaid's hair is brushed/ styled (however you prefer for it to look) for the photos, face is clean, and teeth are brushed, ready for photo time!
(Feel free to bring your hair brush/ comb with you for any extra brushing needed before the photo session.)

EVENT TIMELINE:
When your "15 Minute Photo Shoot" session begins, your little mermaid will put on our mermaid fin (the color you chose- 4 colors availble: pink, purple, blue and green) and sit beside our "Mermaid Princess" in front of our Professional Backdrop and Professional Photo Lighting. Several poses will be taken and several props will be used during the session (sunglasses, books, beach ball, etc.) During your session, we'll capture candid "in the moment" photos, posed photos and more. The Mermaid Princess will also spend this time having a fun "Meet and Greet" time with your little one- getting to know her, asking fun questions, singing songs together, etc. It will be a moment she'll remember forever, with photos she will also cherish forever!

SIBLINGS AND FRIENDS:

Siblings and friends are WELCOME to come! Please note, all prices remain the same for siblings, family and friends ($39 per child.) To ensure we capture every special moment with your little mermaid(s) each child will receive their own (individual) 15 Minute Photo Session. Thank you for your understanding.
If you plan to bring siblings or friends and you'd like your sessions to be back-to-back, and/or capture photos with them together in the photo sessions, please let us know, we'd be happy to accommodate your request.

ADDITIONAL NOTES:
For more information about our Mermaid Fins being worn at this event, visit www.finfunmermaid.com. No adult mermaids will be at this event. Additional Items will be available for sale at the event. Waivers: Upon arrival each participant will sign waivers for this event.

FOR MORE INFORMATION ABOUT WHO WE ARE, ENTERTAINMENT SERVICES AND UPCOMING EVENTS, VISIT:
Children's Entertainment for any special event! Princesses, Mermaids, Superheroes, Face Painting and more!
https://www.facebook.com/LaylaMariePrincessPlaytime/
Kenny i Entertainment- Professional Music Entertainment and more! DJ's, Live Bands, Private and Corporate Event Entertainment:
www.kennyi.com