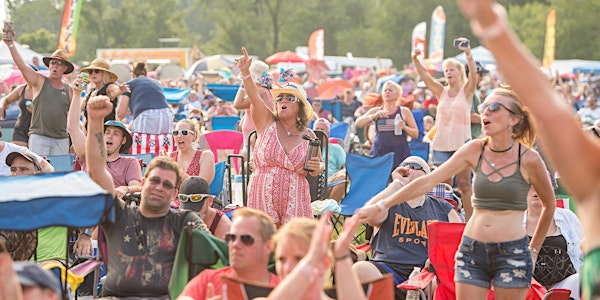 Merlot & Flash Gourd'n Music Festival featuring The Wallflowers
Location
The Vineyard at Hershey
598 Schoolhouse Road
Middletown, PA 17057
Description
You will not want to be anywhere else on August 24, 2019, as the release of Winemaker L. Paul Vezzetti's famous Merlot and Brewmaster Ryan DeLutis's super Flash Gourd'n Pumpkin Beer take center stage as part of the 7th Annual Release Day. But wait…there's more!
This year's release party, which is 21+, features The Wallflowers with Special Guests EVE 6, Blessid Reunion of Soul, the Great Enough, and All Jacked Up! This festival will also feature a food truck mash-up, beverage stations throughout the festival, and so much more.
This party is going to be legendary and full of fun memories. Gather your friends and family, pack your blankets and chairs, and lets rock out to the songs everybody knows during THE wine & beer event of the year in Central Pennsylvania!
Event F.A.Q.
Can I bring guests under 21 years old or pets?
No guests under 21 or pets will be admitted.
What's the difference in the two ticket types?
Our VIP ticket includes access to the VIP Tent & Lounge, reserved standing room section in front of the stage, private cash bar & restroom access, and a certificate for a VIP Wine or Beer Tour & Tasting experience good through the Fall season of 2019!
For General Admission tickets, pack your blankets & chairs, enjoy the show and a fun day at the Vineyard!
What can I bring?
You may pack lawn chairs or blankets. Umbrellas (except those attached to chairs - we encourage those), canopies (except the low sun canopies), or anything similar that obstructs views will not permitted so as to maximize the view of the stage for attendees. Unlike in past years, guests may not bring any tables to the party.
While guests can bring outside food, guests cannot bring in outside beverages (including water & soda). Beer & wine will be sold in 12 oz cans, while cider in bomber bottles to ensure quick service!
What time should I arrive?
Gates open at 1 pm for the Party! Note that our property is a working farm and does not have multiple points of entry, so it is important to arrive early (and carpool!) so you can park, enter the festival and have a great experience without unnecessary delay.
Approximate Festival Schedule
12:30 pm -- Parking Lot Opens
1:00 pm -- Festival Opens
1:00 pm -- All-Jacked Up!
2:45 pm -- The Great Enough
4:15 pm -- ReUnion of Souls
5:45 pm -- eve6
7:30 pm -- The Wallflowers
Can I leave the festival grounds and return later?
There is no reentry to the festival grounds except for medical reasons escorted by security. There also will be no tailgating permitted.
What food options will be available?
The food trucks that will be in attendance are:

Sittin Pickin Chicken, Dog House, Faire Food Xpress, Rolling Grille, and Fireside Pizza

.
What happens if it rains?
The festival is rain or shine.
What's the parking situation?
We ask guests to carpool with at least 3 people per vehicle in order to maximize available space in the festival area as we have lost a number of parking spots due to the reconfiguration. Note we will not permit any RV or larger vehicles to park or drive down the property.
Anything else I should know?
We strongly recommend you dress to enjoy a day on our 40-acre farm. As the festival is spread out, please wear appropriate and comfortable walking shoes. We will have a bag check inspection upon arrival, and as a reminder, outside beverages, guests under 21, and detached umbrellas/tables are not permitted. Finally, we do not permit weapons of any kind on the farm.
Tickets are Non-Refundable!