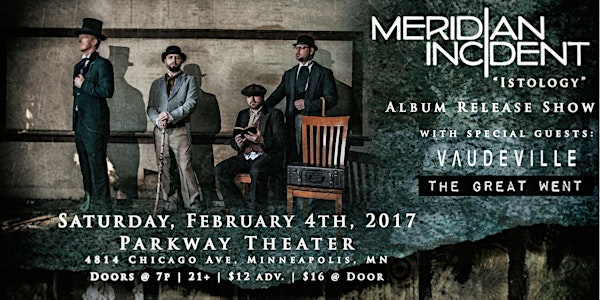 Meridian Incident, "Istology" Album Release and Live Production
Location
The Parkway Theater
4814 Chicago Avenue
Minneapolis, MN 55417
Description
Meridian Incident is excited to announce the release of its debut album, "Istology" in a production combining music, photography, and film. Using all of these disciplines together to cohesively tell a very important story is what makes this project truly remarkable.
Janey is the main character in this story. She is a survivor of childhood abuse. As is the case with the majority of childhood survivors, they are not emotionally or intellectually capable of understanding the trauma. They instead often turn to negative coping mechanisms to deal with the anxiety, anger, and mistrust that follow abuse.
Join us on Saturday, February 4th at the Parkway Theater as we present a production 6 years in the making. Joining Meridian Incident are Vaudeville and The Great Went. Doors open at 7:00.
theparkwaytheater.com
meridianincident.band
vaudevillemusic.com
thegreatwent.com