Actions and Detail Panel
Meredith Kessler Book Signing: Life of a Triathlete
Mon, April 17, 2017, 6:00 PM – 8:30 PM PDT
Description
Sports Basement and Golden Gate Tri Club are thrilled to host Meredith B. Kessler for a presentation and book signing of Life of a Triathlete! Beer will be provided by Sufferfest Beer Company, snacks will be provided by Zupa Noma, Redbull will be dolling out the drinks, and ROKA will be showcasing the latest in their swim line. Copies of Life of A Triathlete will be avialable for purchase for $20.00.
Whether you are looking to race in your first triathlon or want tap into your racing potential, Life of a Triathlete is the book for you!
Meredith Kessler:
Meredith grew up in Columbus, Ohio where she was a 4-sport athlete and was inducted into her high school's Athletic Hall of Fame. Meredith went on to receive a Division I athletic scholarship at Syracuse University where she participated in field hockey and track. After graduation in 2000, she used her graduation money to purchase her first triathlon bike and entered in a full Ironman (2.4 mile swim, 112 mile bike, 26.2 mile run) two weeks later. From that moment on, she caught the spirit of Ironman competition and hasn't looked back. Since that first Ironman in 2000, Meredith has completed 59 full Ironman races all over the United States and the world. She is an 11 time full distance Ironman and 21 time half distance Ironman champion.
Outside of her career as a professional Ironman triathlete, Meredith takes pride in being the best wife, daughter, sister, friend and mentor that she can possibly be every day. Her family and friends are paramount in fueling her energies to compete at such an elite level.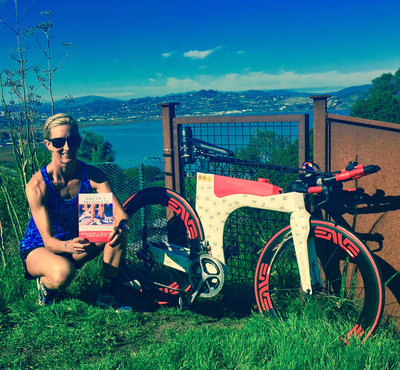 Life of a Triathlete:
Life of a Triathlete examines how a perennial above-average amateur learned, through much trial and error, how to elevate herself and navigate the pro ranks. This manual does not discriminate based on level of competitiveness, and the tips and techniques can be used across all sports. Meredith Kessler wants to share her hard-earned knowledge with the triathlon world and beyond so that athletes everywhere can reduce the time it takes to achieve their dreams.ne.
Agenda:
6pm

: Meet and greet with Meredith & Sufferfest Beer
6:30pm: MBK Presentation and Q&A
7:15pm-8:30pm: MBK Book Signing and Shopping
Drinks and snacks will be provided and Sports Basement will be offering 20% off all purchases for the evening!