Location
Penang Malaysian Cuisine
1720 West Algonquin Road
Arlington Heights, IL 60005
Let's come together to celebrate Malaysia's 65th Independence
About this event
The thought of associating Malaysia independence is of an historical moment at Dataran Merdeka (Independence Square) in Kuala Lumpur back in 1957, the chants of "Merdeka! Merdeka! Merdeka!". Malaysia got their independence from the British colonialism.
Fast forward 65 years later, the theme for this year's Merdeka day is "Keluarga Malaysia, Teguh Bersama" which meant Malaysian Family, Stronger Together. This reminds us whether we are in Malaysia or other parts of the word, we Malaysians as a community, as a family, to be stronger together in all aspects of our daily lives.
Malaysian Club of Chicago will be hosting a Merdeka celebration this year at Penang Malaysian Cuisine in Arlington Heights, IL and would love to invite all Malaysians and friends of Malaysians this year to celerate Malaysia's 65th Independence Day together.
Merdeka Day Celebration
Venue: Penang Malaysian Cuisine
Time: 1:00-3:00PM
Cuisine: Duh! Do you really need to know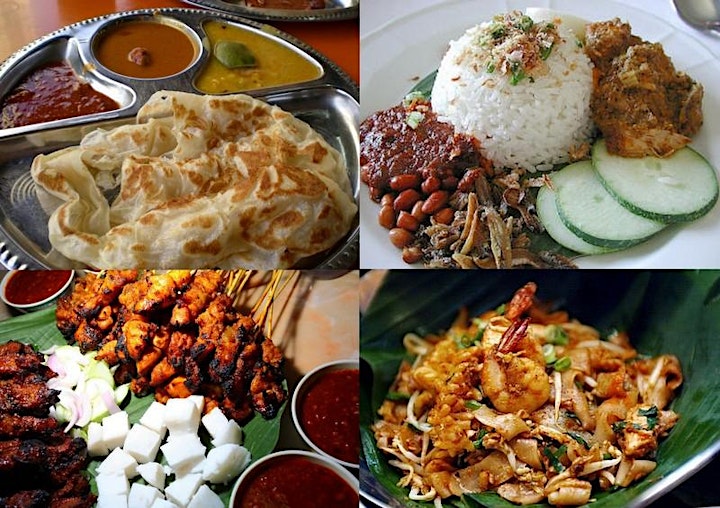 So what are we having?
Good selection of vegetarian and non-vegetarian options
Appetizers:
Roti Telur (v)
Chicken Satay
Acha (v)
Pasembur (v)
Mains:
Nasi Lemak (v)
Chicken Curry
Fried Chicken
Mee Goreng Mamak (v)
Char Kuey Tiaw w/ Shrimp & Eggs
Vegetable Curry (v)
Desserts:
Cendol (v)
Assortments of Kuih (v)

Ticket price:
Age 12 and up: $50.00
Age 6-11: $25.00
Age 0-5: Free
For group ticket purchases of 10 or more, contact Catherine Wang @ 312-404-8185.
Early bird and AACC 2022 attendees will be given a 20% discount to their ticket price, a rebate of $5 or $10 depending on regular ticket purchased will be given to guest on the day of event. Early bird tickets purchased have been automatically applied 20% off the regular pricing.
Notes:
Please inform us that you are AACC 2022 attendees if you miss out purchasing the early bird tickets.
When purchasing early bird tickets, you are already receiving 20% off which no rebate will be given on the day of event.
Updates
Drinks updates - Unlimited Teh Tarik, soda pop and H20
Cash bar available