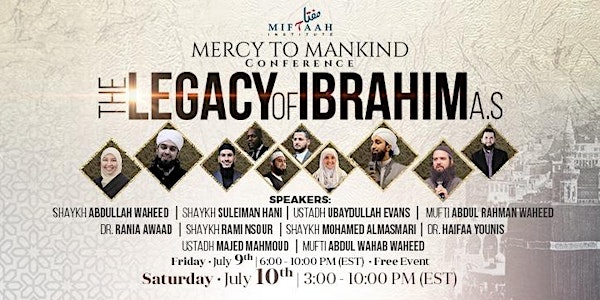 Mercy to Mankind Conference Fri/Sat
Miftaah Mercy to Mankind Conference Fri/Sat
When and where
Location
Miftaah Campus 11200 East 11 Mile Warren, MI 48089
Refund Policy
Contact the organizer to request a refund.
About this event
Schedule:
Friday, July 9th from 6:00 - 10:00 PM EST - FREE ADMISSION
Saturday, July 10th from 3:00 - 10:00 PM - Admission Required
Mercy to Mankind | The Legacy of Ibrahim (AS)
The household 🏠 of Ibrahim (AS) signifies a rectitude evident within the fabric of Islam, certitude in Allah (SWT) and credence in His Divinity 🕋. From the conflict of monotheism ☪️ with his father to the heart wrenching 💔 decision to abandon his wife and son, the trials given to the family of Ibrahim (AS) elucidate the natural disposition of a believer, to be in sincere submission 🤲🏼 to our Lord, Allah (SWT).
Miftaah Institute is excited to announce the arrival of the annual 𝐌𝐞𝐫𝐜𝐲 𝐭𝐨 𝐌𝐚𝐧𝐤𝐢𝐧𝐝 conference, 𝙏𝙝𝙚 𝙇𝙚𝙜𝙖𝙘𝙮 𝙤𝙛 𝙄𝙗𝙧𝙖𝙝𝙞𝙢 (𝘼𝙎)! This year, we are honored to host guest scholars 🌟Shaykh Rami Nsour, 𝑫𝒓. 𝑹𝒂𝒏𝒊𝒂 𝑨𝒘𝒂𝒂𝒅, 🏆 Shaykh Abdullah Waheed,💥 Ustadh Ubaydullah Evans, 𝘿𝙧. 𝙃𝙖𝙞𝙛𝙖𝙖 𝙔𝙤𝙪𝙣𝙞𝙨, 💎 Mufti Abdul Rahman Waheed, 𝐒𝐡𝐚𝐲𝐤𝐡 𝐌𝐨𝐡𝐚𝐦𝐞𝐝 𝐀𝐥𝐦𝐚𝐬𝐦𝐚𝐫𝐢, and 𝑼𝒔𝒕𝒂𝒅𝒉 𝑴𝒂𝒋𝒆𝒅 𝑴𝒂𝒉𝒎𝒐𝒖𝒅,  to explore the members of a family engraved within the footprints 👣 of Islam and honored in the Book of Allah (SWT).
Join us on 𝐅𝐫𝐢𝐝𝐚𝐲, 𝐉𝐮𝐥𝐲 𝟗𝐭𝐡 𝐟𝐫𝐨𝐦 𝟔:𝟎𝟎 - 𝟏𝟎:𝟎𝟎 𝐏𝐌 𝐄𝐒𝐓 and 𝐒𝐚𝐭𝐮𝐫𝐝𝐚𝐲, 𝐉𝐮𝐥𝐲 𝟏𝟎𝐭𝐡 𝐟𝐫𝐨𝐦 𝟑:𝟎𝟎 - 𝟏𝟎:𝟎𝟎 𝐏𝐌 𝐄𝐒𝐓 for an experience you wouldn't want to miss!