About this Event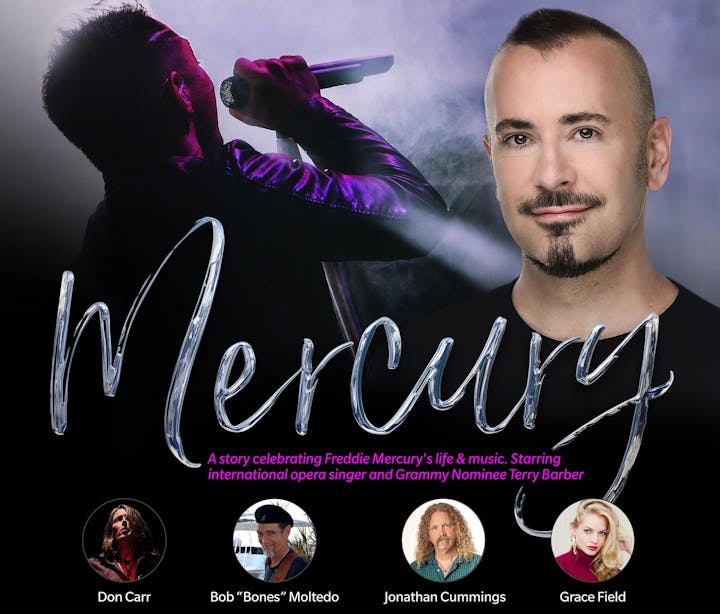 Presented by Milton Theatre @ The Beach
LIVE at The REHOBOTH BEACH CONVENTION CENTER
DOORS: 6:30 PM / SHOW: 7:30 PM
Starring international opera singer and Grammy-nominee Terry Barber.
Mercury's "story" is told by all five cast members as they help the audience get to know the rock legend.
"We're here to tell a story, about fame, decadence, triumph and tragedy. About a man who had it all and could never have enough! It's a story about music that made the world shake, stomp, chant, and cheer. It's a story about a man who helped a generation learn to rock!"
Mercury Concert Tour features the songs that made Queen's front man famous, and details about the man who rocked our worlds! Starring Terry Barber, featuring Don Carr (The Oakridge Boys), Grace Field, Jonathan Cummings, and "Bones" Moltedo. Songs include: We Will Rock You, We Are The Champions, Love of My Life, The Show Must Go On, The Great Pretender, Crazy Little Thing Called Love, Hammer To Fall, Fat Bottomed Girls, Barcelona, Bohemian Rhapsody, and more!
A portion of your ticket will benefit the CAMP Rehoboth Community Center.
Get a sneak peek of the show here: VIDEO
VIP tickets to include access to VIP Experience before the show and during intermission. The lounge will include a private bartender and delicious sweets, all while you enjoy our cosy VIP area. Plus, an exclusive pre-show and intermission performance by AL FRANTIC