Description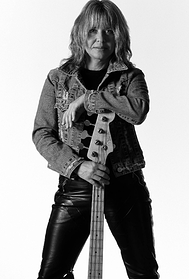 MUSICIANS FOR EQUAL OPPORTUNITIES FOR WOMEN (MEOW) is proud to present The First Annual MEOW Con.
MEOW Con is a forum to address needs and challenges of women in the music industry today.

MEOW Con brings together musicians, journalists, academics, students, bloggers and filmmakers as well as industry professionals for three days of education and networking opportunities.

The conference will combine 100 official music showcases, 50 film screenings, panel discussions, book readings and workshops to elevate the status of women in music.
Scheduled discussions include topics such as touring when you are a mom, controlling your image as a woman and constructive ways to combat sexism in the music industry.

The kick-off for the inaugural event is a banquet honoring the 2013 Woman of Valor Award recipient, musician/actress/entertainer Suzi Quatro and Margaret Moser of the Austin Chronicle.
Tickets for the Suzi Quatro WOV Award Banquet and/or the VIP Meet & Greet are optional and must be purchased separately.
These events are NOT included in the registration price!!
REGISTRATION PRICES (Full access to panels, keynote, films, performances, workshops, trade show)
$225 – July 1, 2013 – October 21, 2013
$250 – October 18, 2013 – Walk-up
WRISTBANDS - EVENING SHOWCASES ONLY 10/25 & 10/26
$45 – through October 21st
$55 - after October 21st
WOMAN OF VALOR AWARD OPENING NIGHT BANQUET
HONORING SUZI QUATRO (with a special performance by Suzi)
$125 - Thursday evening, October 24th (7:00 PM) - sales end 10/21
$50 - VIP pre-show cocktail meet and greet with Suzi (5:00 PM) - sales end 10/21
ALL ACCESS PASS (Registration, preferred seating at WOV banquet and VIP Reception)
$375 (ends 10/21)
SINGLE DAY PASS

$125 - through Oct 21st.
$150 - Oct 21st through walkup.
AUSTIN MAGICAL MUSICAL MYSTERY TOUR
$35 per person - Take a 2-hour tour of Austin's sights and sounds on Sunday after the conference. Bus leaves from the Renaissance hotel at 11AM - tickets must be purchased in advance by 10/21
For up-to-the-minute information visit www.meowcon.com.