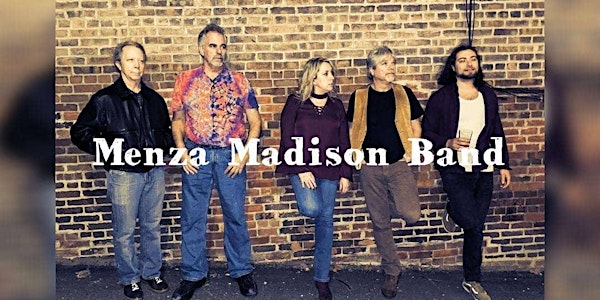 Menza Madison Band
When and where
Location
Lucy's Lounge - Bar & Kitchen 446 Bedford Road Pleasantville, NY 10570
Description
About the band:
Be prepared for a night celebrating the pure joy that music brings and the intoxicating feeling of what a live music experience was meant to be!
Featuring:
Tracy Madison: Lead vocals
Mike Menza: Lead guitar
Joe Menza: Lead guitar
Tim Chanowitz: Bass
The MMB is rooted in a shared respect and passion for Blues music. Blues is the humble, soulful beginnings of our beloved Rock 'n Roll. It's raw, swampy, down-in-your-bones sound is what inspired their favorite artists. For those who have a hard time understanding the Blues, is one of reasons MMB is dedicated to introducing it toa new wave of listeners, and to help those who once loved it to remember its magic. Blues is about life - not only the hardship and struggle of the human condition but love, joy and living. It's about Soul. It will make you weep, make you smile, kick you in the ass and wind you up, all the same.
Based in the Hudson Valley but hailing from Duanesburg, NY, and to Greenwich Village NYC, the band is fronted by soaring, gritty lead vocals by Tracy Madison,searing guitar work on vintage gear by father and son team: Mike Menza and JoeMenza and topped off by the freight train rhythm section: Tim Chanowitz on the bass guitar and featuring
Rich Sarles on
the kit!
Their original music is about one thing and one thing only….Soul. The audience is lifted by that unmistakable"old school" tone, and harmonic leads served up by Mike and Joe on vintage gear with their strict "no pedals" policy. Tracy's vocals take you to church with the honesty, passion and grit reminiscent of the unforgettable women who shaped rock 'n roll. The MMB will bring you to your knees and lift you upoff your seat in the same breath.
The MMB has proudly shared the stage with award winning pianist, Bruce Katz formerly of the
Gregg Allman Band
, Scott Sharrard, musical director and guitarist for
Gregg Allman
, Blues giant:
Coco Montoya
, and New Orleans' own Jamie McLean Band.