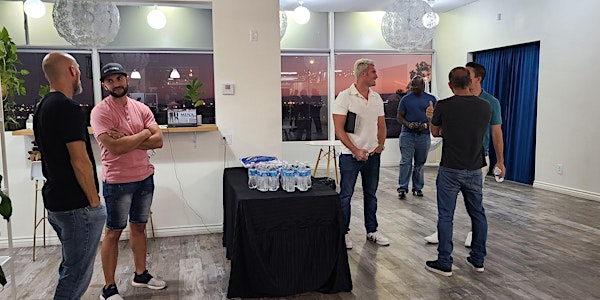 Multiple dates
MENX: Male Entrepreneur Experience
For 21+ year-old men who are looking for something deeper before talking business. This is NOT your typical networking event.
Date and time
Mon, 20 Feb 2023 19:00 - Mon, 18 Dec 2023 21:00 PST
Location
FEMX QUARTERS 1919 San Diego Avenue San Diego, CA 92110
About this event
Are you a male 21+ year-old business owner who is looking for something more meaningful in your life and business?
Are you committed to growing yourself and your business for explosive growth?
How many times do you attend a networking event, and after the "what do you do?" you find yourself feeling that weird feeling inside.
You didn't come any closer to generating any genuine connections and little business growth. You grabbed a few free pretzels but you left feeling "what a waste of time!".
What your soul craves is a deeper connection with men who understand you, your needs, have your back, and want to send business your way because of who you are, not just what you do.
100% of the business owners who attended the first MENX decided to take part in our unique networking process because of the impact it had on them.
They say things like:
"This is amazing. The connections are so rich".
"This is exactly what I needed"
100% different from what you have ever experienced.
Every MENX, we talk about real topics that help you to grow and introduce business connections after a certain period of time. Think about it like this:
Are you more likely to send business to someone who you met once, or that you actually knew because you had got to know them?
When you leave your first event, you won't want to leave, because you feel so accepted and understood, you feel pulled to return, where normally you would force it.
Oh and we happen to have an awesome location for us to hang out.
Welcome to the true next level that helps you to become more successful because you become the very best version of yourself.
The world needs you like that.
Please note that it is very normal for some (not all) men to self sabotage attending events like this, we understand this so please get your ticket now and make the commitment to show up even if part of a last-minute finds an excuse.
You will be made to feel at home from the moment you walk into your first event.
-Noe
Leading Men On A Mission
Noe Castellon moved down from Seattle, WA. He has lived in San Diego since 2005. After graduating from Point Loma Nazarene University, he immediately started working in Real Estate with a local investment company. After learning the ins and outs of the business, he started his own wholesale real estate business. In 2019 he helped open FEMX Quarters, a local creative space & events venue in Mission Hills.