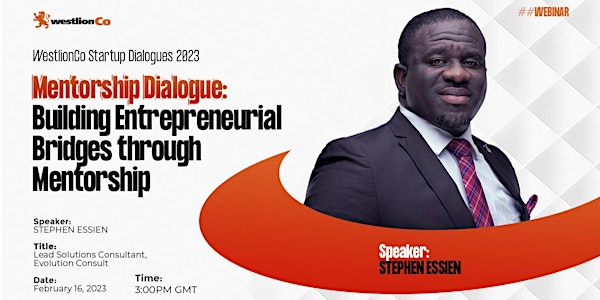 Mentorship Dialogue: Building Entrepreneurial Bridges through Mentorship
This conversation will explore the nuances of mentorship, both positive & negative and the best way to navigate a mentor-mentee relationship
Date and time
Starts on Thursday, February 16 · 7am PST
About this event
The world of entrepreneurship is characterized by unpredictable pitfalls and its mandatory journey is one hell of a bumpy ride. Though there are many resources available to entrepreneurs, a dedicated mentor with field-specific experience proves useful in many remarkable ways. It's incredibly gratifying to have a mentor whose journey is complementary to yours and who is personally invested in your success.
Despite the fact that mentorship has been identified as a key enabler of performance, not all entrepreneurs have warmly embraced the concept of mentorship. Some entrepreneurs view the relationship between a mentor and a mentee as intimidating while others despise the vulnerability that comes with being professionally naked before a total stranger.
No matter how valid our insecurities about mentorship may be, the world would only be a constant cycle of repetitive blunders without it. Mentorship remains one of the most effective entrepreneurial resources available to emerging entrepreneurs.
This conversation will explore the nuances of mentorship, both positive & negative, and the best way to navigate a mentor-mentee relationship.
EVENT DETAILS:
SPEAKER: STEPHEN ESSIEN (Lead Solutions Consultant)
HOST: GIFTY BOATEMAA ANNAN (Co-founder & CEO, WestlionCo)
DATE: FEBRUARY 16, 2023
TIME: 3:00 PM GMT