Description
As growing professionals, seeking out mentorship opportunities early on is what will propel our careers in the right direction. We are the lifeblood of any organization, the tech savvy heart and a generation that grew up with service learning at the core of our education. It is important that we recognize when a mentor is opening the door to mentorship and sponsoring us into our next opportunity. In this session, Adrianne will discuss ways to recognize sponsorship, activate it and keep the cycle going for other growing professionals.
About Our Speaker: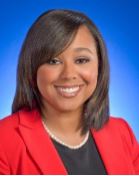 Adrianne serves as the Program Director for Civic Boot Camp and LEAD, and as the Event Director for Get on Board and Civic Leadership Summit. In these roles, she develops curriculum and oversees the planning, marketing and logistics for each.
Prior to joining Leadership Indianapolis, Adrianne worked for Girls Inc. of Greater Indianapolis as a Program Support Coordinator where she managed all partnerships on Indianapolis' Westside. In 2013 Adrianne took on a new venture and began a small event management business, specializing in day of wedding execution. She has a deep connection to the Indianapolis community and has both worked for and served on committees for United Way of Central Indiana in the past.
Adrianne comes from a family of community servants and considers it an honor to serve others in her free time as a community resource. She is the Membership V.P. of The Exchange at the Indianapolis Urban League and inaugural Exchange Leadership Fellow, serves as President of the Alumni Heritage Association Board at The Orchard School, is a Indianapolis Foundation Fellow, on the Membership Committee, and Unity Project Committee at the Jewish Community Center, is a former Co-Chair of United Way of Central Indiana's Diversity Volunteer Awards, and serves as Youth Director at First Baptist Church North Indianapolis. She is a proud member of Alpha Kappa Alpha Sorority, Incorporated and the Junior League of Indianapolis. Adrianne is a 2015 graduate of United Way's Leadership United. In 2015, Adrianne threw her hat in the ring and ran for Indianapolis – Marion County City Council to represent Council District 7. Adrianne is a proud graduate of Hampton University in Hampton, Virginia where she received her bachelor's degree in political science.