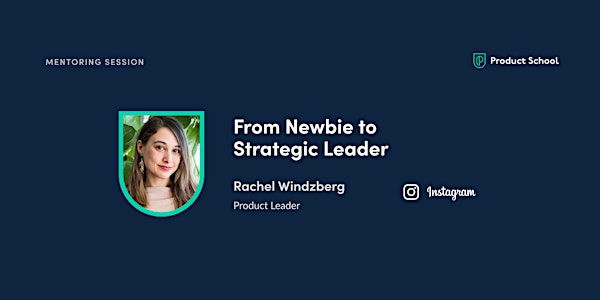 Mentoring Session With Instagram Product Leader, Rachel Windzberg
Product School hosts free daily Product Management events with top professionals who are there to help you level up your career!
About this event
DISCLAIMER: Register here to watch the stream or access the replay
Welcome to Product School's new opportunity to get real personalized advice from top product leaders in the industry. Each event in this series will feature a top-notch product professional offering live advice on a specific topic.
For this event, we are excited to be joined by Instagram Product Leader, Rachel Windzberg. She is ready to share her unique knowledge of interview preparation, managing large cross-functional teams, and building strategic roadmaps.
If you are looking for some career guidance to become a well-organized and powerful leader, register today to learn from one of the best.
How does it work?
We have a limited number of tickets to join in LIVE for this mentoring session. You and the other guests will share your time with the mentor, getting your specific questions directly answered on Zoom during the event. There, you will have the opportunity to openly discuss your questions and shape the future of your product career.
If you aren't quite ready to be matched with a mentor or are just interested in learning more about the topic, we will also have the option to join in as a viewer of the mentoring session. This is the perfect opportunity to get an inside look at what the mentor-mentee relationship can be and learn more about the subject.
Meet the Speaker: Rachel Windzberg

Rachel is a Product Leader at Instagram, where she works alongside a group of engineers, data scientists, UX researchers, and designers to grow their Reels product and improve overall engagement across Facebook and Instagram.
The content of this event is for educational purposes only and does not include any specific facts of the presenter's current or previous company. The opinions expressed in this event are solely those of the presenter based on personal experiences and do not reflect those of the company the presenter works for.
Get the FREE Product Book here and check out our curated list of free Product Management resources here

Product School is the global leader in Product Management training with a community of over one million product professionals. Our certificates are the most industry-recognized credentials by employers hiring product managers. All of our instructors are senior-level Product Managers working at top Silicon Valley companies including Google, Facebook, Netflix, Airbnb, PayPal, Uber, and Amazon.
Disclaimer: by registering for this event I agree to receive email communications from Product School and all sponsor brands.