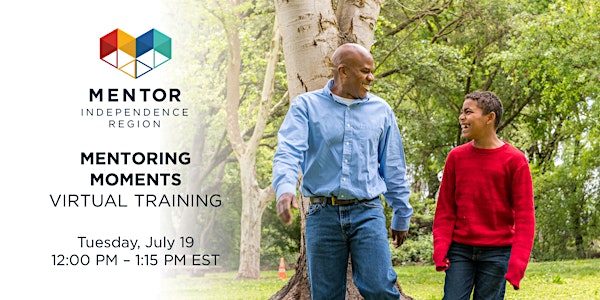 Mentoring Moments Virtual Training
Free virtual training for adults in relationship-rich spaces to learn how to approach interactions with youth with a mentoring mindset!
About this event
This free training is made possible by generous funding from The Wawa Foundation.
Get the skills and strategies you need to increase the quality and depth of your everyday interactions with youth!
This training is specifically intended for natural mentors who may not be mentoring through a formal mentoring program, but interact frequently with youth in relationship-rich spaces.
This free virtual training will be facilitated by MENTOR Independence Region, an affiliate of MENTOR National.
In this interactive virtual training participants will:
Understand the evidence-based developmental approach to interacting with youth
Explore concrete strategies to activate mentoring moments with youth
Practice reflective listening skills
Explore setting and maintaining healthy boundaries
Participation in this training will require a high level of interaction, and the session will not be recorded.
To ensure this free training opportunity is available to as many organizations as possible, we kindly request that registrations are limited to 10 registrants per organization. Thank you for your consideration!