Description
Fresno Unified's Mentoring Matters
The event is FREE. Registration is required to attend the event.
You're invited to Mentoring Matters—helping Fresno Unified reach its goal of recruiting 100 black mentors. With over 74,000 students, many district youth crave an adult role model. The demand is greater than our resources, especially with our young men of color. Fresno Unified has set a goal to enlist 100 black men to provide leadership, guidance and adult mentoring . . . but we need your help. Join us for this day of inspiration and empowerment as you hear from both adults and students speak of the power of mentoring. Fresno Unified's youth are waiting for someone to be a positive caring presence in their lives—Are you ready?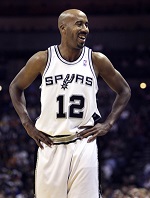 Keynote speaker, Bruce Bowen knows firsthand the impact a strong role model can play in the life of a child. ESPN Analyst and 3x NBA Champion grew up right here in Fresno, graduating from Edison High School. His story of perseverance and determination speaks volumes to those in his life that helped guide him on his journey to the NBA—a journey that did not have a direct path to stardom. As an adult, Bruce gives back doing outreach with the youth, speaking at schools and hosting free basketball camps. During his camps, Bruce shares a much larger message then just how to improve your game, he provides life lessons; encouraging students to eat healthy and make reading part of their daily routine—even providing campers free books.
The day ends with VIP seating at the Save Mart Center for the FSU Men's Basketball game against Cal Poly at 4p.m.
Event Schedule:
12:00 p.m. Check in at Fresno State Satellite Student Union
12:30 p.m. Lunch and Program
3:30 p.m. Walk to the Save Mart Center
4:00 p.m. Game time FSU Men's Basketball vs. Cal Poly