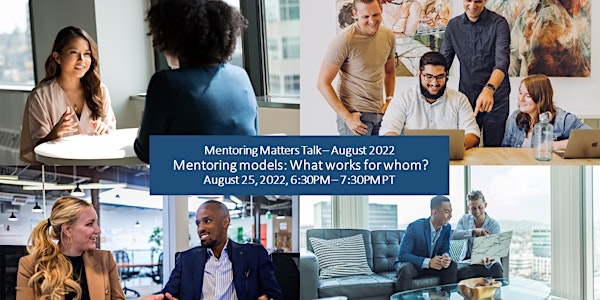 Mentoring Matters Talk - August 2022
Mentoring models: What works for whom?
About this event
Have you ever wondered how mentoring works?
There are many ways to engage in a mentoring relationship to support leadership development.
As mentors, we have an exceptional opportunity to influence our mentees' future as leaders.
As mentees, we need to understand what's at stake and take ownership of the results and the achievement of our goals with our mentors' understanding and support.
What are the differences between informal and formal mentoring?
What other models of mentoring are available and practiced widely?
Can you expect mentors to be trained on mentoring approaches when you engage in mentoring relationships?
In this panel discussion, you will hear from seasoned leaders and mentors their experiences in helping out mentees and working on mentoring programs - pitfalls and success secrets - so you can prepare yourself for different types of mentoring relationships and make the most of them whether you are the mentor or the mentee.
We will have an open conversation about our panel of speakers' similar or different views about mentoring models and approaches and their take on what mentoring model will be best for a given mentee situation, based on their individual experiences and perspectives of the challenges leaders are facing today and may be facing in the future.
Meet Our Featured Speakers:
Moderator:
Lori Crever, Author, Protege Power
Lori Crever worked for two decades inside a Fortune 50 company managing communications and employee engagement programs for its international division. Grounded in the humanities, Lori constructed and led the most celebrated and replicated career mentor program across the enterprise. Three years into the program, a human resources team surveyed mentee participants to understand how well they had advanced after completing their mentoring relationship. The team learned that 88 percent of program graduates experienced a notable surge in role level, sphere of responsibility, job title, and/or salary. Each participant attributed this to having the right mentor, along with skillful program support. Lori's methods have proven effective for mentors and mentees alike, resulting in career breakthroughs for professionals of all levels. Lori is the director of strategic partnerships at the award-winning diversity & inclusion firm, IC Edge, and is the author of the book Protégé Power: A Roadmap for Mentorship. When not speaking on workplace issues of engagement and inclusion, Lori performs improvisational comedy and is a frequent participant in poetry and storytelling events.
Panel of Mentor Speakers:
Dr. Lesley Petersen, The Mentoring Specialist
Dr. Lesley Petersen has over thirty years experience in the learning and development field, specifically building her expertise in the areas of mentoring program design and training, program evaluation, and applied research. Lesley works with small, medium, and large organizations to assist them in designing and implementing mentoring programs that are aligned to the strategic goals of the business and help develop people to reach their full potential.
Moe Rubenzahl, Moe Rubenzahl Marketing
Moe Rubenzahl is an engineer turned marketing strategy consultant, mostly for entrepreneurs. He scales enterprise practices to work for small businesses. His goal is to give each client a roadmap that the whole company can understand and even junior-level staff or contractors can execute. He has guided marketing strategy for 80 clients since 2013. He has 40 years of executive-level marketing experience in billion-dollar firms and in startups. He began his career at Hewlett-Packard, in design engineering and product marketing roles. A serial mentor, Moe believes that a small transfusion of experience can transform careers and change the trajectory of our businesses, families, and communities. Moe lives with his family in both the San Francisco Bay Area and the gorgeous Catskills of New York State. He is Dad to the world's best 11-year -old.
Tim Wills, Chief Impact Officer, MENTOR
Tim Wills drives strategy, coordination, integration, and effectiveness of MENTOR's teams focused in the areas of training and technical assistance; product design and development; field research and evaluation; strategic partnerships and systems innovation; and Affiliate partnership, support, effectiveness, sustainability, and expansion. A native of Ferguson, MO, Tim holds a bachelor's degree in broadcast journalism from Southern Illinois University Carbondale. As a college student, he developed his passion for youth by covering human interest stories as on-air talent for his college television and radio stations which led to a 17-year career in youth development, including at the Boys & Girls Clubs in Chicago, the District of Columbia, and Harford County, MD. In 2016, because of his extensive experience in organizational transformation and increasing club membership, quality improvement, innovative programming and funding, Tim was named the CEO of Boys & Girls Clubs of South Alabama. In this role over the last six years, Tim led twelve year-round sites, three summer only programs, a 150-acre campground, and POINTE Academy, a school for detained and adjudicated youth. He's received several honors and awards, including Boys & Girls Clubs Professional of the Year for his leadership, Mobile Bay 40 Under 40, and Benjamin Mays Excellence in Mentoring Award. Tim is an active member of the Lion's Club and a member of the board of directors for Voices for Alabama's Children and Linking All So Others Succeed (LASOS) in Maryland. He's completed executive-level training in leadership, non-profit management, and advanced philanthropy from Harvard Business School, Stanford University, and Boys & Girls Clubs of America. For 12 years, Tim has been a single foster parent and has fostered over 20 children. He also has spent significant time teaching in VolunTourism trips to Haiti.
Event Recording, Refreshments, Fees & Donations
This is an online event that will be recorded and the recording will be used for marketing purposes. By participating in the online event, you agree to be recorded, such as but not limited to, when you are asking questions or stating comments.
We encourage you to prepare some refreshments at home that you can consume while joining us at the event. Please feel free to allow other members of your household to join us.
This event is FREE.
Everyone is encouraged to donate to The Mentoring Club using Eventbrite's Donations function when you register. Your donations will go a long way in building our capacity to sustain a robust organization that will support our global mentoring community. Thank you very much!
Regarding Coronavirus COVID-19
We encourage everyone to exercise the following personal protective protocol to ensure that we limit our exposure and risk to the virus: practice social distancing, eat healthy foods and supplements, get restorative sleep, and find creative and safe ways to exercise indoors and outdoors.
#Mentoring #MentoringMatters #Happiness #Success #MeaningfulWork #MakeTheWorldBetter #Leadership #LeadershipDevelopment #PassionAndPurpose #Vision #Execution