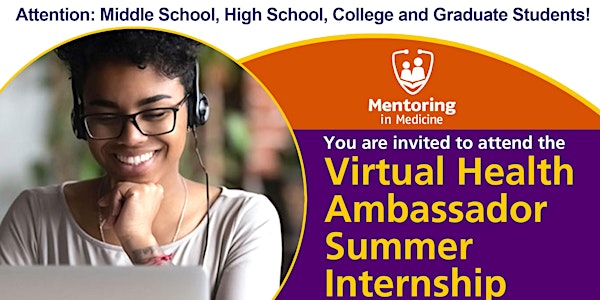 Mentoring in Medicine Virtual Health Ambassador Summer Internship
Get Ready for a Summer of Science and Advocacy
About this event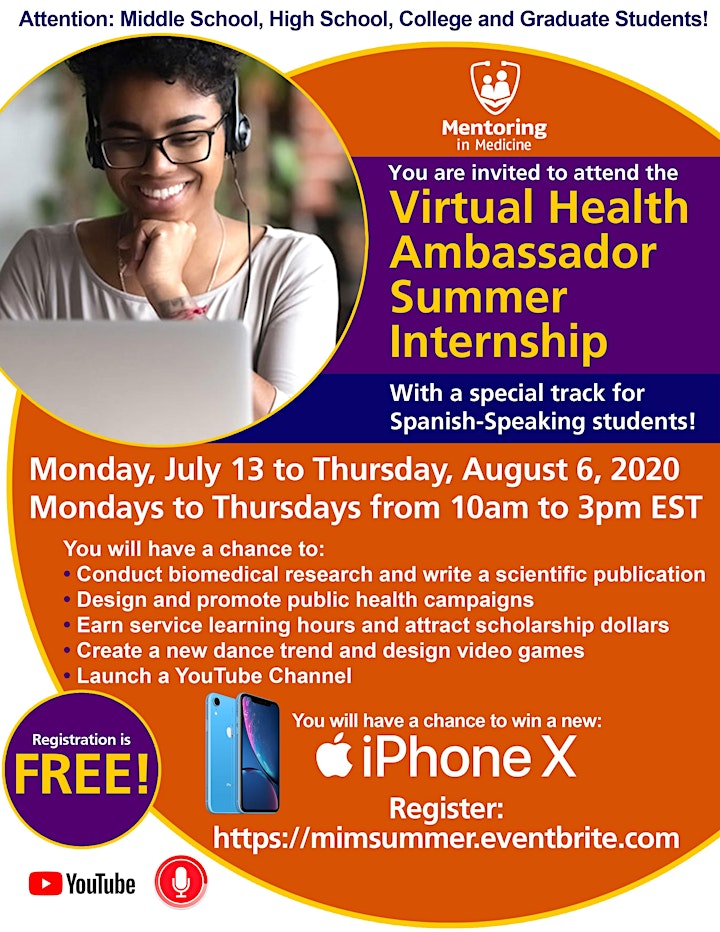 Attention: Middle School, High School, College and Graduate Students
You are invited to attend the
Mentoring in Medicine
Virtual Health Ambassador
Summer Internship
with a special track for English Language Learners who speak Spanish
Dates: Monday, July 13 to Thursday, August 6
Monday to Thursday from 10am to 3pm (no class on Fridays)
You will have a chance to:
Learn from healthcare professionals
Conduct biomedical research and write a scientific publication
Launch a walking club or weight loss challenge
Design and promote public health campaigns
Attract scholarship dollars
Earn service learning hours
Create a new dance trend
Design video games
Produce a radio commercial
Cost: FREE
Option to make a donation is available when you register. The sessions will be recorded.
Consent: With your registration, you consent to the use of your voice, image, likeness and projects created during the course of this program without expectations of compensation.
If you are under the age of 18, both you and your parents or guardian must complete this application.
Note: Remember to add info@medicalmentor.org to your approved sender list.
Frequently Asked Questions
FOR PARENTS, HEALTHCARE PROFESSIONALS and OTHERS
How can healthcare workers and other professionals be of assistance?
We would love to have you present during the daily opening or closing sessions and serve as advisors to our student teams. You have the option to submit a 10-minute video or conduct a live presentation on your speciality, professional journey or demonstrate a medical or scientific device. Please indicate your area of interest on the registration form.
How will you ensure the safety of my child?
The safety of our children is our top priority. The sessions will be carefully monitored and our instructors have passed background checks. Parents are encouraged to register and gain access to our private networking site. You should also monitor your child's email and social media accounts. On Thursday, July 9 at 8pm EST, there will be a special workshop for Parents on how to maximize your child's summer experience. An invitation will be emailed shortly.
AGENDA
What's the format of this program?
The Mentoring in Medicine Virtual Health Ambassador Internship program officially begins on Monday, July 13 at 10am EST. Utilizing the Zoom platform, this online internship is held on Mondays to Thursdays from 10am EST to 3pm EST. The final day is Thursday, August 6.
The schedule for each day is as follows:
10am - 11:30am: Opening Session
11:30am-12:30pm: Breakout rooms and Independent Work
12:30pm-1:00pm: LUNCH
1:00pm-2:0pm: Breakout rooms and Independent Work
2:00pm - 3:00pm: Closing Session
Do I have to attend every day?
You don't have to attend each day. It's okay if you have to work or attend another summer program. Each day, we will provide a recording of the general sessions, send emails and post a summary on our private social media network. This is a project-driven and team-centered internship that offers the flexibility to focus on key assignments and provides the freedom to fit within any schedule. It's okay if you have to leave early one day. Your team members will keep you abreast of the activities.
How will this benefit college and graduate students?
Mentoring in Medicine is an outreach partner with the National Institute on Minority Health and Health Disparities (NIMHD), an institute within the National Institutes of Health (NIH) - the nation's biomedical research agency. Our Health Ambassador Summer Internship will offer the skills and experiences to position you as a competitive applicant to work alongside biomedical scientists and engineers.
What will be presented during the opening and closing sessions?
The opening and closing sessions will be high energy periods where interns have the opportunity to hear from leading healthcare professionals, educators, executives and scientists. You will receive the assignment for the day, present your work to the entire community and qualify to win daily prizes.
What types of prizes can I win?
There will be a daily giveaway for a $25 Amazon gift certificate. On our final day, Thursday, August 6, someone will win an IPhone X, 50" LCD TV, Apple iPad and much more!
Is this program available on Fridays?
The internship is from Monday to Thursday. However, interns may decide to meet online with their teams on Friday.
Can someone join weeks after the program started?
Given our self-paced and project-based focused, anyone can view our videos and independently complete the projects.
How are you managing students from middle school to graduate school?
There will be breakout sessions with content tailored to various academic levels. The audience will be divided into three sections - middle school, high school and college/graduate school.
Will I get to meet a Doctor?
The scientists and healthcare professionals presenting during the opening and closing sessions will make their contact information available.
Will this be fun or boring?
Of course, this is going to be fun! You can win prizes, make new friends and express your creativity.
Will I receive a grade and a certificate?
Unlike a typical course, we are not stressing grades. Doing your best is your greatest reward. You will receive a letter of participation and certificate. If your school requires a grade, a grading system will be offered. The vast majority would receive at least a 90% grade for completing a few projects. Hey, it's summer! I plan to take it easy on you.
How will I be assigned to a team?
We will randomly assign you to a team of 12 students with varying academic levels from middle school to graduate school. The teams will select a moderator, co-moderator, scribe and timekeeper.
How will the teams work together?
There will be separate training for the teams to learn their roles, responsibilities and rules. An organizational structure will be created to support each other on individual projects. Outside of our planned sessions, the teams will be required to host 60-minute weekly meetings.
Can the participants meet each other?
Given the current pandemic and for your safety, we discourage in-person meetings between the interns. We will plan approved events in select cities for us to engage in a community service project.
THE INTERNSHIP
Is there an interview?
There is no interview. Upon registration, you are automatically accepted into this program.
What will I learn?
You will learn about the science of medicine, fundamentals of biomedical research and how to improve the quality of health in your community.
What are some of the activities?
Given the wide academic range, we will have our college/graduate students work on publishing a research paper while our middle school students can have fun designing healthcare video games while the high school students are creating public health social media campaigns.
Is this a paid internship?
This is not a paid internship. You will have the opportunity to gain skills and meet influential individuals that may lead to a paid position in the future.
How can I make money?
We will show you how to raise scholarship dollars and personal funds with a GoFundMe campaign, managing a walking club and a weight loss challenge.
Can I earn service learning hours?
Yes, you will have access to a website that tracks your hours spent during and after the sessions. By the end of the internship you will receive a letter of participation that indicates your level of involvement and number of hours completed.
TECHNICAL ISSUES
How can I gain access to the login?
Once you register, a confirmation screen will share the login information and an email will be sent to you. Add info@medicalmentor.org to your approved sender list and check your spam and junk folder
Will there be other online meeting times?
Based on the level of interest, we may host evening or weekend review sessions.
What are my technology needs?
The ideal device is an internet connected laptop or desktop computer.
Can I connect with my cell phone or tablet computer?
Yes, you can utilize a cell phone or tablet computer. However, you may have to find software for your device that allows for video editing.
OTHER ISSUES
Is there anything I should do to get started?
Yes, read "How to Win Friends and Influence People" by Dale Carnegie. Our focus is science but we will also develop our social and emotional intelligence. A list of pre-internship activities will be sent by July 1st.
What's next after this summer internship?
All of the participants are required to complete a final report. We encourage you to make a presentation and share your accomplishments at your past or current educational institution.
What other programs will MIM offer during the school year?
You can view all of our programs at http://medicalmentor.org/our-programs/.
Can I bring MIM to my school?
Yes, we will give you more information on how to start a MIM project at your school or in your community.
Will this also be in Spanish?
Yes, we will have a special track for students who are Spanish-language dominant. We are seeking to help our English Language Learners (ELL) become proficient with biomedical concepts. Bilingual students are also welcome to attend.
Can I help you translate this program into another language?
Sure, we are always open to collaborating on new projects. You can send an email to staff@medicalmentor.org
Can a student in elementary school participate?
Hey, why not? Of course, you will need your parents permission. We are considering training our middle school students to host online sessions for younger students. Stay tuned for more information.
Why is this free?
Passion. Commitment. Determination. Here at Mentoring in Medicine we feel that your income should not limit your aspirations. We are also fortunate to have several donors and organizations who are supporting our cause.
How can I donate?
I really love this question. You can make a donation at http://medicalmentor.org/donate/
Thanks in advance for allowing us to continue our mission of changing the face of science and healthcare.