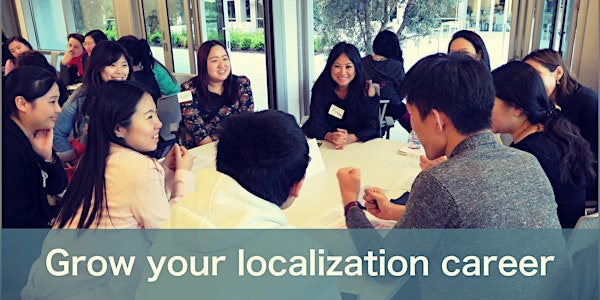 Mentoring: grow your localization career
By Women in Localization Silicon Valley
Date and time
Thursday, May 3, 2018 · 6 - 8pm PDT
Location
eBay HQ 2065 Hamilton Avenue Building 7 San Jose, CA 95125
Description
Due to heightened security, only confirmed guests will be able to get in. If you haven't received an explicit confirmation email from us on May 2 or May 3, it means that you will not be able to enter eBay to attend this event.
Our annual mentoring event is here! Whether you are just starting your career in localization or going for that VP position, we have an amazing group of mentors to help you and inspire you. More details to come but you can reserve your spot already!
Here is the map of eBay's campus to help you locate Building 7 (2065 Hamilton Ave, San Jose). You will recognize it by giant flags located right in front of the building. An eBay employee will escort you to the room where the event will be happening.

Before coming, go over our mentors' bios and decide who you'd like to listen to most. You will be able to attend only two sessions so choose wisely! If you are a student or a young professional, look for the yellow label for the recommended mentors. These mentors have been preparing to coach you on starting your career in localization so definitely try to get tickets to their sessions first! All sessions are first-come-first-serve.
About the organizer
Women in Localization (W.L.) is the leading professional organization for women and their allies in the localization industry with thousands of members globally. It aims to foster a global community that inspires professional equality in the localization industry and supports women through all phases of their careers. Started in the San Francisco Bay Area in 2008, Women In Localization provides opportunities for networking, education, career advancement, mentoring and recognition for their accomplishments through its global chapters. To learn more, visit Women in Localization.com and follow us on Twitter, LinkedIn and Facebook.

If you are a presenter, host, or attendee, you may be photographed and/or filmed and/or recorded for promotional purposes of Women in Localization (W.L.). If you have any questions or concerns, please contact the chapter manager. W.L. may use the photograph/video/audio in publications or other media material produced, used or contracted by W.L. including but not limited to: social media, brochures, invitations, books, newspapers, magazines, websites, etc.