About this Event
This four-day workshop is designed for mentors of beginning teachers to increase their knowledge and apply strategies in their mentoring practice. The principles and approaches you will explore at the Institute are tied to effective teaching practices as defined by The Framework Clusters. This offering can support your efforts to create and sustain a culture of continuous improvement. We recommend that districts send teams of 4 or more participants. This program has an add-on option that includes online learning sessions and virtual coaching and support after the Institute.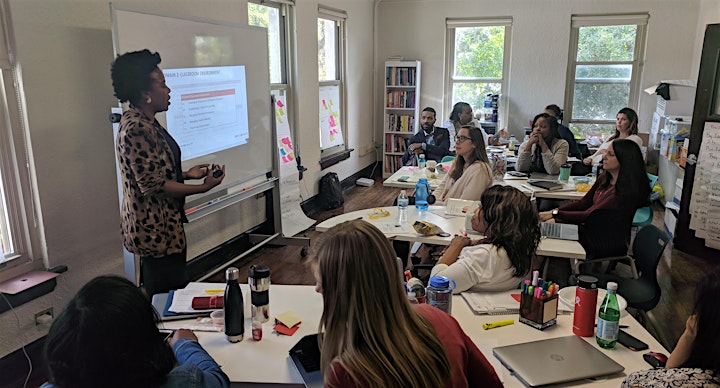 Registration includes continental breakfast, lunch, and a certificate of attendance. A certificate of attendance will be issued to participants indicating the number of clock hours their attendance represents (6.0 clock hours per day). We urge all participants to confirm with their school or district whether attendance will meet any requirements for continuing education.
Add-Ons
Use of Institute materials in your home setting without violating copyright rules requires the purchase of a license. Contact us for details!
_______________________________
Terms
The Danielson Group reserves the right to cancel the event. In the unlikely event of a cancellation, you will be notified and will receive a full refund of your registration fee. The Danielson Group is not responsible for any other expenses you may incur for a cancelled event.
If you are unable to attend, you may transfer or your registration to another individual or to another event.
If you require additional information or have issue with the registration process, please email events@danielsongroup.org.
Accommodations
The following hotels are within walking distance of the venue:
Homewood Suites by Hilton - Chicago Downtown West Loop
Hampton Inn Chicago Downtown West Loop
There are many other downtown hotels within reasonable walking distance or a quick ride.
Transportation
Travel times to/from Chicago airports are approximate and can vary significantly depending on traffic and time of day:
O'Hare: 40 minutes
Midway: 30 minutes
Please plan accordingly for arrival and departure times when you arrange your flights.
The venue is a 10-minute walk from the Grand L stop (Blue line to O'Hare) and two blocks from the Clinton stop (Green and Pink lines then transfer to Orange line to Midway).
Notice of Filming and Photography
When you attend a Danielson Group event, you enter an area where video/audio recording and photography may occur. By attending the event, you grant permission for The Danielson Group to make photo images and video or audio recordings of you and for their release for publication, exhibition, or reproduction to be used for news, web casts, promotional purposes, on websites, social media, or any other purpose by Danielson Group and its affiliates and representatives.
You release Danielson Group, its officers and employees, and each and all persons involved from any liability connected with the taking, recording, digitizing, or publication and use of interviews, photographs, computer images, video and/or or sound recordings. By entering the event premises, you waive all rights you may have to any claims for payment or royalties in connection with any use or other publication of these materials, regardless of the purpose. You also waive any right to inspect or approve any photo, video, or audio recording taken by The Danielson Group or the person or entity designated to do so by The Danielson Group.