Description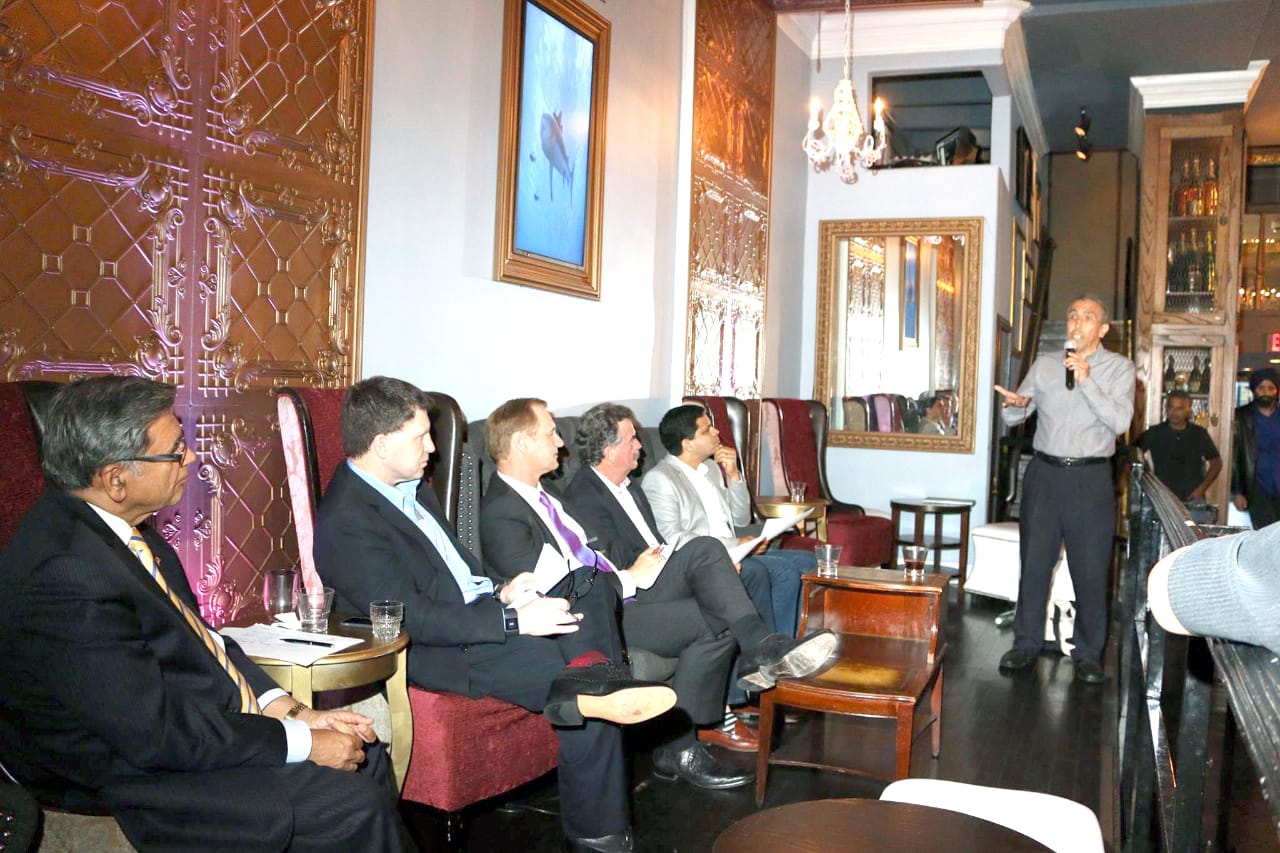 Seen in this picture from a prior Pitch Globally event, SV legends (from left), Vish Mishra (Clearstone VC+longterm President of TIECON), Roger Royse, Owner large Tech Law Firm, Royse Law, Bill Sautter (Galaxy VC +1st US employee of Business Objects which SAP acquired for $ 8 b), Roger King (Founder Bay Angels)
Sign up to the Pitch Global Mentoring & Mindset on the 19th of October, 2019 and gain insight into the Silicon Valley Startup Funding Ecosystem.
Learn in detail about Funding and Mindset co-led by Paul Kallmes, Co-founder of Angel Accelerator who trains Angel Investors around the world especially in Nordic countries. You will learn about the Mindset of investors, your customer, from the man who trains them.
How to Master Silicon Valley Funding & Mindset @The Vault with lectures and hands on workshops by seasoned Mentors and Thought Leaders.
The curriculum covered by Paul Kallmes (watch him speak about understanding Investor Mindset :
Co-founder of Angel Accelerator,who trains investors around the world, esp in Nordic Countries, is called "Things you Need to Know" and includes:
Ø Bootcamp Process and Takeaways
Ø Start-ups and Angel Investors
Ø Risk recognition and management
Ø Team Structure and Suitability
Ø Fund-raising: Planning and Execution
Ø Investment Structure
Ø Use of Proceeds
Ø Technology and Products
Ø Sales Marketing & Distribution
Ø Intellectual Property
Ø Legal & Regulatory
Ø Corporate Governance.
Ø Growth and Exit
Ø Due Diligence and Getting an Investment.
Once you learn about the Mindset of Investors who you are Pitching to and can think like them, KC will take you to the depth of your Mindset and teach you to change it. He will also help improve your Pitches as well as talk about how you can acquire a Silicon Valley Mindset and Network with investors better.
At the end of the day, every attendee will have a structured plan for the next steps.
Please email startups@pitchglobal.com for further questions
Agenda
10.00AM– Welcome Keynote Keynote by Paul Kallmes, Founder of Angel Accelerator and Board Member at the Vault and Kaustav Chaudhuri, Founder of Pitch Globally LLC and author of "Design Your Mindset for Success".
10.30:AM- 11.30:AM – Startup Funding and Finance: As the co-founder of Angel Accelerator, Paul will share his experience on how to raise funding, work with angels and VCs, and launch products. Bring your pitch deck, to present.
11.30-12.15 PM – Legal Aspects and Intellectual Property for Startups
12:15PM –1 pm No Host Lunch Break
1:00pm "Acquiring Silicon Valley Mindset". What is a Generative Mindset and how do you maximize your Silicon Valley ecosystem. Watch this interesting fireside chat between the celebrity philanthropists of Silicon Valley Startup Ecosystem:
Drawing from KC's book, Design Your Mindset for Success", Kaustav Chaudhuri will discuss the characteristics that set Silicon Valley leaders apart. KC will cover principles of Motivation, Growth, and dealing with Failure. Are you drawing from your reptilian brain or your generative mindset?
You will learn from entrepreneurial leaders on how they grew their companies by:
• Cultivating collaborative habits
• Converting weaknesses into strengths
• Anchoring strengths to your principled values
• Harnessing creativity by being innovative and entrepreneurial
3pm Networking and Leveraging your Ecosystem
• Magnifying your impact by exercising power and influence
• Maximizing stakeholder value
• Globalizing by crowdsourcing customers, suppliers, partners, capital and talent worldwide
What does your org chart look like? Who would you ultimately like to connect with? We will provide you insights on you can most effectively network, and help develop a networking plan for you to achieve your goals.
3:00 PM– Startup Culture and tools for communicating your brand – From an organizational point of view, we will discuss how workflow and productivity is influenced by company culture and what blocks growth. Networking, storytelling and messaging. This is an interactive session, where you can gain feedback on your brand communications.
Please email startups@pitchglobal.com for further questions.
About the Presenters:
Paul Kallmes – Paul is the Co-Founder of Angel Accelerator and Member of the Board of Advisors at the Vault. Paul has been driving the expansion of San Francisco startup incubator The Vault across Europe and helping to establish Startup Norway's Angel Challenge and other angel investor training programs in cities and towns around the US and also possesses nearly 20 years of IP and technology licensing and management.
Kaustav Chaudhuri – KC Wisdom is the President of GTS PITCH GLOBAL Group(www.pitchglobal.com), leading network of networks in Silicon Valley with investor events every week. He is running investor, innovation, mindset and philanthropic events for almost a decade and also runs regular events in LA, London and other places . He is also the author of Grow Your Mindset and was part of a team which wrote The First Mile(John Wiley), on behalf of TIE, largest network of entrepreneurs in the world. His entrepreneurial journey began over 15 years ago when he was hired to be a co-founder of Biztech Inc, which got acquired by VC & private equity fund affiliated to George Soros.

Refund Policy: Credit may be provided for a future event at the discretion of the organizer
Any questions please write to :
startups@pitchglobal.com