Description
Are you a fashion designer that needs expert advice to help take your business to the next level? Get priceless advice from our expert line up of fashion industry experts by booking your Mingle Mentor Sessions during New York Fashion Week.
Meet one-on-one with expert fashion industry professionals representing companies in sustainability, legal, marketing & PR, apparel production, manufacturing, and showing your collection at New York Fashion Week.
FREE FOR FASHION MINGLE MEMBERS.
Register at www.FashionMingle.net
LIMITED SPACE AVAILABLE. FIRST COME. FIRST SERVE.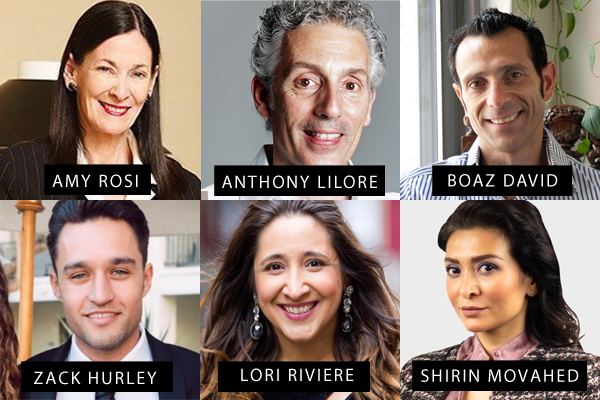 Amy Rosi, Aros Communications
Mentor Topics: Luxury Sector, Marketing, Public Relations
www.aroscommunications.com

Amy Rosi founded Aros Communications in 1999 and offers expertise in brand management, business development, licensing, marketing, advertising, and strategic public relations. With a focus on fashion, jewelry, accessories, home décor, lifestyle and the luxury sector, Aros Communications has been successful in distinguishing its clients in their competitive marketplaces.
The Aros roster of clients includes: A Pea in the Pod, Barnes & Noble, Bergdorf Goodman, BMWi, Jane Seymour Brand, Cartier, Countless LuAnn brand, David Yurman, Freida Rothman, Katie Scott Design, Madison Avenue BID, Paul Morelli, Saks Inc. ,Hasselblad USA, and the Savannah College of Art and Design.
Anthony Lilore, RESTORE Clothing
Mentor Topics: Sustainable fashion design and production, NYC Garment District
www.restoreclothing.com
Anthony Lilore is a specializes in sustainability within fashion design, development & production. Anthony is passionate about sustainability, especially as it relates to domestic manufacturing. He's a founding member of NYC's Save the Garment Center, teaches Sustainable Manufacturing at the FIT and brings sustainable thinking to all his clients.
Anthony is a graduate of Parsons, and a frequent industry panelist and guest lecturer at Parsons, Pratt, FIT and Philadelphia University with 25+ yrs industry experience spanning every aspect of concept development, branding, design and production.
Boaz David, Human B
Mentor Topics: Product development, Production, Sourcing
www.humanb.com

Boaz David is the founder and CEO of Human B, a design, development and production agency providing business consultancy and product management services for the fashion industry.
Boaz uses his comprehensive experience to provide strategic, financial and operational leadership, directing product development, global sourcing, and operations for both new and established fashion brands.
With over 20 years of experience in the fashion industry Boaz is adept in launching fashion brands from the ground up and was instrumental in launching and setting up design, development and production departments for highly acclaimed NY fashion brands such as Yigal Azrouel, Nili Lotan, ADEAM, Pret A Surf, Alvin Valley and Raven among others.
Lori Riviere, The Riviere Agency
Mentor Topics: Fashion Shows, Event Production, and PR
www.theriviereagency.com

Lori Riviere is the owner of The Riviere Agency, one of the top event production, experience, and PR agencies, with offices in New York, Miami, and LA. An expert source for fashion and beauty brands looking to grow their presence in the US market, her team offers social media, traditional PR, influencer marketing and event production services to clients.
She has worked on fashion shows for New York Fashion Week, Paris Fashion Week, and Miami Swim Week, among others, and is the go-to source for fashion weeks and government agencies all over the world looking to up their game and get on the global stage.
Shirin Movahed, Froese Law
Mentor Topics: Legal, Corporate Formation, Securing Funding
www.froeselaw.com

With over 10 years' experience practicing corporate, commercial, litigation and intellectual property law, Shirin provides a deep understanding of operating a business in the U.S market. Having previously worked at several large national and international law firms, Shirin brings her formidable years of experience and expertise to her clients in the entertainment, consumer product, celebrity, fashion and art industries.
Shirin has lectured at universities, cultural institutions and trade associations on intellectual property rights and protection, as well as on what it takes to do business in the U.S. Shirin was selected by Thomson Reuters' to their elusive list of New York Super Lawyers Rising Stars and top female lawyers.
Zack Hurley, Indie Source
Mentor Topics: Apparel manufacturing, Made in America
www.indiesource.com

Zack Hurley, Co-founder and CEO of Indie Source, an apparel manufacturer and fashion consultancy that is redefining the way clothing is developed, produced, and distributed in the United States. Based out of Los Angeles' fashion district, they provide fashion designers with a dedicated project manager and full-package production services from 200 to 20,000 unit orders across all knit and woven apparel categories.
Zack is an entrepreneur and motivator with experience working with both private and public sector organizations. Zack has consulted hundreds of businesses and fashion brands in the fields of sales and marketing strategy, business fundamentals, and operational logistics. He is an advocate for local, quality-driven manufacturing, and challenges brands to get educated about how their products are being made. He was recently named to Forbes' "30 Under 30," and Apparel Mags' "Top 30 Under Elite"
---

About Fashion Mingle:
Fashion Mingle is a networking platform for fashion industry professionals. We connect 100+ cities in over 70+ categories with the resources you need to grow your fashion career.


Join us at our NYFW Networking Party - Tickets On Sale Now