Description
Jagat Shah with the support of the U.S. Commercial Service and the Government of India is traveling across the U.S. introducing U.S. entrepreneurs and executives to the opportunities of growing their business with and in India. We intend to connect participating companies to Indian businesses, to grow trade.
"Mentor to the Road" Jagat Shah: In last 23 years of his career, Jagat has worked on international market & investment strategies with Indian, American, Canadian & European companies & governments. Through his economic development agency, he has worked with a cluster development approach on Small & Medium Enterprise (SME) competitiveness & poverty elimination with several governments & private sector in 20 countries - India, USA, Canada, Brazil, South Africa, Senegal, Kenya, Tanzania, Uganda, Sweden, Finland, Germany, Serbia, Croatia, Italy, UAE, Oman, Ras Al Khaimah, Bangladesh, Afghanistan, Brunei, Indonesia, Singapore, Malaysia, Cambodia and India. He contributes to these efforts from his head office at Ahmedabad in Gujarat - India.
CLICK HERE to know more about the profile of Mr. Jagat Shah
More details about Mentor on Road Journey at: http://www.mentoronroad.com/usa/who-we-are.html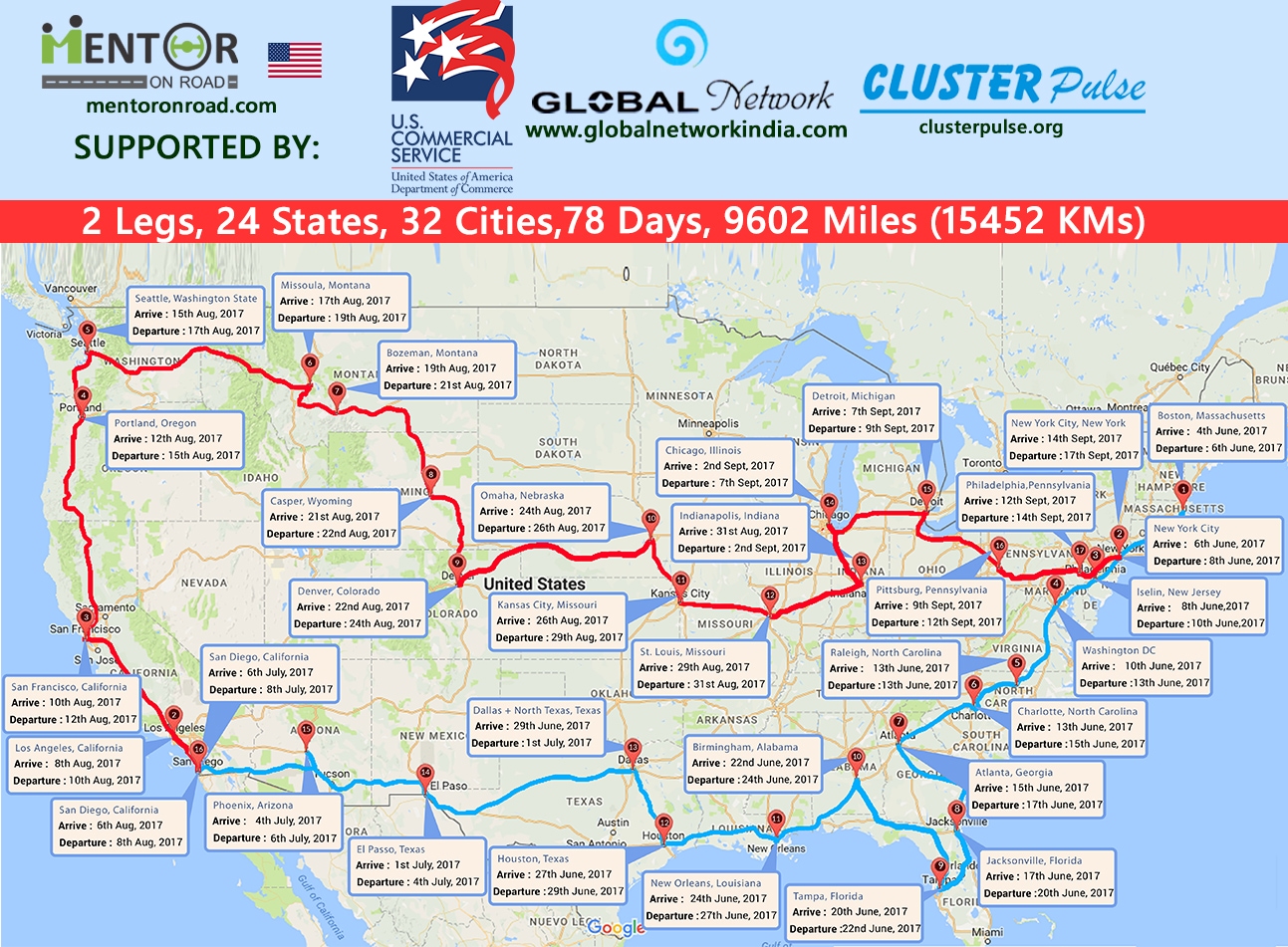 We are encouraging startups to look at India as a market of their products & services and give them ground level practical info on Indian market dynamics. We want to encourage these start-ups to tap into the Indian market which comprises of 1.3 billion people. Topics will include:
Validation of product and service
Adding new and right talent to the team
Rapid change in markets and ever emerging competition
Access to Innovative Sources of Funding
Mentor on Road USA, Jagat Shah will be addressing following in his interaction:
Advising on how to make a start-up competitive in the international framework

Managing cultural issues in the perpetually growing emerging markets

Focusing on opportunities in India - a market comprising of 1.3 billion people
International Best Practices of Fund Generation and Angel Investment
A snapshot of what investors are looking for around the world, and how various start-ups are attracting seed funding. We are also going to discuss how to attract international investors from around the world.
First-hand information on Indian market dynamics
India is a sub-continent with several states. The presentation will cover aspects like, which state is doing well in business? What are the business styles & approaches in different states? What are the consumer's tastes in different states? For example, one of the highest GDP contributors to India is the state of Gujarat.
Opportunities for U.S. companies to benefit from several new initiatives Government of India programs can help... such as "Smart cities", "Digital India", "Start- up India'', "Skill India" etc. The presentation will cover the specific opportunities which these programs offer for American companies and how to partner with Indian companies to get business under these programs of Government of India.
To look for investment opportunities in Startups One of the major focus areas of Mentor on Road-USA interactive session with startups will be, to look for investment opportunities in the startups participating in the interactive session.
To know more, click here: http://www.mentoronroad.com/usa/download/Start-Ups.pdf
and also here: www.mentoronroad.com/usa/