Get tips from Jatin (ex-Rocket Internet CFO, Asia's Greatest CFO 2016) on growing your company or financing your startup
About this Event
Check in to Draper Startup House Singapore for this exclusive, in person, 1-on-1 chat with Jatin Detwani over Mentor hours to get a balanced perspective and expertise on growing your start-up and financing your startup.
To make full use of this session, please provide a brief about
what you'd like to discuss
your organisation
Key competencies: Start-up growth, Board Advisor, Value Creation, Operations, Finance, Business Expansion
Jatin's Linkedin
---
Format
5 slots of 40-Minute 1-on-1 sessions
3-3.40pm
3.45-4.25pm
4.30-5.10pm
5.15-5.55pm
6-6.45pm
---
To note: This event is completely virtual, and is NOT a seminar, but rather a 1-on-1 meeting.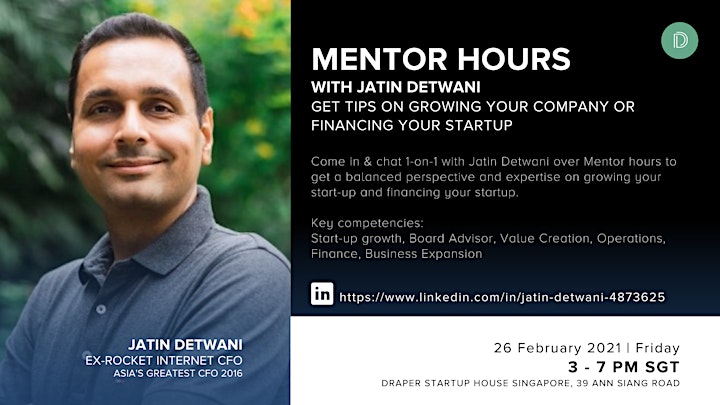 About Draper Startup House Ventures
Draper Startup House Ventures is a global syndicate created for the sole purpose of helping entrepreneurs receive better access to funding beyond geographical borders, while helping to cultivate a network of entrepreneurial growth.
About Draper Startup House
The mission at Draper Startup House is to enable ONE MILLION entrepreneurs by 2030. Through the use of real human connection, inspired business travel, a diverse-minded community and access to global citizens - the community members of Draper Startup House are able to connect to new opportunities, inspire one another to innovate and execute, and empower one another to GO BIG, pay it forward, and drive progress. To be a part of the global community, join the Draper Entrepreneur Network today!