Get tips from Thibaut (Founder, Growth Marketing Studio) about crafting your startup marketing strategy on a budget over happy hour at DSH!
About this Event
Check in to Draper Startup House Singapore for this exclusive, in person meeting with Thibaut Briere over mentor hours, happy hour edition, to get a insight leveraging on Thibaut's expertise on your startup's marketing strategy on a budget/while bootstrapping.
To make full use of this session, please provide a brief about
what you'd like to discuss
your organisation
About Thibaut:
Hey, I'm Thibaut 👋! I have been eating, sleeping and breathing B2B growth and marketing in the past 15 years.
I help startups in Southeast Asia define and execute their growth and marketing strategies.
There are three things I focus on:
Bridging strategy and execution
Upskilling teams
Doing more with less
In short, I started as a developer in startups, built an innovation lab, became a B2B marketer for companies of all sizes including Nokia and Cisco...and ended-up entrepreneur. Not what my Mom hoped for, but hey I love it.
I love marketing but it's become increasingly complex over the years, so I try to keep it simple and make it work for you so it delivers results.
Thibaut's Linkedin
---
Format
Relaxed networking in a group of 8 (including the mentor).
---
To note: This event is in-person at DSH Singapore.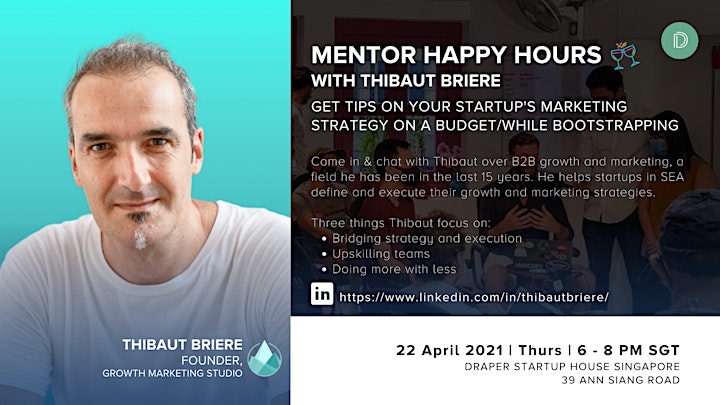 About Draper Startup House Ventures
Draper Startup House Ventures is a global syndicate created for the sole purpose of helping entrepreneurs receive better access to funding beyond geographical borders, while helping to cultivate a network of entrepreneurial growth.
About Draper Startup House
The mission at Draper Startup House is to enable ONE MILLION entrepreneurs by 2030. Through the use of real human connection, inspired business travel, a diverse-minded community and access to global citizens - the community members of Draper Startup House are able to connect to new opportunities, inspire one another to innovate and execute, and empower one another to GO BIG, pay it forward, and drive progress. To be a part of the global community, join the Draper Entrepreneur Network today!