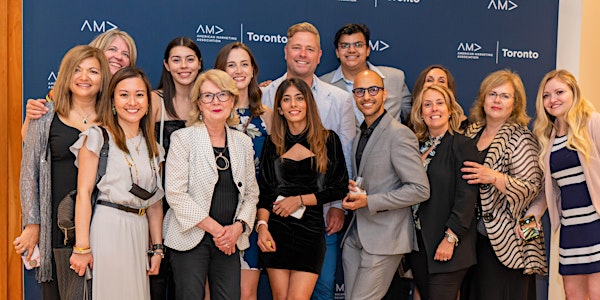 MENTOR EXCHANGE 2022/2023 APPLICATION
Welcome to the application page for AMA Toronto's Mentor Exchange, the Mentorship program designed for senior professionals in marketing.
About this event
AMA's Leadership Excellence program's strive to develop marketers on a professional and personal level, at any stage of their career.
Career Accelerator (for ages 24-30) helps young marketers further their career with the help of an experience marketing professional.
Mentor Exchange (for ages 30+) matches Canada's premier C-suite Mentor community with up and coming senior marketers and business professionals to empower their leadership potential.
Executive Coaching is an intensive 6 Month bi-weekly offering designed to focus on performance and with a clear goal in mind.
Unsure which is right for you? Email Craig@ama-toronto.com for a consultation.
Mentor Exchange
Thank you for your interest in becoming a Mentee in the coveted AMA Toronto Mentor Exchange 2022/2023 program.
We are excited to enter the 13th year since the program's inception, counting over 600 Mentee graduates and over 240 Alumni Mentors, and published the book Mentorship Matters showcasing best in class success cases from the program and other leading internal programs.
Mentorship is designed for those looking to advance their career, seeking guidance to develop a clearer career path. Access to a mentor provides professionals with insight to help determine and articulate personal and professional goals.
The historical requirement to be currently employed or self employed has been removed from the qualification requirements this year to accommodate those impacted by the current macro-economic challenges.
Program Qualification Requirement
Any professionals over the age of 30 & actively involved in a career in advertising, communications, marketing, market research, marketing technology or media.
Meet the Mentors: Full program details, eligibility requirements and roster of mentors is available at https://ama-toronto.com/mentorship/mentor-exchange/
The Program
9 one on one Meetings with your matched mentor - Min 1 hour each month
1 Year global membership with The American Marketing Association
1/2 Day of education provided by The Schulich Executive Education Centre
Exclusive events for program participants including launch reception, networking cocktail events, and graduation (all food & beverages included).
One Free Event ticket to any AMA Toronto Signature event.
A certificate of completion from the Schulich Executive Education Centre
Application Process
Please note the Deadline for applications is end of day August 28th, 2022
This Eventbrite page acts as a application process for the program. A $50 non refundable fee ensures fair access to qualified candidates, and the qualified applicants fee will be applied to the $799 program fee upon acceptance.
The answers you provide in the application will be used to evaluate your candidacy for the program, we are looking for thoughtful responses to all questions.
Candidates who have been accepted into the program will be notified by email and must complete payment before they will be invited to complete the matching process and assigned a mentor.
Please note the Application Administration Fee is non-refundable.