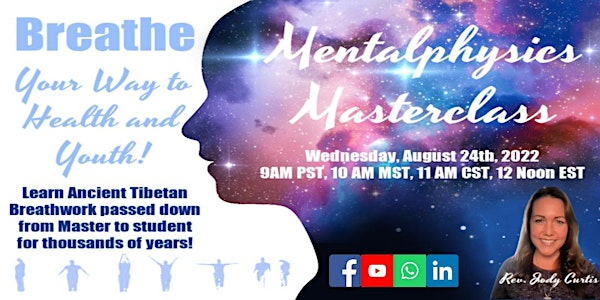 Mentalphysics Masterclass August 24th, 2022
BREATHE Your way to Health and Youth! Learn Ancient Tibetan Breathwork techniques passed down from the Masters for thousands of years.
Refund Policy
Contact the organizer to request a refund.
Eventbrite's fee is nonrefundable.
About this event
The Science of Mentalphysics is Science and Spirituality. It is a breathwork and meditation practice...a super yoga that can heal your body, mind and spirit, activate your Superpowers and charge every cell of your being with light and life and health!
This practice brought me back to life after experiencing stage 4 cancer. I have practiced the breathwork and the teachings of the Science of Mentalphysics for more than 14 years. It has helped balance my endocrine system and enabled me to have a natural pregnancy and birth at 41, after doctors said it was impossible.
Practice of the 8 Key Breaths along with meditation helps me stay balanced and healthy and happy in my life. I want to share it with you too!
The Science of Mentalphysics is a Science of FEELING. With practice of the breathings, you will gain a greater understanding of the Universe within you and activate your creator self. Mentalphysics is a Science of the Knowledge of the Divine.
In this Masterclass you will learn a brief history of the teachings that are thousands of years old...directly from the Monasteries in Tibet and brought to the West by Edwin J Dingle (Ding Le Mei).
As we go along we will be practicing different breathing positions and exercises called The 8 Key Breaths which I will demonstrate and then we will practice.
After each breath we relax deeply and listen to affirmations specific to each breath, and feel within ourselves. Observing and listening. And feeling what each breath does inside your body temple.
I guarantee you will leave this workshop feeling better than you did when you started or your money back!
The suggested workshop donation is $44, but please pay whatever amount you would like to donate. Do not let money be an obstacle to your following your impulse to learn these breaths.
When you sign up, Eventbrite will send you reminders and calendar options.
Class will be recorded, and the video link will be sent to all who are registered.
Thank you for your interest and I look forward to meeting you on Zoom and sharing these ancient breathwork techniques with you, to activate your highest and best self!
You can find more information on http://jodycurtis.com, http://scienceofmentalphysics.com or http://jodycurtis.eventbrite.com
#breathe #breathwork #breath #spiritual #ancientscience #tibet #mentalphysics #scienceandspirituality #personalgrowth #selfcare #health #healing #endocrine #breathingtechniques #meditation #mindbodyspirit #challenge #superpowers #evolve #awaken #peace #love #joy #affirmations #createyourlife #wellness #DingLeMei