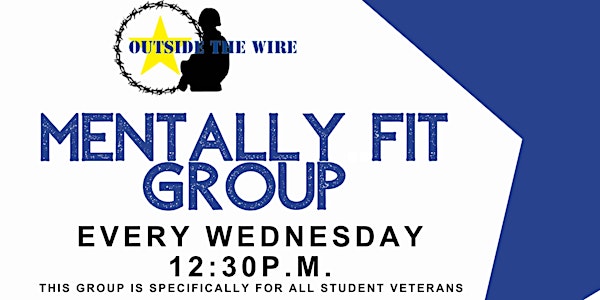 Mentally Fit Group
Mentally Fit Group with U.S.VETS-Orange County-Outside the Wire
About this event
Ever find yourself in a moment throughout your day, and think,
"is this how it's always going to be?
Will this eventually get any easier?
Does anyone truly listen or understand me when I talk?
I just wish they would change", or anything along these lines???
This group will cover a different topic each week that will allow you to join the group when your schedule allows; so know you can drop on in-anytime!
Connect with other Orange County student veterans in this weekly support group. This group focuses on transforming life and military experiences into habits of becoming a thriving student. Discussion topics range from relationships, coping with stress, and more.
Need to reach out for Case Management Services or Counseling Support?
Simply Call US @: (888) 556-9993
About U.S.VETS
U.S.VETS is on a mission to end veteran homelessness in the United States. "The streets" are simply no place for veterans; no place for the many men and women who volunteered, giving of themselves and their youth, to protect our great freedoms.
We believe all veterans deserve every opportunity to live with dignity and independence. It is our duty at U.S.VETS to deliver on our promise to always serve those who've served. Learn more about U.S.VETS.