MENTAL: Trini Jungle Juice Premium Drinks Inclusive | Trinidad Carnival 202...
Description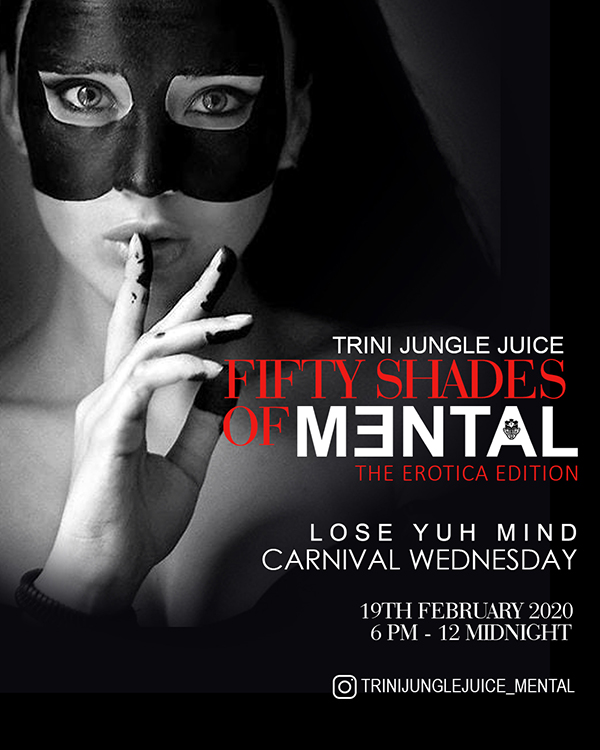 Trini Jungle Juice

presents

Fifty Shades Of MENTAL
The Erotica Edition

Premium Drinks Inclusive
Lose Yuh Mind.

Carnival Wednesday
February 19th 2020
6PM - 12 Midnight

Poolside Venue - see https://youtu.be/41qeFIHZnO4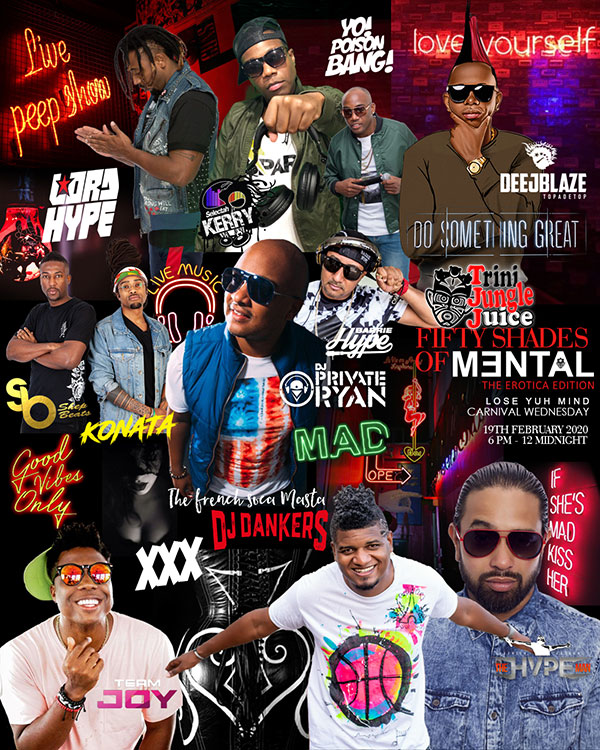 MUSIC
DJ Private Ryan // @djprivateryan
Lord Hype // @lordhype
The Hype Man // @thehypeman_pa
Selectah Kerry // @selectahkerry
Yo Poison Bang! // @poisonsound_961
Shep Beats x Konata // @shepbeatskonata
Deejay Blaze // @deejblaze1
Barrie Hype // @barriehype
Dankers (French Soca Lovers) // @rony_dankers
Team Joy // @teamjoy_

Advanced Tickets Only.
Request Tickets via
mental2020.eventbrite.com OR islandetickets.com OR mental2020.mycarnivalbands.com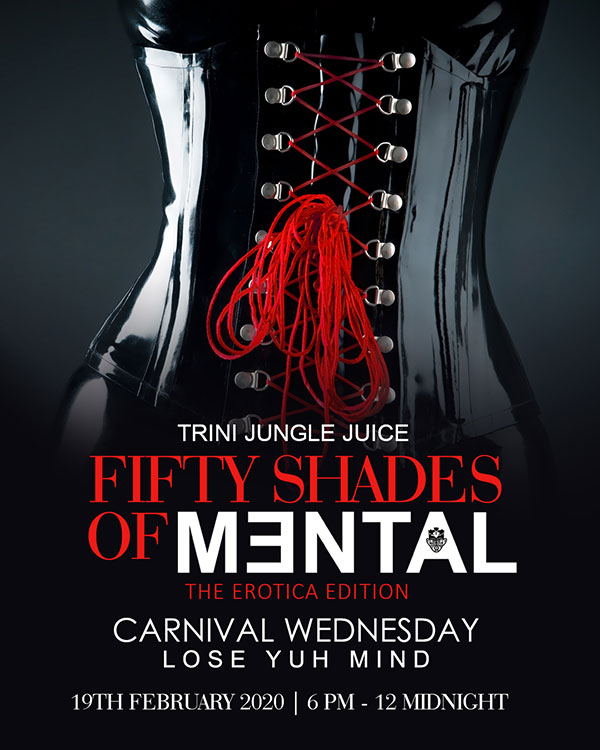 Yes, it's 50 Shades of MENTAL. Be Risqué this year.
Boots & Leather. Whips & Chains. Throw On A Mask. Slip On Some (Appropriate) Lingerie. Do Whatever YOU like.

Yes, there's Pool!
Swimwear is a GO.

Yes, it's Carnival!
Creative Monday Wear also welcomed.

===================================

Watch MENTAL videos from past years
https://www.youtube.com/playlist?list=PL6gkIjO4IrNen5NjS6AS1otom9nVitakP

Register on our Guest List to keep informed with ticket release, party details, specials announcements etc. [REGISTER HERE]

Follow on Instagram
@trinijunglejuice
@trinijunglejuice_mental

===================================
SPECIAL THANKS TO OUR SPONSORS:
Coca-Cola
Campari
Royal Castle
Stamina Occassions
Trojan
For tickets/info, contact a MENTAL committee member:

TRINIDAD:
Adam Sundar | @adamsrfotos
Adriana Ramkissoon | @adrianaramkissoon
Alexandria Lexie Herrera | @lexiemarie77
Andre Choo Quan | @trinijunglejuice
Andrea Jurawan | @andreajjurawan
Anowi Abraham | @amabear_1011
Ashleia Baksh | @ashleiabaksh
Blair Murray | @b_bumbleb
Brendon Clement | @brendonclement.is.bc.sugars | (868) 687-6871
Brittany Farah | @brittany_farah
Candice Gonzales | @candicegonzales
Cheleste Peterson | @chelestepeterson
Chrissy Warner | @chrissy_p.o.o.h
Christianna Mohammed | @christianna_90
Christoph Samlal | @thesammyjuice
Damian Duke
Damian 'Fram' Baboolal | @fram1001
Dane Pierre | @teamjoy_
Daniella Aleong | @danziee
Danielle Alfonso | @dannijem
Danielle Parkinson Lai Leung | @djdani868
Darrion Lewis | @darrion_i.o.e
Edmund Joachim | @ejoachim84
Epiphany Foster | @epiphanyracquel
Giovanni Choo Quan | @giocq
Jenna Abraham | @jenattixs868
Jesse Huggins | @hugboss_
Joni Bruce | @jonimariebruce
Jules Sobion | @juliusofrome
Juliette Teixeira | @juliettemteix
Kalista Genevieve | @kalis.genevieve
Kari-Ann Dookie | @karianndookie
Kamu Laird
Keith Francois | @keithosleithos
Khadine Adams | @khadine868
Laura Garavito | @laura.garavito
Marina Louis | @marinamermaidprincess | (868) 310-3805
Marisa Mahadeo | @marisa.m6
Mark Romany | @mark.romany
Marsha Thompson
Mary Esdelle | @mary.esdelle
Meagan Monsegue | @meagzm
Meilan Choo Ching-Donawa | @meil_yukmei
Michaelo Richardson | @kel_el1992
Neil Goolcharan | @neil.gool | 682-8095
Nerissa Batchasingh | @nerissabatch
Nikita Mac Lean | @nikitamaclean
Nikolai Choo Quan | @nikolaicq
Paul Choo Quan | @salsawednesdays
Princess Victoria Lewis | @princess_victoria2
Rachel Agarrat | @rachagarrat
Raj Maharaj | @notoriousraj
Rebecca Elias | @rebecca_elias_g
Rhian Ramkissoon | @detriniwinerboy
Robert 'Mez' de Gannes | @meztt
Serala Ramlogan | @serala_r
Shane Baird | @shane_baird
Shenel Mollino | @shenel.m
Shivane Balay | @je_veux_xoxo_vaniepops
Shyla Alonzo | @kittyshyla
Stephon Morales | @i_am_saam92
Thais Mc Gowan | @thais_travels
Yohann Govia | @ygovia

BARBADOS:
Camille Walker | @camilleamelia
Craig Gun-Munro | @craig.gm
Gael Hopkin | @gaelhopikita
Jonathan Fox | @foxescanswim
Lyn Sealy | @lynieminaj
Kristi Johnson | @kristi.l.j
Nick Gill | @liznnickgill
Robert MacGeoch | @robertmacgeoch
Saadiya Nakhuda | @saadiyanakhuda
Sasha Marie Corbin | @chachsmc
Shakéela Boodhoo | @shakeelaboodhoo
Sophie Bannister | @takenfromthetropics
Tara Thompson
Vanessa Gilkes | @nessytg

BERMUDA:
Jason D'General Sukdeo | @dgeneralbda

JAMAICA:
Alicia Camps-Ganess | @amerindiangirl
Andrew Bellamy | @andrewbellamyja
Bianca Hernould | @bhernould
Brittne Murray | @brittne_xox
Kathryn Silvera | @kat_silvera
Lauren Alanna Renee | @dreaming.of.laur
Richie Spence | @djrichieras
Sarah Elizabeth Jackson | @ladyboss876

ST. LUCIA:
Krystal Jean-Baptiste | @krystaljnb

MARTINIQUE:
Anthony Eroll Maugée | @anthonymaugee

GUADELOUPE/FRANCE:
Audrey Christophe | @oh_drey_

MIAMI:
Denise Weekes | @deevatheexplorer
Devin St. Hilaire | @spacerat60
Justin Elliott | @llcoolblaze
Kristel Kouly | @kristelkouly
Neil Berment | @joyjuicetjj
Renee Harper | unbreakable_rmh
Rheena Madd Dem | @rheena_elena
Ryan Sayeed | @ryansayeed
Savannah Garcia | @savannah_garcia
Victoria Chin | @vickychin_

NEW YORK:
Andre Martindale | @dredogg
Ayana Miller | @yansky_
Janelle Daley | @xoxoluvjan
Janelle Hing | @pomona08
Randall Bourne | @its_da_r
Sam Baldeo | @ryanthepumpmaster

WASHINGTON DC:
Al Vincent | @thevincentcreative
Shanna Sandy | @shannababez

PHILADELPHIA:
Stephen Choo Quan | @taylorchooquan

ATLANTA:
Wade Allard | @cidee_all

BOSTON:
designingDARYL | @designingdaryl

ORLANDO:
Riki Kouly | @livelaughphotos

HOUSTON:
Sean Xavier | @spirit.x.5.2

CALIFORNIA:
Danielle Cooper (Coop) | @wildcoops
Jesan Sacha | @jesansacha

TORONTO:
Brooke Myers | @brookiiemyers
Kerra Denel | @kerradenel
Renée Whitney | @green_renz
Sheldon Sookdeo | @sss_chest

LONDON (UK):
Alvern Porter | @alvernp
Amiel Barrimond | @curlysantana
Konata Alleyne | @konataalleyne
Neshia Batchasingh
AUSTRALIA:
Jamie Trahanas (Caribbean Sydney) | @jamietrahanas
#TriniJungleJuice #Mental2020 #FiftyShadesOfMENTAL #EroticaEdition #CarnivalWednesday #PremiumDrinksInclusive #MentalWednesday #TrinidadCarnival #TrinidadCarnival2020 #tjjMENTAL #feteSTRONG #WeAreCarnival #CarnivalLikeWeMAD
Website:- www.trinijunglejuice.com
=============
FAQs
Are there ID requirements or an age limit to enter the event?
Must be 18 and older to enter | ID Required

What's included in the ticket price?

Premium Drinks INCLUSIVE. Entrance to the event and GOOD VIBES!

What Shall I Wear?

MENTAL IS NOT YOUR AVERAGE CARNIVAL PARTY. In fact, it's the ONLY costume theme party for Trinidad Carnival. We strongly recommend you dress the theme, which creates a memorable event. In fact, for the past few years, more than 80% of our patrons dressed the theme. Now, it's your prerogative whether you choose to dress the theme or not. But why feel left out?

Male tickets are sold out, can I buy a female ticket?

Men can only use male ticket. Females can access the event using either a female or male ticket.

Is my registration/ticket transferable?

Yes.

Can I update my registration information?

Yes you can. Simply log into Eventbrite account and you can update info, name on ticket(s) etc.

Do I have to bring my printed ticket to the event?

No you don't need to print your tickets, the bar code on your phone will suffice.


What is the refund policy?
All ticket sales are final. No Refund or Exchange.

If event has been rescheduled, original tickets will be honored for the new date and/or time. There are no refunds for a rescheduled event.

Inclement weather conditions may affect an event or travel to and from it, however there will be no refunds for unused tickets or for the loss of enjoyment caused by these weather conditions or any other "acts of God".
==========================

Event Waiver

By purchasing this ticket, I understand that at this event or related activities I may be photographed. I agree to allow my photo, video, or film likeness to be used for any legitimate purpose by the event holders, producers, sponsors, organizers, and/or assigns
Organizer of MENTAL: Trini Jungle Juice Premium Drinks Inclusive | Trinidad Carnival 2020