About this Event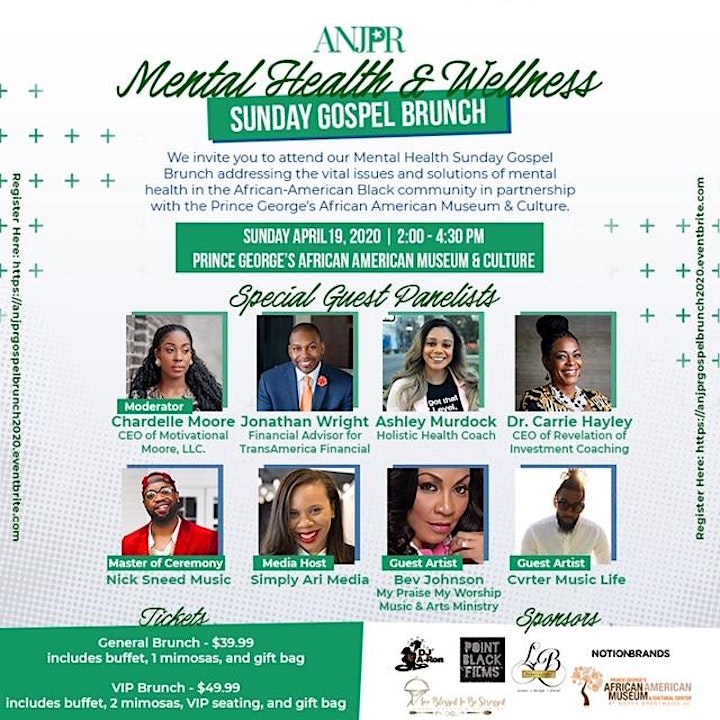 Each year, ANJPR host a series of community engagement events capturing audiences of 100+ people to discuss an array of topics specifically as it pertains to the African-American/Black and multicultural community. Our events bring together businesses, local non-profit organizations, entrepreneurs, creatives, and media.
On Sunday, April 19, 2020 we will host a Mental Health Sunday Gospel Brunch addressing the vital issues and solutions of mental health in the African-American Black community. In partnership with the Prince George's African American Museum & Culture, our program will address the following areas of mental health: finance, relationships, health, and careers/business.
You will experience:
Brunch Buffet & Mimosas 
Mental Health & Wellness Panel 
Health and Wellness Vendor Marketplace 
Entertainment, Media and Special Gifts and Prizes 
Master of Ceremony: Nick Sneed Music 
Media Host: Simply Ari Media 
Special Guest Panelist: 
 Jonathan Wright - Financial Advisor for TransAmerica Financial 
Ashley Murdoc- Holistic Health Coach, CEO of Successful In Pink  
 Dr. Carrie Hayley - CEO of Revelation of Investment Coaching 
Moderator: Chardelle Moore - CEO of Motivational Moore, LLC. 
Guest Artist: 
Bev Johnson My Praise, My Worship Music & Arts Ministry 
CVTER