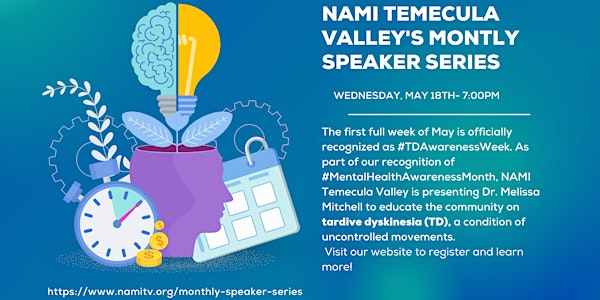 Mental Health Speaker Series: Tardive Dyskinesia (TD)
Monthly Mental Health Speaker Series: Tardive Dyskinesia
Date and time
Wednesday, May 18, 2022 · 6 - 7pm PDT
About this event
LAST MINUTE CHANGE: EVENT WILL BE ON ZOOM ONLY
Join Zoom Meeting
https://us02web.zoom.us/j/81810597278?pwd=c0lGczZrWjhPeVNjTm5JUDJEdUhlQT09
Meeting ID: 818 1059 7278
Passcode: 417783
On Wednesday, May 18th, NAMI Temecula Valley will host a speaker on Tardive Dyskinesia, Dr. Melissa Mitchell, the assistant pharmacy director for RUHS-BH.
WIN PRIZES! Virtual attendees will be entered into a drawing for a $50 Target Gift Card.
Some people living with a mental health condition may also experience TD, a condition that includes uncontrollable movements affecting the face, torso, and/or other body parts. TD may develop after a few months of taking certain medications (antipsychotics) to treat bipolar disorder, depression, schizophrenia, or schizoaffective disorder. The uncontrollable movements of TD can have a negative impact on those living with the condition. TD movements can also impact daily tasks such as eating, sleeping, drinking, and even leaving the house. Acknowledging and recognizing the symptoms of TD are important to get the necessary support and potential treatment.
As we recognize Mental Health Awareness Month in May and Tardive Dyskinesia (TD) Awareness Week May 1-7, it's critical that supporting people living with mental health conditions remains a focus. As 2022 marks the fifth year recognizing TD Awareness Week, we want to strengthen our efforts together as leading voices of support for the approximately 600,000 people in the U.S. affected by TD. Join us to learn more and stop the stigma of TD and other mental health conditions!
NAMI Temecula Valley is a grassroots organization dedicated to the improvement of life for those afflicted with mental illness and their loved ones. It is our belief that people with a brain disease should have the same respect and access to services as those with any physical illness. Our goal is to rid our community of the stigma that creates discrimination. We pursue this goal through public education, compassionate support, and legislative advocacy.
6:00- 6:45 Online Sharing Circle
7:00 PM PRIZE DRAWING: Win a $50 Target Gift Card
7:05- 8:00 PM Presentation by Dr. Mitchel
About the organizer
At 6pm on the third Wednesday of each month the Assitance League of Temecula hosts our Monthly Speaker Series.
6:00-6:45PM: Sharing Circle we will share stories, resources, and refreshments with local attendees
7:00-8:00: Monthly Mental Health Speaker. This portion of the evening will also be LIVESTREAMED via zoom. Each month a community member presents a topic related to mental health including specific conditions, community resources, and research.
See individual event pages for details!