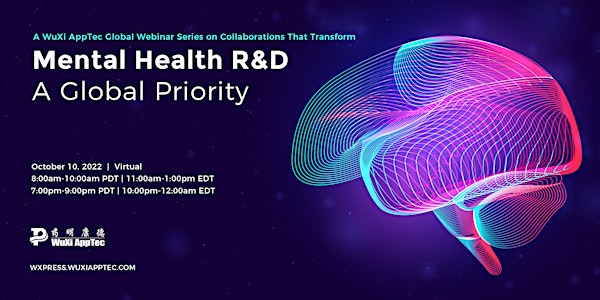 Mental Health R&D: A Global Priority
Mental Health R&D: A Global Priority
About this event
Dear Colleagues and Friends,
As we gather some of the world's leading researchers, drug developers, and clinicians to better align our R&D efforts with the WHO's initiative in Making Mental Health & Well-Being for All a Global Priority, we invite you to join colleagues from around the world for our next complimentary virtual event, Mental Health R&D: A Global Priority on October 10th, 2022, in celebration of World Mental Health Day.
This will be the 11th episode of WuXi AppTec's "Collaborations That Transform" series highlighting the importance of working collaboratively to solve industry-wide problems to bring transformational medicines faster to patients.
Below is the final agenda for your review. For the convenience of our worldwide audience, this program will premiere on October 10 from 8am PDT – 10am PDT and from 7pm PDT – 9pm PDT. We will share an on-demand link with registrants after the event. Please click here for our speaker bios and program updates.
Agenda (The time below is AM, Pacific Daylight Time)
8:00 Welcome
Hui Cai, Program Chair, VP and Head of Content, WuXi AppTec
8:05 Urgent Attention to Address Mental Health
Cara Altimus, Senior Director, Center for Strategic Philanthropy, Milken Institute
Daniel Fung, CEO, Institute of Mental Health in Singapore
John Krystal, Chair, Department of Psychiatry; Robert L. McNeil, Jr. Professor of Translational Research, Yale University
8:35 Latest Therapeutic Developments in Mental Health
John Dunlop, Head of Research and Development, Neumora
Murali Gopalakrishnan, Global Head, Neuroscience Search & Evaluation, Corporate Strategy Office, AbbVie
Barry Greene, CEO and Member of Board of Directors, Sage Therapeutics
Ekaterina Malievskaia, Co-Founder and Chief Innovation Officer, COMPASS Pathways
Brigitte (Bigs) Robertson, CMO, Delix Therapeutics
Moderator: Lauren Martz, Executive Director, Biopharma Intelligence, BioCentury
9:25 Challenges and Opportunities towards the Future of Mental Health Care
Ben Robbins, General Partner, GV
Daphne Zohar, Founder & CEO, PureTech Health
9:45 Closing Remarks
Richard Soll, Head of Boston Office and Senior Advisor of Strategic Initiatives, WuXi AppTec