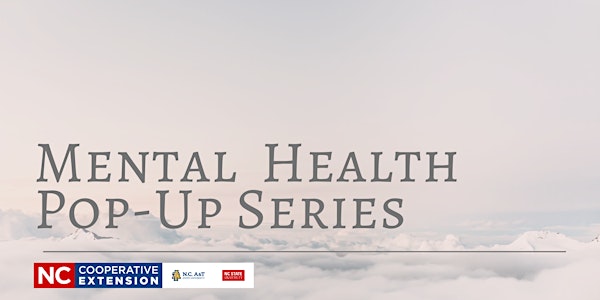 Mental Health Pop-Up Series
May is Mental Health Month. Join us for a series of virtual lunch n learns to discover tips, to help you prevent and manage stress.
About this event
May is Mental Health month and NC Cooperative Extension wants to help you take care of your mental health. Join us for this pop-up series where we will discuss three different ways you can prevent and manage stress. The series will take place Tuesdays at noon beginning on May 11th and running through May 25th.
On May 11th we will cover how to manage stress with physical activity. Our second class on May 18th discusses how to manage stress through mindfulness. And the last class on May 25th will discuss the benefits a healthy diet has on stress. Each class will have unique content and we encourage you to check out all three. However, you can pick and choose the content you wish to view. For those who attend the session live we will be raffling off digital copies of some of the top stress manamgnet books. Classes will also be recorded so you can view them at your convenience.
Class will be held via zoom and streamed live on the CurrituckCES YouTube channel. Register here through Eventbrite and make sure you are subscribed to the CurrituckCES youtube channel. Click the bell to receive notifications when we go live or add new content.
For more information or accommodations for persons with disabilities please contact Olivia Patchel at 252-232-2261, email olivia_patchel@ncsu.edu no later than five business days before the event.