Mental Health Panel Discussion - Part II - Suicide

Sunday, December 10, 2017 from 3:15 PM to 4:30 PM (EST)
Event Details
oin over four professional experts on a panel discussion on the issue of suicide. Rates if suicidal youth in the Muslim community has been on the rise. Over the years ILIA has counseled several boys and girls in high school age, unfortunately we are seeing the numbers of youth who have suicidal thoughts or attempt suicide each year increasing. Our experience with counseling on average 2-4 youth per year per metro area is promising. Very basic intervention goes a long way, alhamedellah.
What: 2nd Mental Health Panel
When: Dec 10th, 3:15 pm - 4:30 pm
Where: 4903 Liberty Heights Ave, Baltimore, MD 21207
Who: All above 18
Why: Educate the community on mental health issues and how to stay on top of our game
Fee: Free
Register Online Here >>> https://www.eventbrite.com/e/mental-health-panel-discussion-part-ii-tickets-40443560779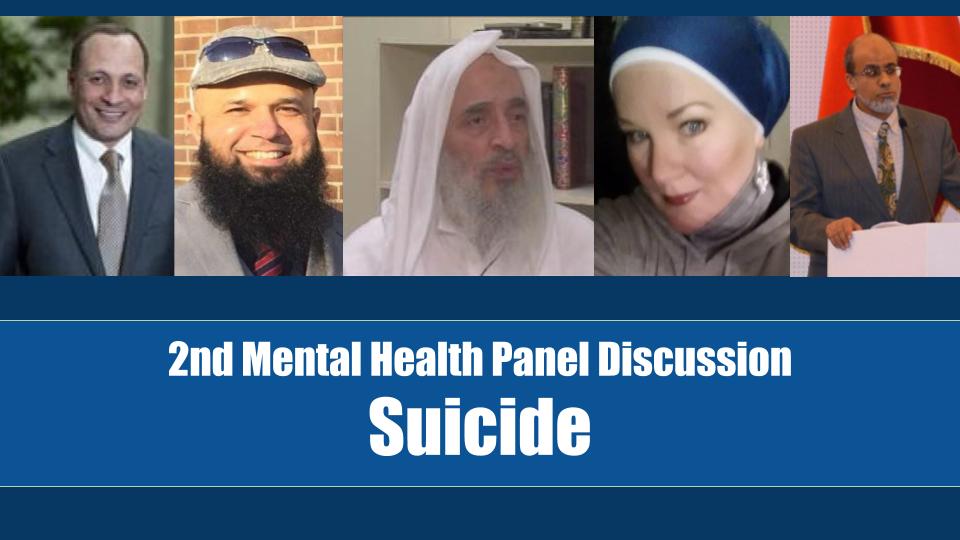 Panelists:
Dr. Osama Abulseoud
Dr. Abulseoud is a board-certified psychiatrist and scientist at the National Institute on Drug Abuse. In the clinical end, he treats patients struggling with depression and other mental illnesses. As a researcher, he studies the cause why some people suffered from mental illness and drug addiction. Dr. Abulseoud is an expert in the field. In this lecture, he will talk about the emerging trends in suicide rates and how to approach the problem of adolescent suicide at the individual levels.
Br. Zeeshan Sheikh
Brother Zeeshan Sheikh who has a MBA in Marketing and a MBA in Information Systems and currently working on MicroMaster in CyberSecurity. With this background he works in sales and marketing as a Senior Sales Executive with 15 plus years experience, runs a small business of computers hardware and software, and on the side, he helps 'newbees' with their developing business plans. To keep balance, Brother Zeeshan is a Khateeb, conducts Nikahs and is a marriage and youth counselor, treasurer and member of board of trustee at Maryum Islamic Center and a VP of CDF (Community Development Foundation). He enjoys teaching Qur'an to non Arab speaking families so that they understand the message of Allah. If all this isn't enough, he plays cricket with the WCL Washington Cricket Leaque, is a husband, a father of 3 boys, and an active member of PTSC at Al Rahmah. But if you ask him he will tell you that his greatest goal in this life is to be available for the sake of Allah 24/7.
Sister Patti Blades
Sister Patti brings insights as a behavioral health care provider managing acute psychiatric and substance abuse admissions, concurrent reviews, and length of stays, and clinical consultation and support. She has provided psychotherapy to clients and provided supervision and administrative oversight to clinical social work staff, provide staff training and development, and enhancements of clinical skill through training and development in clinical assessment, treatment planning and trauma-informed therapy. Approved and certified trainer for CANS assessment instrument.
Imam Mahmoud Abdelhady
Imam Mahmoud has over 35 years experience in outreach and spiritual counseling. He is current Imam of Maryum Islamic Center and former Imam of Dar Al-Taqwa in Howard County. Over the years he has made impressive impact on the lives of thousands of youth through his sermons, discussions and classes. He teaches Quran and Arabic and is active in areas of interfaith outreach, marriage counseling, youth coaching, community development and brings insights from the Islamic perspective.
Br. Ayman Nassar
Founder of Islamic Leadership Institute and the Youth Crisis Line with over 25 years experiences coaching youth for achieving top performance. He has interacted with thousands of youth providing coaching in areas of academic excellence, career development and behavioral change. Br. Ayman is certified mentor and coach with Big Brother Big Sister, Lutheran Social Services, Dar Al-Taqwa, Prince George's Community College Asian, Latino, African, Native American (ALANA), New Beginnings Youth Center, Howard County Detention Center and ILIA. He holds two Master degrees in electrical engineering, engineering management and systems engineering and holds certifications in half a dozen leadership domains. He has been trained in cultural competence, youth development, reentry, psychology, curriculum development and has devised over 140 courses and programs for youth and adults. He was former faculty at University of California, Prince George's Community College, Strayer University and Howard Community College.

When & Where

Islamic Leadership Institute of America
4903 Liberty Heights Avenue
Baltimore, MD 21207


Sunday, December 10, 2017 from 3:15 PM to 4:30 PM (EST)
Add to my calendar
Organizer
Developing Leaders for Sustainable Communities
240.765.7151

http://www.islamicleadership.org
info@islamicleadership.org