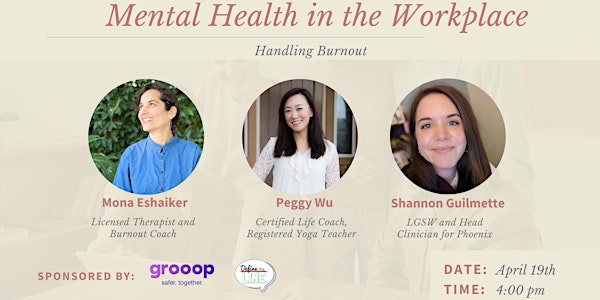 Mental Health in the Workplace: Handling Burnout
Mental Health in the workplace - Handling burnout and fatigue.
About this event
This year has impacted many and as a leader, in your organization, you're likely to see employees struggling with anxiety, depression, burnout, trauma, and PTSD. Understanding the impact that mental health has in the workplace, can help you communicate with your employees who may be struggling with mental health problems.
Join Define the Line and Grooop for a 3-part panel series with health experts, HR professionals, and organizational leaders who are paving the way in the mental health sector.
During this session, we'll focus on how to handle burnout and fatigue after a year of working from home, global trauma, and constant change. Bring your questions or come to listen!
Don't forget to register for Mental Health in the Workplace: Assessment Tools for Employees - April 27th at 4 PM EST!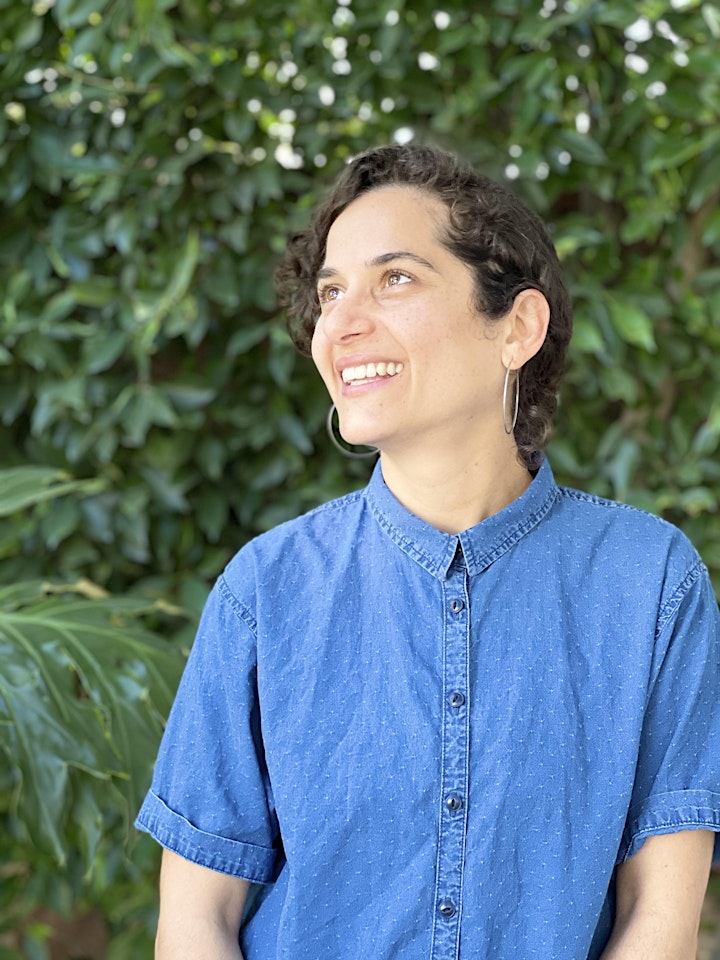 Mona Eshaiker
Mona Eshaiker (she, her) is a licensed therapist and consultant with over ten years experience working in the field of mental health. Mona is open about her experience with burnout and her current work examines the stress cycle and how it uniquely affects marginalized employees in the workplace.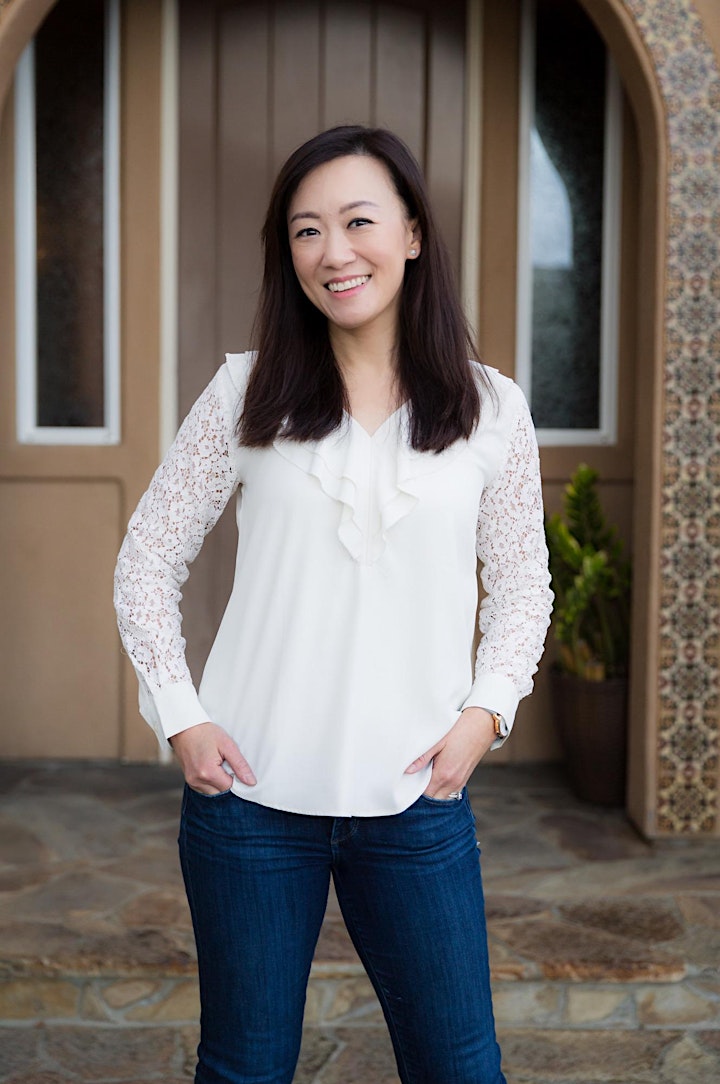 Peggy Wu
Previously a commercial real estate lender, Peggy is now a registered yoga teacher and a certified life coach. She turned to yoga teacher training years ago to fulfill a need for life balance and inner peace. To her surprise, learning yoga and becoming a yoga teacher turned into a soulful journey. She later left her corporate job to teach more yoga and discovered life coaching along the way that empowered her to do more for others. Peggy takes pride in being a lifelong learner, a conscientious observer, and a natural developer who has a great passion for helping others grow, transform, and experience success. She is also a believer in connectedness, where things happen for a reason, and everyone is a part of something bigger. She believes that everyone is on this earth to serve a purpose, and the connectedness we share implies responsibilities that we seize to benefit the society at large.
As a yoga teacher, Peggy works with her students on building a mind-body connection. As a life coach, Peggy champions and inspires her clients to pursue their success. Both professions connect her to others through the act of service and provide her with transformative and rewarding experiences.
Peggy's favorite activity is spending time with her husband and their two cats when she is not teaching yoga or coaching clients. She also enjoys watching Netflix, dancing, hiking, and traveling. One of Peggy's favorite quotes is, "The privilege of a lifetime is to become who you truly are" by Carl Jung. One of Peggy's favorite self-affirmations is, "I choose to make the rest of my life the best of my life."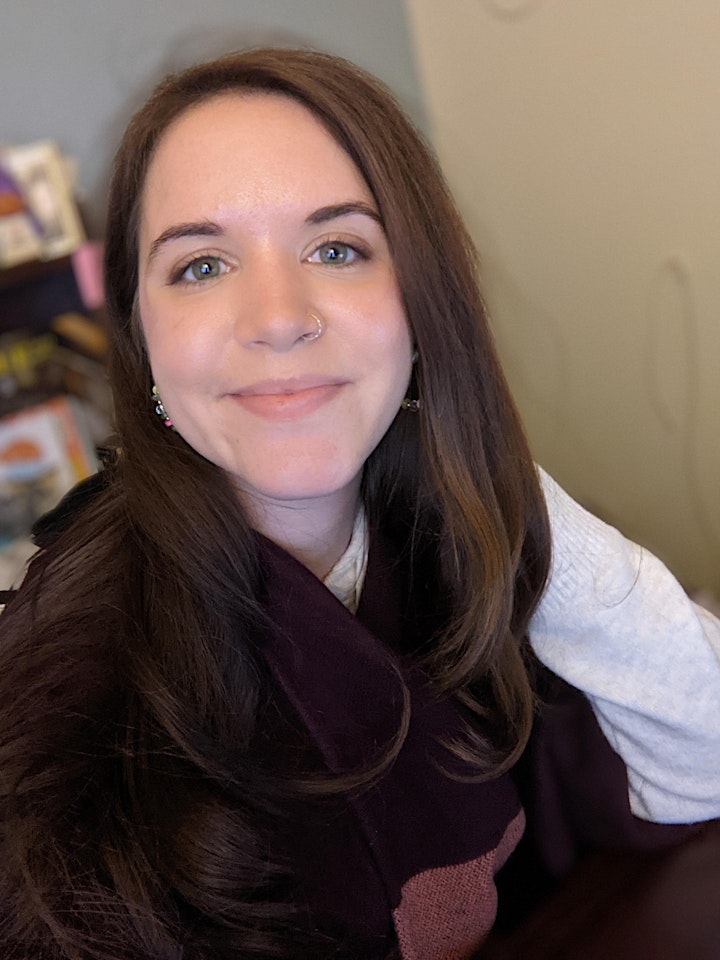 Shannon Guilmette
Shannon Guilmette is trauma-focused therapist in the District of Columbia and head clinician for Phoenix. She is a licensed graduate social worker with a focus in clinical behavioral health. She did her internship at the Psychiatric Institute of Washington (PIW) on their acute inpatient units and the trauma program. After graduating from the University of Maryland she joined PIW full-time to work in their trauma partial hospitalization program where she currently is employed. She is, at present, enrolled in a certificate program on Traumatic Stress facilitated by the Traumatic Research Foundation led by trauma clinicians such as Bessel van der Kolk, M.D., Elizabeth Warner, Psy.D., and Stephen Porges, Ph.D.. Shannon's passion has been assisting adult survivors of developmental trauma and complex post-traumatic stress disorder to heal through a bottom-up approach starting with somatic experiencing up to cognitive restructuring. Her main objective in her work is to help survivors to find a purpose to their life and joy, two things that are often inhibited by trauma.