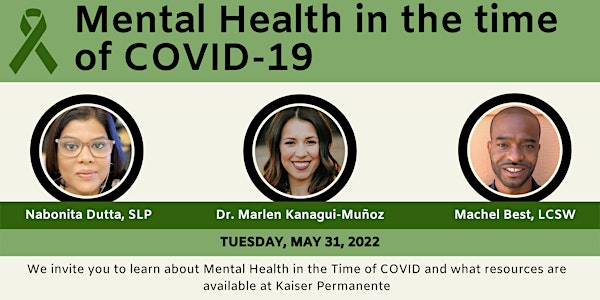 Mental Health in the Time of COVID: A HouseCalls Collective Conversation
Mental Health in the Time of COVID: A HouseCalls Collective Conversation
About this event
Moderator, Nabonita Dutta, M.S. CCC is hosting a HouseCalls collective conversation between providers, Machel Best, LCSW, Dr. Marlen Kanagui-Muñoz, and You, our collective community. In our discussion we aim to provide education about mental health in the time of COVID and what resources are available at Kaiser Permanente.
The past two years have been difficult for all of us— many have lost their jobs and financial security, others work longer hours, unable to travel or visit friends and family and many more have lost loved ones to COVID-19. All of these issues take a toll on our bodies and our minds, which is why it is important for our community and family leaders, like yourself, to not only acknowledge that mental health exists, but also help someone who may need more assistance.
Sometimes it can be difficult to differentiate when someone is having a bad couple of days or if someone needs more assistance with their mental health.
In this HouseCalls we will discuss:
How to know when you or any loved one in your family and life may need mental health treatment,
How to obtain assistance from the department of psychiatry, and
How to take advantage of the different forms of mental health treatments at Kaiser Permanente East Bay
This is a FREE, virtual interactive event open to the community. We have invited all of our members and their families to listen and participate in the conversation.
_________________________________________________________________________________________
HouseCalls is a virtual communication tool created to S.E.E.E. our members and create conversation around making healthy lifestyle choices, self- advocacy, and best practices in the prevention of chronic disease.
Support our members and community to take control of their preventive care and chronic conditions​
Explore ​and identify opportunities to improve care​
Encourage dialogue and partnership between members and medical specialists​
Educate ​on how to care for chronic conditions at home
Please view prior events here: http://www.kp.org/eastbay/housecalls
Speaker and Moderator Information
Nabonita Dutta, M.S. CCC-SLP is a speech-language pathologist at Kaiser Permanente, Oakland. She was born and raised in Calcutta, India, and moved to the United States 20 yrs ago. This is also how long she has been working as a speech-language pathologist with adult patients. Nabonita has been with Kaiser Permanente for 13 yrs and take pride in being an employee. Patient care and health equity advocacy have become a big part of her life, and she feels honored to be a member of the Kaiser Permanente Health Equity and HouseCalls team. When not working, Nabonita loves to spend time with her family and friends.
Dr. Marlen Kanagui-Muñoz is a bilingual and bicultural clinical psychologist at Kaiser Permanente, Richmond where she practices in the Intensive Outpatient Program and is a proud member of the La Clinica Program. She received her doctorate in Counseling Psychology with an emphasis in Multicultural Psychology from the University of Missouri-Columbia where her research and consultation work focused on strength-based approaches for working with the Latinx community. Dr. Kanagui-Muñoz is also dedicated to cultivating the next generation of diverse clinicians as such she serves as the Co-Training Director for the KP Richmond Clinic and as an Equity, Inclusion, and Diversity Liaison for the KP Northern California Training Program.
LCSW Machel Best is a licensed clinical social worker with over almost 10 years as a counselor/ therapist. Machel has experience working with various age groups from transitional aged youth (16-24), adults, to older adults. His areas of specialty include Cognitive Reframing, Dialectical Interventions, treating complex traumas, and working with populations with acute symptoms using wrap around services.
Machel Best is trained in a variety of modalities including but not limited to Cognitive Behavioral Therapy (CBT), Dialectical Behavior Therapy (DBT), Interpersonal Therapy (IPT), Seeking Safety, and Motivational Interviewing.
Working with inner-city populations is one of Machel Best's passion, having great experience servicing those in the Los Angeles and Bay Area communities.
Machel Best earned his Masters of Social Work (MSW) from California State University, Dominguez Hills, which emphasizes Critical Race Theory, Intersectionality, and servicing marginalized communities from a perspective of cultural competence. Previously, he earned his Bachelors in Urban Studies (With an Emphasis in Public Administration) from San Diego State University.
For Teams Live Event Instructions to Log on:
1. Event starts at 5:30 PM.
2. Log in early starting at 5:15 PM. Click on the Teams Live Link (link will be sent via email). If you log on before 5:15PM, the screen will say "The Live Event hasn't started".
Unless you have the Microsoft Teams appt installed, you will experience problems using your mobile phone.
Please use a laptop or desktop to log on.
3. Click on "Watch on the web instead".
4. You will land on "Welcome to the Event!"
5. Click the "Join Anonymously link".
6. Wait for the event to begin.
System Requirements and Supported Platforms
For best experience use the following supported web browsers:
Chrome (last 3 versions)
Edge RS2 and later
Firefox (last 3 versions)
Internet Explorer 11
Safari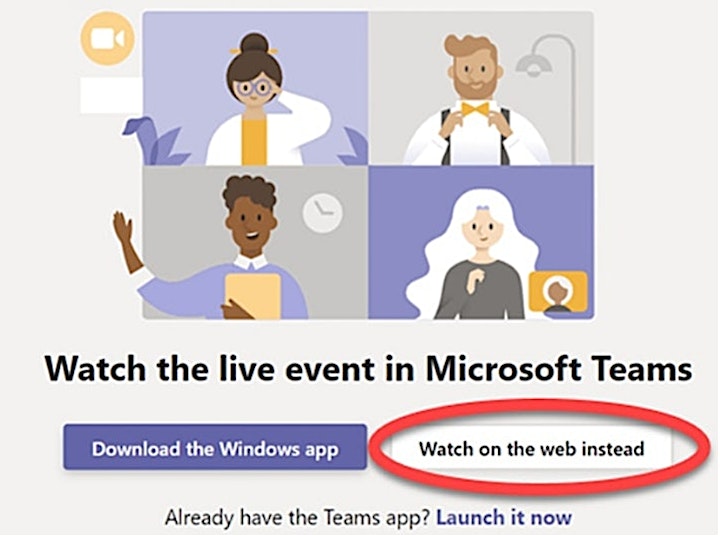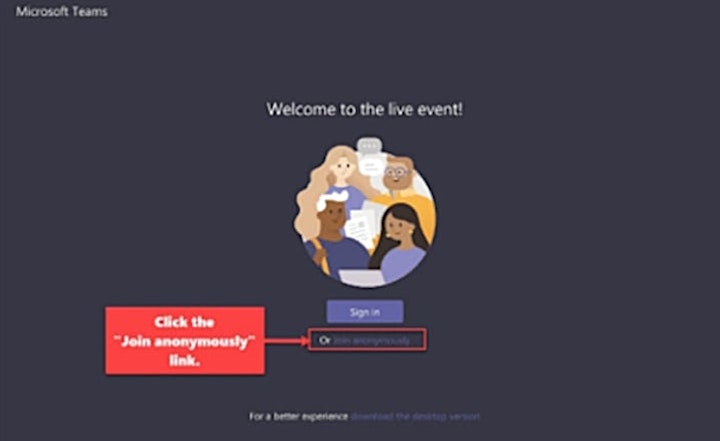 For closed captioning, please click the icon at the bottom right hand corner.