Mental Health in the Mountains
About this Event
This is a speakers series designed to start crucial conversations to help save and improve lives. September is Suicide Prevention Month and we welcome all Placer and Nevada County residents to join us for three powerful speakers.
Monday, Sept. 14th, 3:30-5:00 with Dr. Sally Spencer-Thomas
Monday, Sept. 21st, 3:30-5:30 with Laurie Strand, LCSW
Tuesday, Sept. 29th, 4:00-5:00 with Dese'Rae L. Stage
Funding for this speakers series has been provided, in part, by the Katz Amsterdam Foundation, Tahoe Truckee Community Foundation, Sierra Community House, and counties of Placer & Nevada Mental Health Services Act.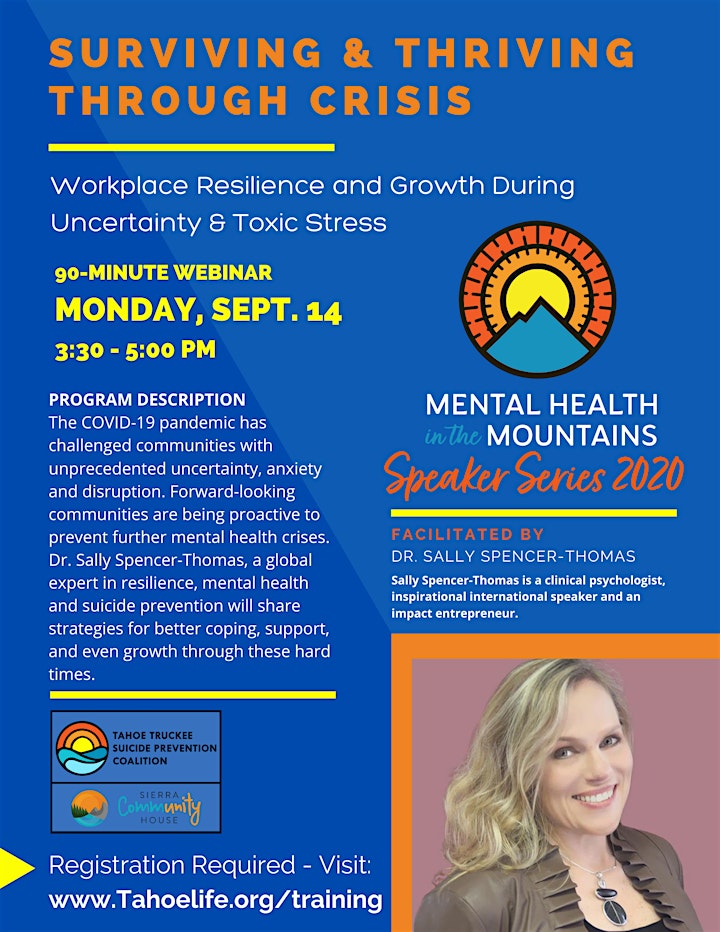 Surviving and Thriving through Crisis: Workplace Resilience and Growth During Uncertainty and Toxic Stress
90-Minute Webinar
Facilitated by Dr. Sally Spencer-Thomas
Program Description: The COVID-19 pandemic has challenged communities with unprecedented uncertainty, anxiety and disruption. Many who were already experiencing toxic stress and mental health challenges find themselves suffering even more due to the distress caused by all of the ever-changing circumstances cause by the virus, social unrest and economy. Given the perfect storm of risk factors, forward looking communities are being proactive to prevent further crises, such as suicide and complete mental exhaustion. In this presentation, Dr. Sally Spencer-Thomas, a global expert in resilience, mental health and suicide prevention will share strategies for better coping, support, and even growth through these hard times.
Participants will be able:
To understand how enduring toxic stress impacts us and how our current situation of converging stressors brings unique challenges – and opportunities.
To articulate definitions and elements of resilience and post-traumatic growth
To gain insight on how escape behaviors create barriers for transformation and increase risk for suicide.
To describe a model of understanding the suicidal person.
To list key elements of how to help a suicidal person move from despair to a passion for living.
Sally Spencer-Thomas is a clinical psychologist, inspirational international speaker and an impact entrepreneur. Dr. Spencer-Thomas was moved to work in suicide prevention after her younger brother, a Denver entrepreneur, died of suicide after a difficult battle with bipolar condition. Known as an innovator in social change, Spencer-Thomas has helped start up multiple large-scale, gap filling efforts in mental health including the award-winning campaign Man Therapy and is the lead author on the National Guidelines for Workplace Suicide Prevention. She currently serves as the Executive Secretary for the American Association of Suicidology and the President of United Suicide Survivors International. Connect with Sally at www.SallySpencerThomas.com and on Facebook (@DrSallySpeaks), Twitter (@sspencerthomas) and LinkedIn.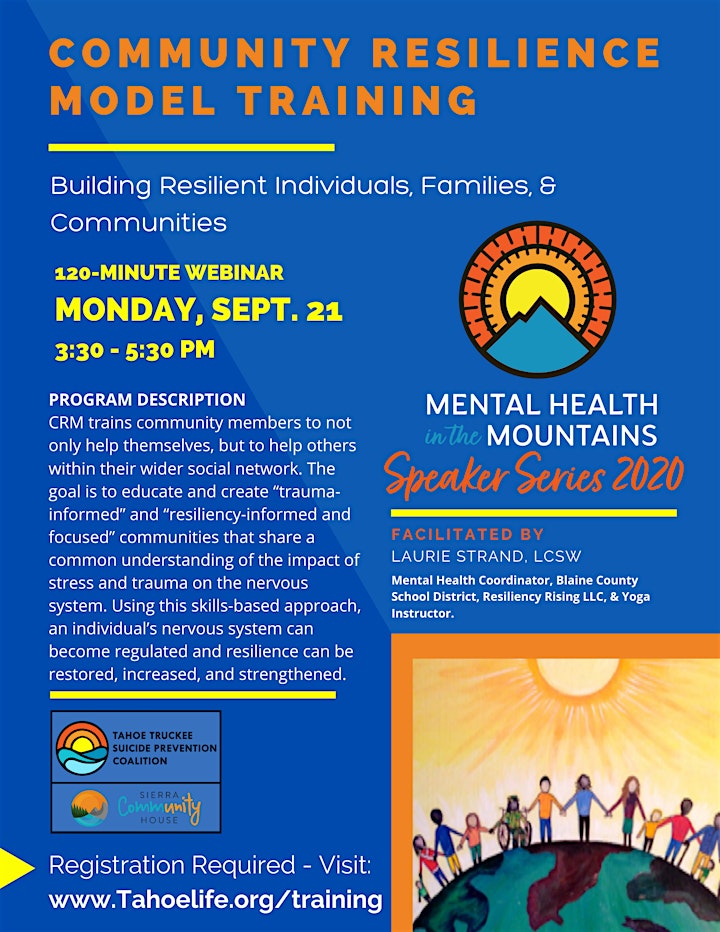 Community Resilience Model (CRM) Training
120-Minute Training
Facilitated by Laurie Strand
Program Description: The Community Resiliency Model (CRM) trains community members to help themselves and others within their wider social network. The primary focus of the program is to reset the natural balance of the nervous system.
CRM's goal is to help to create "trauma-informed" and "resiliency-focused" communities that share a common understanding of the impact of trauma and chronic stress on the nervous system, and how resiliency can be restored/increased using skills.
In the CRM Skills Training, participants will learn six wellness skills designed to help them track their own nervous systems, which leads to bringing the body, mind, and spirit back into greater balance. We encourage participants to pass the skills along to family, friends and their wider community.
The CRM model teaches us to become "resiliency-informed," which enables us to make a shift from focusing on what may be wrong with us, and/or focusing on what has happened to us, to what is right with us, and what are our strengths.
Participants will learn and instantly be able to use strategies, based on human biology and neuroscience, to create new neural pathways that strengthen the ability to cope when dealing with trauma, chronic stress, and/or bounce back faster from everyday normal stressors.
Laurie Strand obtained her Master's in Social Work from the University of Montana and is clinically licensed in Idaho. She has extensive experience working with children, youth, and families in university mental health, wilderness therapy, school-based mental health, private practice, and currently as the Blaine County School District Mental Health Coordinator and Therapist.
Her passion is early identification, intervention, and prevention and working to de-stigmatize mental health not only in our educational system but in our community as a whole. She brings resiliency skill-building opportunities utilizing the Community Resiliency Model, offering training to students, teachers, non-profit organizations, first responders, and the community at large. She has co-facilitated CRM trainings throughout communities, as well as nationally, most recently in Dayton, Ohio after the shootings.
Live Through This: A Lifetime with Suicidal Thoughts, & Art as Social Justice
60-Minute Presentation
Facilitated by Dese'Rae L. Stage
Program Description: In a series of "snapshots," Dese'Rae L. Stage shares her experiences with suicidal thoughts (and sometimes more) over the course of her lifetime. She covers family dynamics and the teenage years—the difficult transition from middle to high school, questioning her sexuality; an abusive relationship; divorce; infertility; and how suicidal thoughts cropped up in each. She shows the audience a living portrait reflecting recent CDC findings indicating that suicide is a response to adversity, rather than mental illness as a singular cause. She walks us down the path that led her to Live Through This and brings the voices of attempt survivors with her through portraits, quotations, and video—literally taking the audience into an interview with her. She discusses major themes that crop up in the stories of survivors, along with the impact the project has made in a number of contexts. Stage implores listeners to open their hearts and their minds to those of us who have literally lived through it, and provides incontrovertible evidence that suicide affects all of us. Audiences can expect a talk that will be revealing, often touching, always honest and, ultimately, hopeful.
Dese'Rae L. Stage is an artist, mom, and suicide education activist. She created Live Through This, a multimedia storytelling series that aims to reduce prejudice and discrimination against suicide attempt survivors. Live Through This reminds us that suicide is a human issue by elevating and amplifying survivors' voices through raw, honest stories of survival, and pairing them with portraits—putting faces and names to the statistics that have been the only representation of attempt survivors in the past. Dese'Rae has received awards for her work, including the SAMHSA Voice Award, the SXSW Community Service Award, Investigation Discovery's Inspire a Difference Everyday Hero Award, and the American Association of Suicidology's inaugural Transforming Lived Experience Award. Live Through This has received media coverage from the New York Times, Associated Press, NPR, CBS Evening News, and more. Dese'Rae is featured in a documentary about suicide prevention advocates called "The S Word," currently screening nationwide. Dese'Rae also produces and co-hosts Suicide 'n' Stuff, a video podcast that examines suicide through a critical suicidology lens. Her writing has been published by Cosmopolitan, CNN, and Romper. She lives in Philadelphia with her wife and children.