Mental Health First Aid for Veterans, Servicemembers and their Families
MHFA for Veterans, Military and their Families teaches you to identify and respond to signs of mental illnesses and substance use disorders.
About this event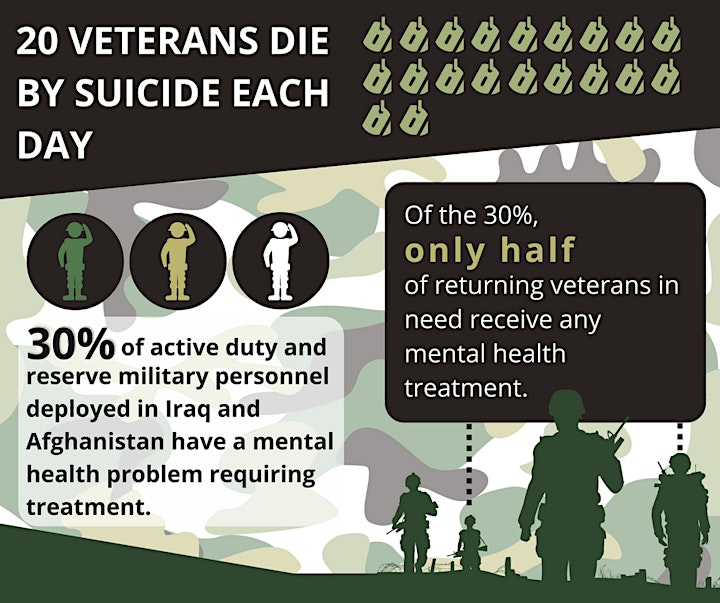 Mental Health First Aid for Military and Veterans is a public education program introducing participants to the unique risk factors and warning signs of mental health and substance use problems in adults, builds understanding of the importance of early intervention, and teaches individuals how to help adults in crisis or experiencing a mental health challenge. This 8-hour training gives you the skills you need to reach out and provide initial support.
Mental Health First Aid uses role-playing and simulations to demonstrate how to assess a mental health crisis; select interventions and provide initial help; and connect adults to professional, peer, social, and self-help care. Family members and personnel working with military and families are often not aware of how to engage veterans with mental illnesses and addictions. In addition to the impact of military service on the veteran, each has a circle of family (significant other, children, parents, siblings, etc.) and friends who are also impacted by their military service.
_______________________________________________________________________________________________
Upon completion of the full 8-hour course, attendees will be nationally certified to provide Mental Health First Aid in their communities. Registration fee includes: MHFA Manual, additional materials, lunch and course completion certificate. This certificate can be presented to your governing board or employer as attendance of 8-hours towards continuing education credits in multiple disciplines.