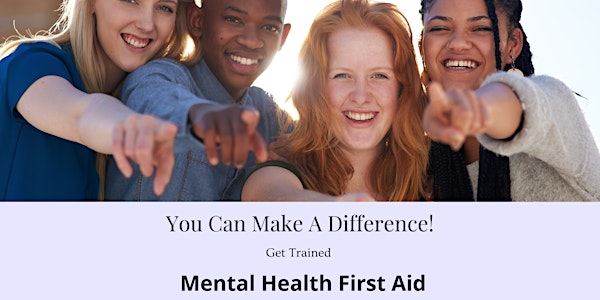 Mental Health First Aid- 2 day event Apr 18 10 a - 2:30 p & Apr 19 10a-2:30
Location
Community Health & Wellness Center
1636 East Mission Road
Fallbrook, CA 92028
Sales Have Ended
Registrations are closed
The training has reached its maximum seats. Consider registering for these upcoming dates: May 14 from 8am - 5 pm June 11 8 am - 5 pm with a focus on Adults Working with Youth contact us at 760.731.9187
FREE 8-hour certification. Learn to recognize risk factors, warning signs, and symptoms of mental illness and how YOU can make a difference.
About this event
This is a two day event- April 18 & April 19 from 10 am - 2:30 pm both days.
Why Mental Health First Aid?
Mental Health First Aid teaches you how to identify, understand and respond to signs of mental illness and substance use disorders. This training gives you the skills you need to reach out and provide initial support to someone who may be developing a mental health or substance use problem and help connect them to the appropriate care.
What it Covers
• Common signs and symptoms of mental illness, anxiety and depression
• Common signs and symptoms of substance use
• How to interact with a person in crisis
• How to connect the person with help
• NEW: Expanded content on trauma, addiction and self-care
Who Should Take it
• Community members
• Caring individuals
• Employers
• Police officers
• Medical staff
• First responders
• Faith leaders
Additional dates:
Saturday, May 14, from 8 am- 5pm
Spanish training- Two day event, June 6 & 7 from 5-9 pm
Saturday, June 11 from 8 am - 5 pm
Questions: please contact Theresa Geracitano at tgeracitano@fallbrookhealth.org or 760.731.9187.
Hosted by Fallbrook Regional Health District and presented by Mental Health America of San Diego