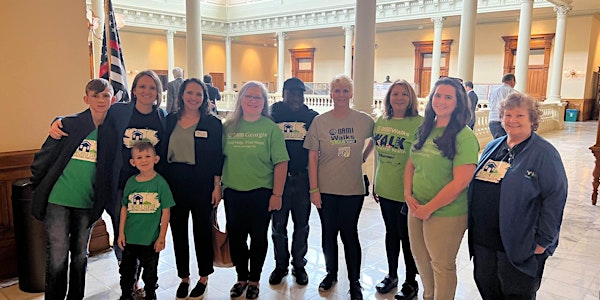 Mental Health Day At the Capitol
Join NAMI Georgia and the Georgia Mental Health Policy Partnership for Mental Health Day at the Capitol! 11 AM on the South Steps @ Capitol!
When and where
Location
Georgia State Capitol Capitol Square Southwest Atlanta, GA 30334
About this event
Register via the link below to join the Behavioral Health Services Coalition (BHSC) Program from 9-11am before heading over to the Capitol! Breakfast will begin at 8am! You will hear from speakers across the state of Georgia to include the Georgia Department of Behavioral Health and Developmental Disabilities (DBHDD) Commissioner, Kevin Tanner, as well as other invited guests!
Link : Tinyurl.com/MHD2023
Annually the Behavioral Health Services Coalition, a group of advocates supporting behavioral health in Georgia, comes together to organize the Mental Health Day at the Capitol. Anyone whose life is impacted by mental health concerns is welcome including: people in recovery, families, political leaders, service providers, community support organizations, faith leaders, law enforcement, first responders, other advocates, and anyone else who wants to support behavioral health in their communities.
This year's Mental Health Day at the Capitol will be held In-person and virtually on Tuesday, January 31, 2023
Georgia Freight Depot 65 Martin Luther King Jr DrAtlanta, GA 30312
Hear from the Mental Health Champions in the Georgia State Legislature . Tell Your Story to your elected officials and be apart of the DECADE FOR MENTAL HEALTH!
Now more than ever we have the support of law makers , and they want to MEET YOU ! This event is open to the public, not just NAMI Members, so please invite all your friends and family!
We will have a group gathering at 11am , provide you with the Guide and Talking points to use in your meetings with your legislators, and then we will all go and TELL OUR STORY!
It is the most effective way to make a positive impact, come and meet your peers and friends at the capitol! Email advocacy@namiga.org with questions.