"Making the effort; Enhancing cultural literacy when working with Muslim parents"
About this event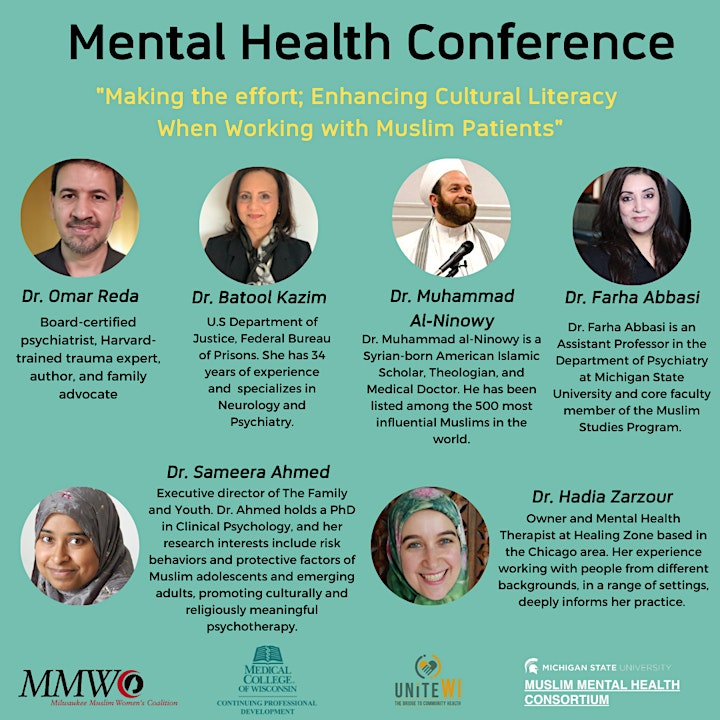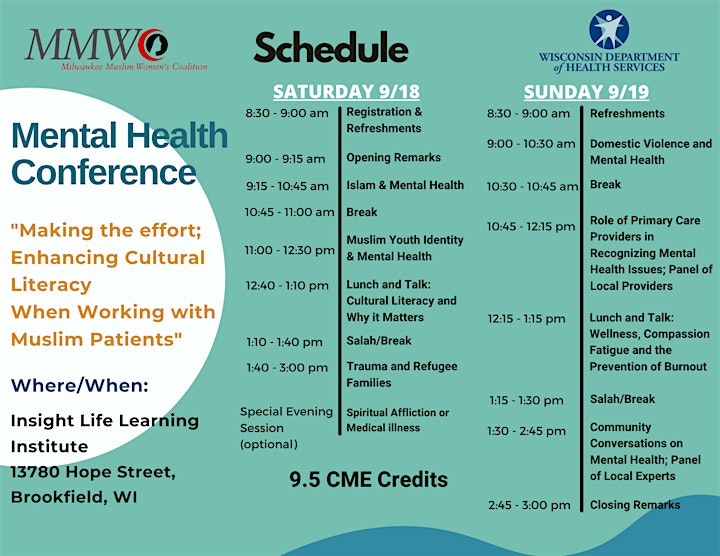 This two day conference will bring together national and local behavioral health experts to address the unique needs of Muslim patients. The MMWC is presenting this conference with the generous support of the Wisconsin Department of Health Services.
Session include:
The history of mental health in the Muslim community
Youth, identity and mental health
Trauma and refugee families
Mental health and domestic violence
Black Psychology and the impact of racism, mass incarceration, and police brutality
Cultural literacy
Suicide
Wellness, resilience and coping skills for all who works with vulnerable groups and individuals
Special community lecture on Saturday evening with Dr. Muhammad bin Yahya Al Ninowy. Dr. Al Ninowy is a Medical Doctor, Islamic scholar, theologian, founder and director of Madina Institute and listed among the world's 500 most influential Muslims.
Organizer of Mental Health Conference
The MMWC is a local education and outreach organization dedicated to promoting an accurate understanding of Islam and Muslims. It is the only independent Muslim women's organization in Wisconsin that is run by an all female board. 
The MMWC runs the Islamic Resource Center, a cultural center which includes a public Islamic lending library and provides an array of programming that promotes cultural literacy and dialogue. In 2015, the MMWC launched the Milwaukee Muslim Film Festival, one of the only annual citywide Muslim film festivals in the country. 
The MMWC is a highly sought after resource by media, elected officials, interfaith organizations, educators and many other institutions.  The MMWC and the Islamic Resource Center is a visitor site for many guests of the State Department. 
The MMWC works tirelessly to build coalitions that work for social justice, harmony, peace and understanding.