Actions and Detail Panel
Mental Health and Wellbeing Support for Estranged Students in HE/FE
Fri, May 5, 2017, 10:30 AM – 3:00 PM BST
Description
1 in 5 people are affected by family estrangement. Many are surviving hidden family abuse, facing disownment due to LGBT rejection, while others are escaping forced marriage. A number are care leavers and many are estranged due to divorce and re-marriage in their family. Emotional and mental wellbeing are severely affected by family estrangement.
Stand Alone have a proven track record of offering therapeutic support to estranged adults, as well as commissioning ground-breaking research, and heightening awareness of the issues pertinent to estrangement.
This Stand Alone training conference is aimed primarily at university and college counsellors, therapists and mental health advisers. Other staff who want to learn more about how to support estranged students are of course also welcome to attend.
Our focus will be on presenting the findings of our research into family estrangement as well as sharing our expertise in working with students affected by estrangement. The issues faced by this client group often include isolation, loneliness, depression, suicidal ideation, anxiety, grief and loss.
Outline of the day
The morning will focus on background information, research and discussion on reasons for estrangement, effects of family breakdown and attitudes to reconciliation.
We hope to be able to organise a student panel to discuss experiences of estrangement, how it affects studying at HE and experiences of counselling. When you register for the conference you will have the opportunity to submit a question you would be interested in asking our students. We will select a number of your questions for discussion on the day.
In the afternoon delegates have the choice of two workshop sessions. You can sign up to those on the day. (See draft agenda below).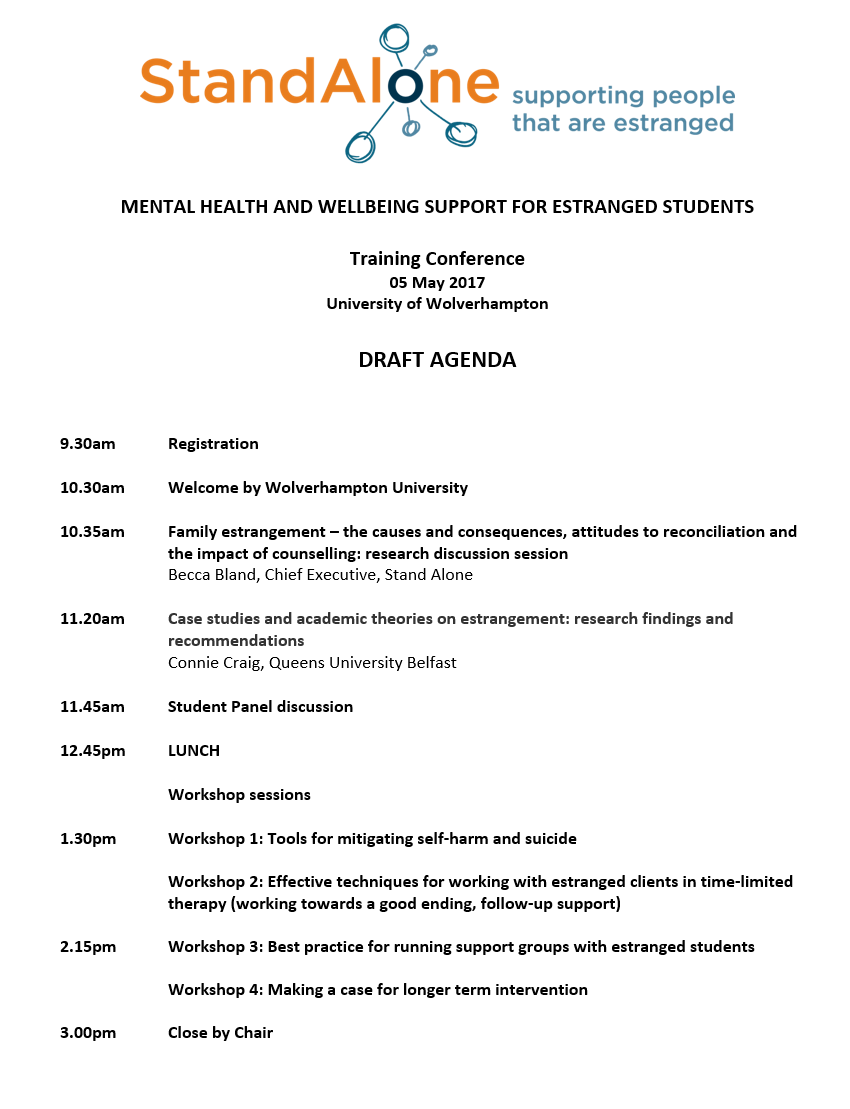 If you have any queries about the training conference please contact Susan Mueller on s.mueller@standalone.org.uk
For more information about Stand Alone's work please see www.standalone.org.uk
Date and Time
Location
University of Wolverhampton
Millenium City Building
City Campus Wulfruna
Wolverhampton
WV1 1LY
United Kingdom