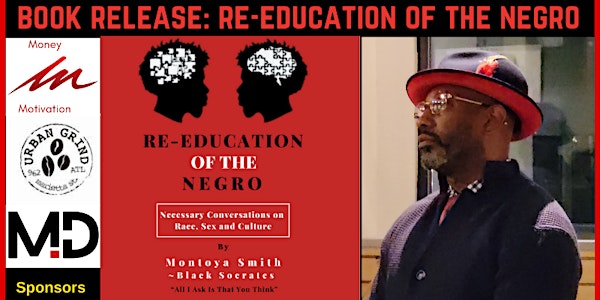 Mental Dialogue Live Experience & Book Release: Re-education of the Negro
Black Socrates releases his long-awaited book "Re-Education of the Negro: Necessary Conversations on Race, Sex, & Culuture"
By Montoya aka Black Socrates
When and where
Date and time
Friday, March 17 · 7 - 9:30pm EDT
Location
Urban Grind 962 Marietta St NW Atlanta, GA 30318
Refund Policy
Contact the organizer to request a refund.
About this event
RE-EDUCATION OF THE NEGRO: Necessary Conversations on Race, Sex, & Culture BOOK RELEASE!!!!
Curator & founder of the Mental Dialogue CommUNITY Club, Montoya Smith, aka Black Socrates, releases his long-awaited book. The book is years of unique commentaries by Black Socrates designed to invoke serious conversations on race, sex, police brutality, marriage, Black economics, etc. Come out to experience this unique book release where you, too, can participate in these discussions.
Urban Grind coffee shop is our epicenter for self-development, community building, & economic empowerment. Each event also includes a business break for business owners/event hosts to do one-minute pitches about their business or event. Also, our community needs portion is where attendees can ask for referrals to assist them personally or professionally. The MD Live X is a unique way to meet new people and business professionals. Our guiding principle is "if we bring smart and good people together, smart and good things will happen."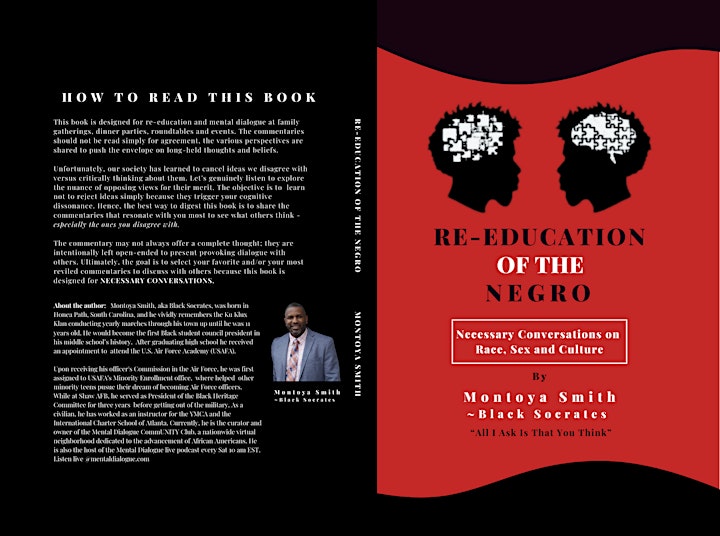 About the organizer
BLACK SOCRATES SPEAKS...As the founder of Mental Dialogue when I look at the  landscape of America,  I still see my community on the bottom of the proverbial totem pole; hence my life long dedication to improving the plight of African-Americans here in the U.S, as well as Africans throughout the African Diaspora.  I actually believe in the unity and brotherhood of all people, however I think African-Americans due to our unique (and brutal) history here in America are generally blocked from that viewpoint; and do not sit at the world table of brotherhood as equals.  In order to remedy this I believe it will take a myriad of opinions, beliefs, and thoughts to raise our awareness to a point to effect True change in our community; therefore, at Mental Dialogue we do not subscribe to any specific ideology, religious, or political belief.  In order to drive action in the African-American community, we must first overcome our distrust of one another, psychologically, hence the name MENTAL DIALOGUE.  I think we do this by promoting critical thinking and learning to disagree without emotion--this will lead to practical solutions.  Malcolm X said it best when he said, "never confuse the method with the objective," and at Mental Dialogue our guiding principle is "if we bring good and smart people together, good and smart things will happen."