Description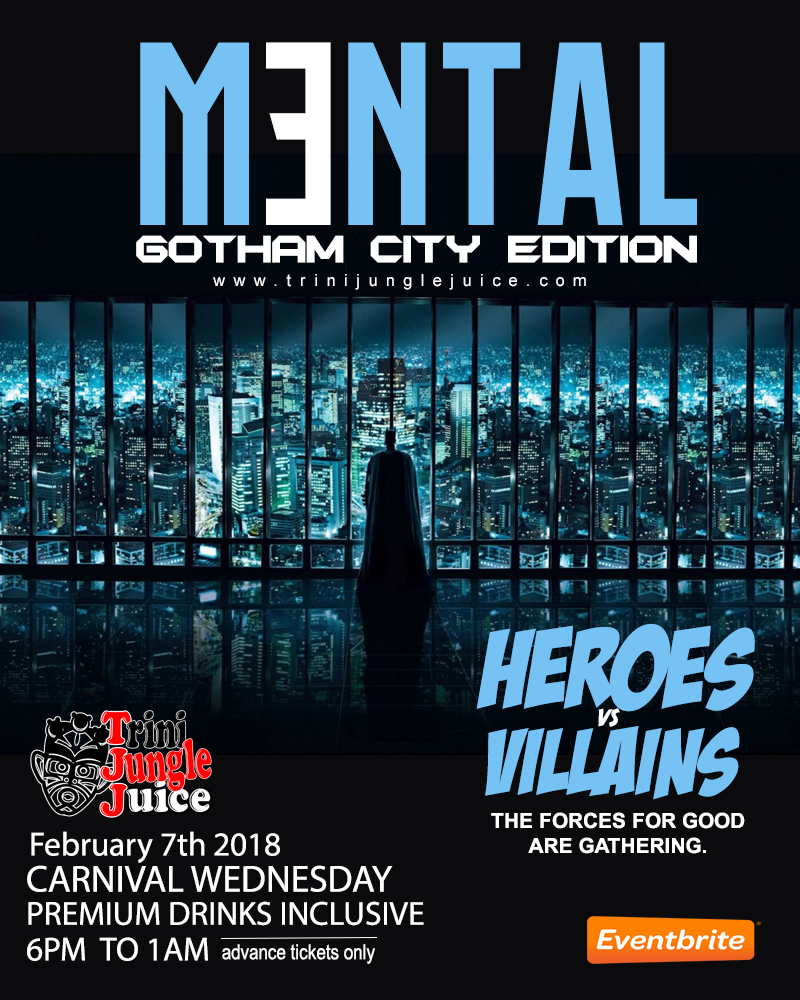 Everyone loves a hero! That's a fact. Courage, integrity, justice, passion. And come on, who doesn't want super strength? But playing a villain can be a lot of fun too. Cunning, genius level intellect, great sense of humor, wild abandon and a dressing sense that stands out (in a good way) are the defining characteristics of bad guys. And who says they can't be good to look at? For our 5th staging of MENTAL, the forces for good are gathering. HEROES vs VILLAINS ... Which side will YOU choose?

Trini Jungle Juice

presents

MENTAL - Lose Yuh Mind.
'Gotham City Edition'

Carnival Wednesday
February 7th 2018

6PM - 1AM
Music by
DJ Private Ryan
Lord Hype x Patrick Anthony The HYPEMAN
Dei Musicale
Dr. Jay (Toronto)
Shep Beats × Konata (London)
Barrie Hype (Miami)
Ryan Sayeed (Miami)
Hazzard (DC)

Premium Drinks Inclusive | Advanced Tickets Only

Dress: Heroes vs Villains theme | Swimwear | Fete casual

NOT YOUR AVERAGE CARNIVAL PARTY.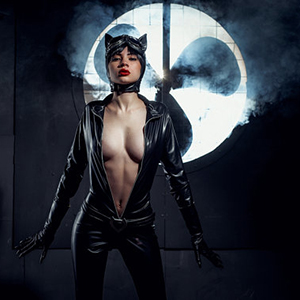 MENTAL is the ONLY costume theme party for Trinidad Carnival. Let us talk about the dress code this year. It's the 'Gotham City Edition'. Expect to see Batman, Cat woman, Harley Quinn, Poison Ivy, the Penguin, and other DC characters in attendance as we create a memorable event for our partygoers.


HERO OR VILLAIN

The question is, which side will YOU choose? Are you coming as a Goodie or Baddie? Decisions... decisions. If you're not fan or wearing a costume... SWIMWEAR is always welcomed at MENTAL.
Venue:
Ambassador Hotel Poolside/Mountain View
99a Long Circular Road
Port-of-Spain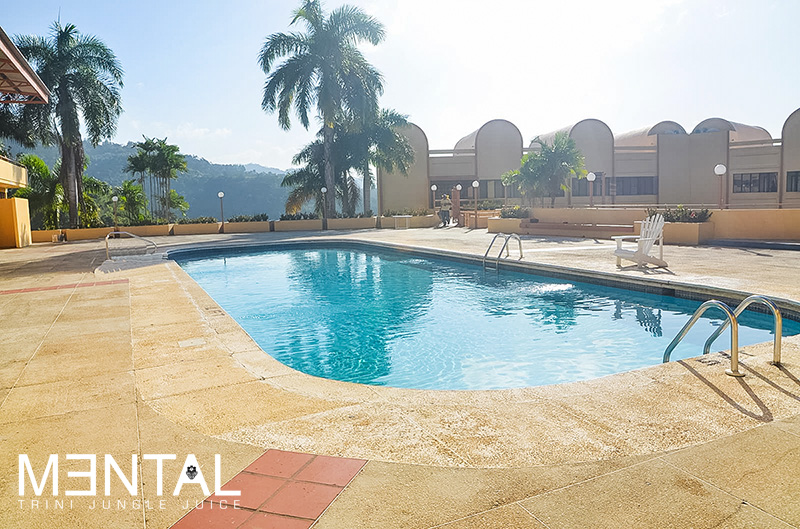 For tickets/info, contact any MENTAL committee member:

TRINIDAD:
Andre Choo Quan
Ashleia Baksh
Brendon Clement (868) 687-6871
Christoph Samlal
Damian Duke
Damian 'Fram' Baboolal
Daniella Aleong
Danielle Alfonso
Edmund Joachim
Joni Bruce
Marina Louis (868) 310-3805
Marisa Mahadeo
Mark Romany
Marsha Thompson
Mary Esdelle
Nerissa Batchasingh
Paul Choo Quan
Rachel Agarrat
Raj Maharaj
Rhian Ramkissoon
Robert 'Mez' de Gannes
Shane Baird
Shivane Balay
Thais Mc Gowan
Yohann Govia

BARBADOS:
Camille Walker
Craig Gun-Munro
Gael Hopkin
Jonathan Fox
Lyn Sealy
Kristi Johnson
Nick Gill
Robert MacGeoch
Saadiya Nakhuda
Sasha Marie Corbin
Shakéela Boodhoo
Tara Thompson
Vanessa Gilkes

BERMUDA:
Jason D'General Sukdeo

JAMAICA:
Alicia Camps-Ganess
Andrew Bellamy
Bianca Hernould
Brittne Murray
Kathryn Silvera
Lauren Alanna Renee
Renee Harper
Richie Spence
Sarah Elizabeth Jackson

ST. LUCIA:
Krystal Jean-Baptiste

MARTINIQUE:
Anthony Eroll Maugée

GUADELOUPE:
Audrey Christophe

MIAMI:
Denise Weekes
Kristel Kouly
Rheena Madd Dem
Vanessa Downs

NEW YORK:
Andre Martindale
Ayana Miller
Janelle Hing
Randall Bourne

WASHINGTON DC:
Al Vincent
Neil Berment
Shanna Sandy

PHILADELPHIA:
Stephen Choo Quan

ATLANTA:
Wade Allard

BOSTON:
designingDARYL

ORLANDO:
Riki Kouly

HOUSTON:
Sean Xavier

CALIFORNIA:
Danielle Cooper (Coop)
Jesan Sacha

TORONTO:
Brooke Myers
Kerra Denel
Renée Whitney
Sheldon Sookdeo

LONDON (UK):
Amiel Barrimond
Konata Alleyne
Follow Us
Instagram @trinijunglejuice

#TriniJungleJuice #tjjMENTAL #GothamCityEdition #HeroesVsVillains #CarnivalWednesday #PremiumDrinksInclusive #MentalWednesday #feteSTRONG #WeAreCarnival #CarnivalLikeWeMAD
Website:- www.trinijunglejuice.com
=============
FAQs
Are there ID requirements or an age limit to enter the event?
Must be 18 and older to enter | ID Required

What's included in the ticket price?

Entrance to the event and GOOD VIBES! Premium Drinks INCLUSIVE.

Male tickets are sold out, can I buy a female ticket?

Men can only use male ticket. Females can access the event using either a female or male ticket.

Is my registration/ticket transferable?

Yes.

Can I update my registration information?

Yes you can. Simply log into Eventbrite account and you can update info, name on ticket(s) etc.

Do I have to bring my printed ticket to the event?

No you don't need to print your tickets, the bar code on your phone will suffice.


What is the refund policy?
All ticket sales are final. No Refund or Exchange.

If event has been rescheduled, original tickets will be honored for the new date and/or time. There are no refunds for a rescheduled event.

Inclement weather conditions may affect an event or travel to and from it, however there will be no refunds for unused tickets or for the loss of enjoyment caused by these weather conditions or any other "acts of God".