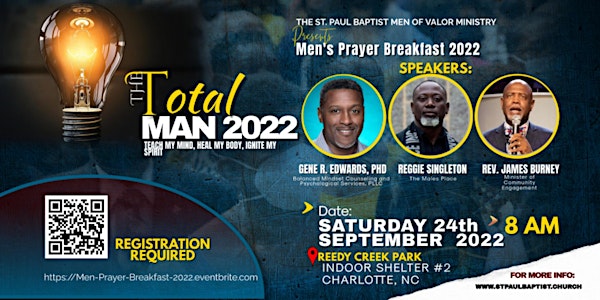 Men's Prayer Breakfast "THE TOTAL MAN 2022"
St. Paul Baptist Church - Men's Prayer Breakfast
When and where
Location
Reedy Creek Park Indoor Shelter 2 2990 Rocky River Road Charlotte, NC 28215
About this event
THE EVENT STARTS AT 8:00 AM
Scripture Theme
3 JOHN 1:2 Beloved, I wish above all things that thou mayest prosper and be in health, even as thy soul prospereth.
Purpose & Theme
TEACH MY MIND, HEAL MY BODY, IGNITE MY SPIRIT
The 2022 Men's Day weekend focuses on the overall well-being of a man; Mind, Body, and Spirit. What are the issues and concerns facing today's men? How is he coping with the myriad of changes occurring in life on a daily basis? What resources are available to men to help them survive, and thrive, as they take their place as leaders in their marriage, home, church, and community?
Schedule:
DATE September 24, 2022
TIME 8:00AM – NOON
LOCATION Reedy Creek Park – Shelter #2
Morning Activity:
All men are invited to participate in a fun, quarter-mile walk starting at 8:15am to stimulate our minds, muscles, and heart. It's a time to foster unity and strength amongst the men. Jerry Clark will be the "honorary face and Marshall" of the walk.
Breakfast Schedule:
WELCOME / PURPOSE Weathers, Chairman, Men OF Valor Ministry
MORNING HYMN
OCCASION - Anthony J. Brown, Spiritual Development Co-Chair
SCRIPTURE – Keyonte Easter, Men Of Valor Leadership Team
PRAYER – Joe Wilson, Men On Mission, Chairman
BREAKFAST & BLESSINGS
BREAK0UT SESSION I – Teach My Mind – Gene R. Edwards, PhD
Balanced Mindset Counseling and Psychological Services, PLLC
PRAYER - TBD
ICE BREAKER – Bible Trivia
BREAKOUT SESSION II – Heal My Body – Reggie Singleton, The Males Place
PRAYER TBD
ICE BREAKER – Black History Charlotte
BREAKOUT SESSION III – Ignite My Spirit – Rev. James Burney
QUESTION / ANSWERS
WRAP-UP
CLOSING REMARKS / PRAYER